SF to mark Milk day, White Night riots
Wednesday May 15, 2019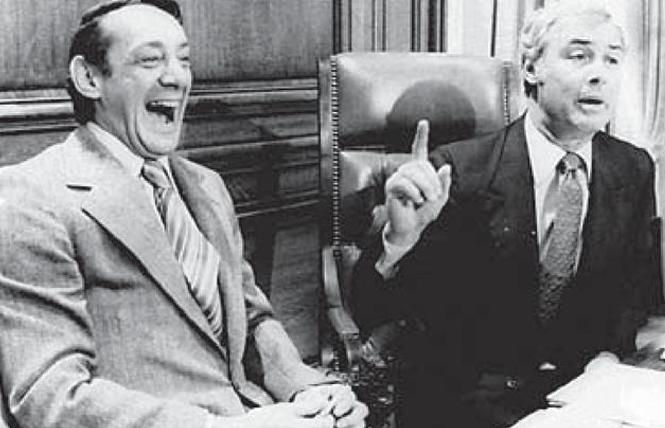 A series of events and marches will take place next week centered around celebrating the late gay Supervisor Harvey Milk, whose election in 1977 marked the first time an out LGBT person won a public office in San Francisco and the state of California.

Tragically, Milk and then-mayor George Moscone were assassinated inside City Hall the morning of November 27, 1978 by disgruntled former supervisor Dan White. Six months later the White Night riots erupted in front of City Hall the night of May 21, 1979, as protesters enraged at White being convicted of voluntary manslaughter rather than first-degree murder clashed with police in front of the civic building.

Over the ensuing decades Milk has become a global icon for the LGBT community. His life is taught in public schools across California, and since 2010, the state has annually celebrated Harvey Milk Day on May 22, the day Milk was born in 1930, as a day of special recognition.

Since it falls this year on a Wednesday, city officials and community leaders in the gay Castro district will mark the occasion Sunday, May 19. The neighborhood's annual Harvey Milk Day Commemoration will take place from 1 to 2 p.m. that day.

It will start in the lower level of Harvey Milk Plaza above the Castro Muni station with musical performances by LGBT groups and speeches by invited guests. Attendees will then march down Castro Street to 575 Castro, the former site of Milk's store, Castro Camera, and sing happy birthday to Milk.

To mark the 40th anniversary of the riots, which also saw police officers sweep through the Castro that night harassing and beating patrons of the area's gay bars, the Harvey Milk LGBTQ Democratic Club will be marching from the Castro to City Hall Tuesday night. The political group, which was named after Milk following his death, will gather at 5 p.m. at the plaza at Castro and Market streets and then head to City Hall where several speakers will address the crowd.

The following evening the club will return to Harvey Milk Plaza for a street dance from 6 to 9 p.m. to celebrate Milk's birthday. Forty years ago the political group held a similar "party on the street he loved," as its May 1979 newsletter noted.

Also on May 22 the Castro Theatre will present, for the fifth year in a row, the documentary "The Times of Harvey Milk." It will screen at 5 p.m. and tickets cost $10. (Unlike in years past, the movie house did not team with the Milk club for the film screening.)

Lastly, the GLBT Historical Society Museum will once again offer free admission on Milk day. It is open between 11 a.m. and 6 p.m. and is located at 4127 18th Street.
Comments on Facebook