Parkinson's doesn't bar SF Ballet students
Wednesday Mar 6, 2019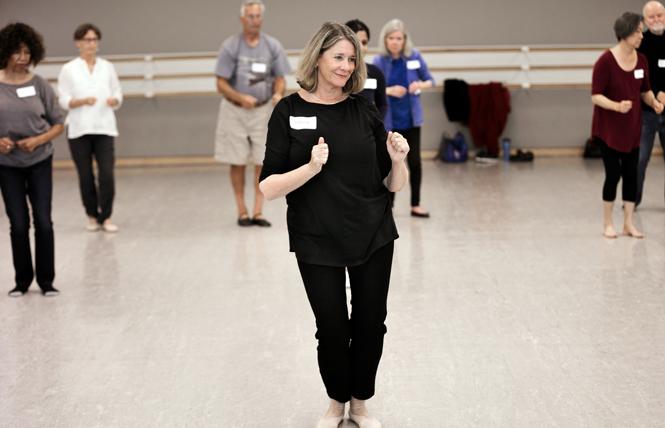 Throughout March and April San Francisco Ballet is offering dance classes to individuals living with Parkinson's disease.
The classes are free and are made possible through the support of Kaiser Permanente. The classes are taught by Cecelia Beam, 63, who holds a Master of Science degree in ballet, and include live accompaniment from pianist Jamie Narushchen, who Beam said makes an immeasurable contribution to the class.
Parkinson's disease is, according to the Mayo Clinic, an incurable condition of the nervous system that can cause tremors, stiffness, slowing of movement, or softening or slurring of speech. The disease usually becomes progressively more severe with time, though medications can be helpful.
As a young student, Beam received a Ford Foundation Scholarship to train at a Bay Area ballet school under the direction of Tricia Kaye, who was trained by William Christensen, one of the founders of San Francisco Ballet. Beam then studied at the School of American Ballet in New York City and graduated high school from the North Carolina School of the Arts.
"I was totally on track to become a professional dancer, but for a bunch of reasons that did not happen," Beam said. "But I was able to find a career and a life with the art form, so I'm very happy for all those experiences."
Beam has been with San Francisco Ballet for 20 years, 19 of which she worked as the human resources manager. In addition to her full-time job, she also taught ballet at local dance schools, colleges, and at her own private studio.
"From what I hear from the people I know who have Parkinson's is that it takes a lot away from you," she said. "It takes your spirit away, your independence, and your ability to enjoy life. There's a lot of physical problems that happen with Parkinson's, but there's also a lot of emotional problems with it."
These problems can include depression and side effects from the medications.
"The class gives them a reason, and hopefully, a good reason, to get out, take paratransit or Uber, or walk or take the bus to get to the ballet building," she said. "And then they're instantly in an environment that is uplifting."
Beam emphasized that the classes are not a clinical or therapeutic session, that they are strictly an artistic opportunity for her students. Students who need to can stay seated for the entire class. There is a volunteer who is a physical therapist and dancer who has been an asset to the class. The volunteer stays in a chair with the students who are in wheelchairs or who need to stay seated, and translates the movements that Beam teaches.
"I do believe that the classes help with their balance, their confidence, and mostly lifts their spirits because we have fun," said Beam. "I impart everything I know about classical ballet, contemporary ballet, and the ballets that San Francisco Ballet is doing to these folks, so I think this makes their lives better overall."
To that end, Beam reserves space in the ballet building so that her students can talk, share, and support each other. With Kaiser's support, she sent the students to see the ballet a few weeks ago.
"The classes are an all-encompassing experience," Beam said. "We've had the trainees, SF Ballet School's most advanced ballet students, perform for the people with Parkinson's. I'm constantly trying to find ways San Francisco Ballet can enrich their lives."
Beam noted that the majority of the students are in their 60s and 70s, though there have been students in their 30s and 40s who live with young onset Parkinson's. LGBT people have participated in the classes, she said, adding that she was very proud of the ballet's Nite Out series that celebrates the queer community. Beam herself does not identify as LGBT.
The Parkinson's classes were the idea of Patrick Armand, director of the San Francisco Ballet School.
"I was trying to think of things I could do for the community," Armand, who is gay, told the Bay Area Reporter. "Particularly with Parkinson's because my mother got diagnosed with the disease very early and she was a ballet teacher. This was the early 2000s. She has since passed away, and I realized that we could help people with Parkinson's through ballet. That was something very dear to me and I wanted to do it, and that's why I decided to open the classes for Parkinson's."
Armand added that the classes have been going on for more than two years.
"I'm getting wonderful feedback," he said. "Once the people get there (to the classes) they get into another world and they forget about the disease. We're trying to help them get away from it. For Christmas we always organize a little party for them and I always have my kids dancing for them, and it's always a very joyous and touching experience. Most of the time ballet appears to be very elitist, and so it feels really good to know that ballet can actually help people."
The registration deadline for the current round of classes is March 9. Interested people are asked to commit to all eight classes. To register, contact Beam at (415) 865-6583 or email cbeam@sfballet.org.
Classes are held on Wednesdays or Saturdays from 1 to 2:15 p.m. at the Chris Hellman Center for Dance, located at 455 Franklin Street. For more information, visit https://www.sfballet.org/community/dance-for-individuals-with-parkinsons-disease.
Comments on Facebook