Trump drops lesbian judicial nominee
Wednesday Feb 20, 2019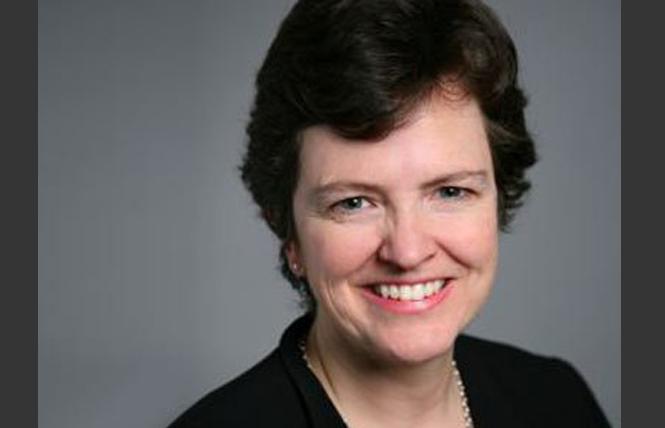 President Donald Trump has dropped one of his openly LGBT judicial nominees and downgraded the second one from a federal appeals court seat to a district court seat.

Trump did not re-nominate lesbian Magistrate Judge Mary Rowland last month when he re-nominated 10 other nominees who had not been confirmed by the end of the last congressional session.

Any nominee who has not achieved confirmation by the end of a two-year congressional session must have the president re-submit their nominations at the beginning of the new Congress.

Rowland was one of 15 such nominees at the end of the 2017-18 congressional session. While Trump did re-submit the nominations for 10 of the 15 candidates on January 23, he did not re-submit that of Rowland and four others.

Rowland was the first of Trump's out judicial nominees. He nominated her in June 2018 to serve on the U.S. District Court for Northern Illinois.

San Diego attorney Patrick Bumatay was his second. Trump nominated Bumatay in October 2018 to serve on the 9th U.S. Circuit Court of Appeals. His nomination was also sent back to the president after the end of the congressional session.

But on January 30, when Trump resubmitted his nominees to that federal appeals court, Bumatay's name was gone, replaced by a new nominee. Then on February 6, Trump nominated Bumatay to a U.S. district court seat for the Southern District of California. Bumatay is currently a U.S. attorney for the Southern District.

Several court watch media outlets reported that Trump did not consult with Senators Dianne Feinstein and Kamala Harris, both Democrats from California, for nominees from that state, as is tradition. And they said both senators opposed Bumatay because he believes in strict reading of the Constitution, a reading that often works against the interests of LGBT people.

"What a disgrace it would be if Mr. Trump threw over a gay minority nominee because of opposition from Senate Democrats who accuse Republicans of being anti-gay and anti-minority," wrote the Wall Street Journal editorial board January 29.

Bumatay's nomination to the district court is now awaiting action from the Senate Judiciary Committee.
Comments on Facebook