News Briefs: SF Pride grand marshal voting starts
Wednesday Feb 6, 2019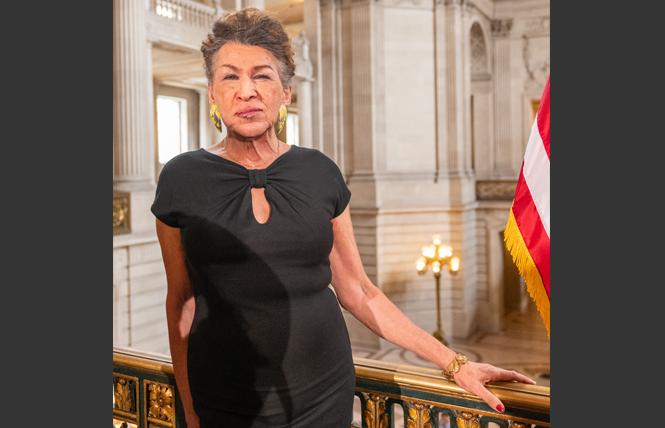 Voting for the 2019 San Francisco LGBT Pride community grand marshals starts this week, with 10 individuals and five nonprofit organizations on the ballot.
Individual nominees include Ms. Billie Cooper, who created the TransLife program at the San Francisco AIDS Foundation; Vince Crisostomo, who in 1992 came out as the first Pacific Islander gay man living with HIV and is the program manager of SFAF's 50-Plus Network; and African-American lesbian director Cheryl Dunye, best known for her 1996 film, "Watermelon Woman."
Other people nominated are: Shenaaz Janmohamed, a queer femme mother and licensed psychotherapist; gay black comedian Sampson McCormick; trans elder Donna Persona, who's a playwright and drag performer; former empress and drag queen China Silk; Mrs. Vera of Verasphere, a drag persona created by Michael Johnstone and his partner, David Faulk; Cristal Veronica, a queer Chicana feminist photographer; and Zwazzi Sowo, the women's center program manager at Glide.
Several nonprofit groups were nominated for organizational grand marshal. They are: API Equality — Northern California, Lyon-Martin Health Services, NIA Collective, Radical Faeries/Nomenus, and the Richmond-Ermet Aid Foundation.
Officials at the San Francisco LGBT Pride Celebration Committee said that voting is now live online, and people can cast ballots until noon Tuesday, March 5.
"Our community grand marshals are the soul of our event," SF Pride Executive Director George F. Ridgely Jr. said in a news release. "It is a privilege to showcase the contributions of this year's nominees for grand marshal. Their exemplary work, tireless advocacy, provocative art, and compassionate volunteerism, our LGBTQ communities are strengthened and made richer."
To cast a ballot, visit www.sfpride.org/grand-marshals. People can also vote in person at the SF Pride office, 30 Pearl Street, fourth floor. (Access is by appointment only. Contact info@sfpride.org to set up an appointment).
In related news, SF Pride is now seeking submissions for main stage entertainment, according to its website.
The San Francisco LGBT Pride celebration takes place June 29-30. The world-famous LGBT Pride parade is June 30. This year's theme is "Generations of Resistance."
For more information, visit http://www.sfpride.org.
RWF to thank volunteers, donors
The Rainbow World Fund will hold an appreciation party for volunteers and donors Sunday, February 10, from 3 to 6 p.m. at 2004 Gough Street in San Francisco.
RWF is an LGBT-led humanitarian organization.
Jeff Cotter, a gay man who's executive director of RWF, said the event is an opportunity to meet new people and to thank the volunteers and supporters "who have given so freely of their time, energy, and financial support this year and in years past."
The party is also a chance for people to learn about RWF's work, which includes raising funds to assist LGBT people and others both in the U.S. and in countries around the world.
Interested people can attend. To RSVP, go to RWF's Facebook page.
Events at Manny's
Manny's, the gay-owned cafe and event space in the Mission, has several events coming up this month.
"Brazil: The Far Right" will be held Sunday, February 10, from 5 to 7 p.m. Anthony Pahnke, director of international relations at San Francisco State University, will discuss new Brazilian President Jair Bolsonaro and the country's turn toward the far right under his leadership.
Also on Sunday, as part of its Black History Month weekly movie night, the film "Malcolm X" will be shown at 8 p.m.
DeRay McKesson, a gay black man and former Baltimore mayoral candidate, will be at Manny's Wednesday, February 27, for a discussion and book signing. He was at the center of the protests in Ferguson, Missouri over the shooting death of Michael Brown by a white police officer and is a leader in the Black Lives Matter movement. Currently, he hosts the Pod Save the People podcast. Tickets range from $6 to $54 and can be purchased at https://bit.ly/2GkRoAW.
Manny's is located at 3092 16th Street. For more information and other events, some of which are free and others are ticketed, visit http://www.welcometomannys.com.
PrEP community forum
Strut, the men's health center in the Castro, will hold a PrEP 211 community forum Monday, February 11, from 6:30 to 8:30 p.m.
According to a post on Strut's website, PrEP 211 is a different way to take the HIV prevention medication. Additionally, panelists Dr. Robert Grant and Pierre-Cédric Crouch, Ph.D., will talk about other PrEP news and updates. Felipe Flores, manager of PrEP benefits and navigation at Strut, will moderate the discussion.
Strut, a program of the San Francisco AIDS Foundation, is located at 470 Castro Street.
Civil grand jurors needed in San Mateo
San Mateo County Superior Court officials have announced that applications for serving on the 2019-2020 civil grand jury will be accepted until March 29.
Superior Court Judge Danny Y. Chou, the appointed civil grand jury adviser for the next term, made the announcement last week.
The civil grand jury term runs from July 1 through June 30.
According to a news release, any resident of San Mateo County for more than one year who is a citizen of the U.S., 18 years of age or older, of ordinary intelligence, sound judgment, and good character, with sufficient knowledge of the English language is eligible for selection by Chou. Elected public officials are not eligible.
The court encourages interested people to apply. It strives to obtain a cross section of the county population. After the completion of an interview process by Chou, jurors will be selected through a random draw.
Civil grand juries typically investigate local government departments and agencies.
Applications can be obtained by writing Grand Jury Clerk, Court Executive Office, 400 County Center, Redwood City, CA 94063, calling (650) 261-5066, or downloading via http://www.sanmateocourt.org/documents/grand_jury/application_form.pdf.
Comments on Facebook