Series of pedestrian collisions alarm Berkeley officials
Wednesday Jan 16, 2019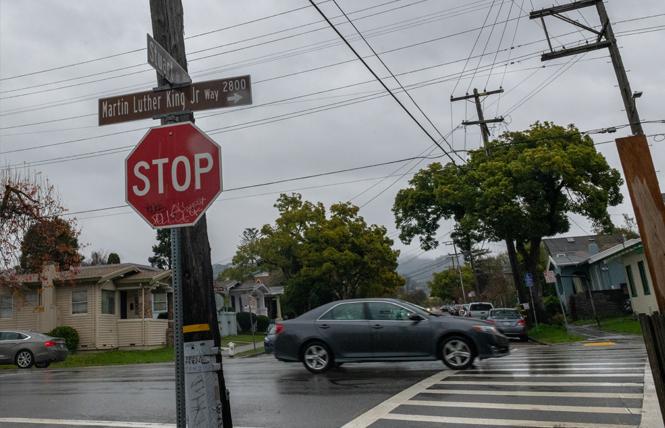 Since the beginning of the year, there have been nine pedestrian-vehicle collisions in Berkeley that have left 11 pedestrians injured, according to Officer Bryon White, Berkeley Police Department's public information officer.

Berkeley Mayor Jesse Arreguin said the city has been slow to prioritize pedestrian safety, but that it is his number one priority for 2019.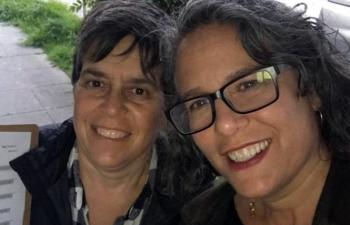 The most serious pedestrian collision so far involved Judy Appel, president of the Berkeley school board, and her wife, attorney Alison Bernstein, ages 53 and 54. The couple were hit by an 81-year-old Berkeley man shortly after midnight January 5 as they were crossing Martin Luther King Jr. Way near Stuart Street.

Appel and Bernstein remain in critical but stable condition at Highland Hospital in Oakland, according to its spokesman. An online community group set up by friends and family of the couple at http://www.lotsahelpinghands.com, stated as of January 11, they are making "subtle signs of healing and recovery," and neither of them has had any concerning setbacks. The post was shared on Our Family Coalition's Facebook page. Appel is the former executive director of the LGBT family nonprofit.

No other information was available and no arrests have been made in the incident, which is under investigation.

The collision involving Appel and Bernstein has brought renewed attention to an issue one Berkeley resident has called a "public health crisis" that has not been given proper priority or funding. Berkeley has one of the highest pedestrian collision rates in the state and has the second highest walking commute rate in the state among cities and towns with populations of 5,000 or greater, according to the latest census data. Last year, the city averaged nine to 10 pedestrian-involved collisions a month.

City officials say they are in the process of creating an action plan to accelerate projects focused on pedestrian safety including street engineering improvements, traffic law enforcement, and education.

Longtime Berkeley resident Mark Chekal-Bain's teenage son was severely injured last year after being hit by an Uber driver while crossing the street in front of his house. Chekal-Bain, a gay man, watched a KTVU Fox 2 report following the news of Appel and Bernstein that discussed the many pedestrians hit in January. In the newscast, White was quoted as saying, "Regardless of whose fault or who you want to point the finger at for the blame, the responsibility for your safety is on each one of us."

Chekal-Bain felt White was blaming pedestrians for the collisions.

"The PIO is blaming individual pedestrians. He's the spokesman for the City of Berkeley. To blame the pedestrians instead of looking inward to make the streets safer, it was appalling," said Chekal-Bain, 51, adding that residents in his neighborhood have been advocating for funding for traffic calming resources for his street that he said sees more than 3,000 cars a day.

There has been an increase in traffic in residential areas, Chekal-Bain said, and it's due, in large part, to ride-hailing companies like Uber and Lyft whose drivers use Google Maps and Waze driving apps that often lead drivers to less-congested neighborhood streets.

"The city has not been doing enough to enforce traffic speed laws, distracted driving laws, enforcement for stopping at stop signs, and appropriate traffic engineering," he said.

When White spoke with the Bay Area Reporter, he clarified his statement saying, "My intent was not to place blame on anyone when I made those comments. In that same interview I talked about how drivers can improve the situation. The responsibility lies with each one of us, not on any particular group. There is certainly blame passed around to drivers, bicyclist, and pedestrians."

White added that some factors contributing to the pedestrian-auto collisions this month are inclement weather and less daylight. In general, he said, tourism and the high number of pedestrians and student commuters from UC Berkeley are also a part of the problem. He said that last January, there were 15 collisions involving pedestrians and a total of 122 in 2018.

"There are a lot of different contributing factors to this," White said. "It's something each one of us can take a look at ourselves and say what can we be doing better to improve traffic safety."

Arreguin, in an interview with the B.A.R., disagreed with this statement. The mayor said, "We, as a city, are responsible for the safety of our pedestrians. We can't create environments that are dangerous for people to cross the street."

When asked if he felt the city was slow in prioritizing initiatives aimed at pedestrian safety, Arreguin replied, "I think so. The recent incidents have highlighted the importance of prioritizing this and moving quickly. We don't want anyone to be seriously injured or killed."

Improvements coming
Some immediate improvements the mayor is working on are installing a traffic control device known as a HAWK beacon at the intersection of Virginia and Sacramento streets and plans to install a street light there. On January 3, a 60-year-old Berkeley resident was taken to a hospital for treatment of serious injuries after being hit by a car while crossing the street.

Berkeley's 2018-2019 fiscal budget includes $1 million in traffic calming projects. Arreguin said he is working with lesbian Berkeley City Councilwoman Lori Droste, a close friend of Appel's, on Vision Zero, an initiative introduced by Droste that set a goal of zero road fatalities and serious injuries by 2028. It was unanimously approved by the City Council in 2018.

Droste told the B.A.R. that the City Council ranked implementation of that policy as its top priority to staff for 2019. It is a national initiative that has been adopted in San Francisco, Chicago, New York, and Los Angeles.

"Jesse and I were talking about an action plan to move forward Vision Zero right before the news of Judy and Alison," Droste said. "There is always a sense of urgency, but now there is even more of a greater sense of urgency on pedestrian safety."

Vision Zero focuses on preventing fatalities and serious injury by designing streets that result in people driving more slowly, and it factors in human error. The key elements of the policy are engineering, enforcement, and education.

"We need to do a better job of not just designing streets to make them safer for pedestrians, but to increase enforcement so that drivers are following traffic laws," Arreguin said.

Beth Thomas, principal planner in Berkeley's Transportation Division, said the division is "taking this very seriously" and has already completed some street improvements with others in the pipeline.

The department has been working on an update to the "Pedestrian Master Plan," which was adopted in June 2010. It identifies the city's intersections and streets that have had the most fatal and serious injury pedestrian collisions. It revealed that 14 percent of Berkeley's streets account for 93 percent of the pedestrian fatalities and severe injuries.

"We are developing a list of prioritized projects for these areas," said Thomas. "We are also working with a consulting company to develop a Vision Zero action plan that will be established by a city task force with representatives from key departments."

The task force will get underway this month and the update of the Pedestrian Master Plan is expected to be adopted this summer.

Thomas mentioned that construction to narrow Ellsworth Street where it approaches Bancroft Way to help visibility of the bikeway on Bancroft Way was completed a couple of weeks ago.

Additionally, as part of the Safe Routes to School program at Sylvia Mendez Elementary, sidewalk extensions have been installed at key crossings on Shattuck Avenue. The division is also nearing the end of its designs on the Ninth Street pathway project, which provides an off-street pathway to connect pedestrians and cyclists to the Emeryville Greenway.

Future projects include an installation of sidewalk bulb outs at the intersection along Sacramento Street in the vicinity of the North Berkeley BART station. As well, a pedestrian hybrid beacon will be installed at Virginia and Sacramento streets, with plans to start construction in 2020.

When asked if the Transportation Division is given sufficient funding to be able to meet its goals, Thomas did not directly answer the question, but said, "I think it's a statewide problem. California's Active Transportation Program, used to fund pedestrian and bike safety projects, is really over subscribed. Applications for the program ask for far more money than it has available."

Thomas added that she feels the city has been "proactive" in mitigating this issue.

At the state level, gay state Senator Scott Wiener (D-San Francisco) introduced Senate Bill 127, or the Complete Streets Bill, Monday, January 14. The bill requires Caltrans to make state highways that run through cities and towns safer for people walking, biking, or using transit.

It is meant to enforce a complete streets policy that was adopted by Caltrans in 2008. Wiener said Caltrans has not followed through with its goal of complete streets.

"State-owned highways that run through local communities should be designed for safe use by everyone, not just cars," said Wiener in a news release. "For too long, Caltrans has talked about complete streets as a policy, but hasn't actually delivered these improvements in its projects. Streets designed for all residents create safer, healthier, and more inclusive communities. Ensuring everyone has access to safe streets also encourages alternate modes of transportation, which can help reduce vehicle miles traveled, and help us fight climate change."

According to the news release, Caltrans owns and maintains 50,000 lane-miles of state roads through the State Highway Operation and Protection Program, which invests at least $4.2 billion annually in repairs and updates.

For Chekal-Bain and other Berkeley residents directly affected by the pedestrian-auto collisions, this topic hits close to home. Chekal-Bain's son was in a wheelchair for seven weeks after he was struck by a car last year. A community group in his neighborhood took matters into its own hands after mounting frustration over city officials not following through with improvements to their streets. The group got "Slow, Children At Play" signs and put a skeleton in a wheelchair on the side of the road to bring awareness to what has happened.

"In Berkeley we pay some of the highest property tax rates in California," Chekal-Bain said. "We deserve more. The city needs to protect its citizens."

Friends of Appel and Bernstein have set up a GoFundMe page to help with medical costs. To donate, visit https://bit.ly/2FmK5Ie.

Contact the reporter at a.madison@ebar.com.
Comments on Facebook