Outpatient center for youth opens in San Jose
Wednesday Jul 31, 2019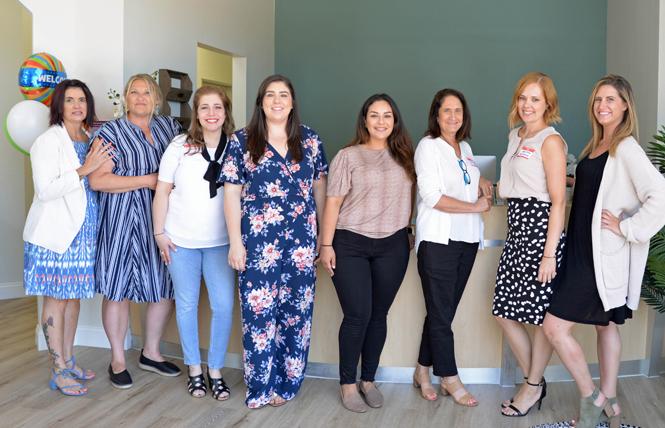 Evolve Treatment Center's new outpatient facility for teens is bright, warm, and inviting when you enter the building, which is located in the quaint Rose Garden neighborhood in central in San Jose.
About 50 youth health professionals and media toured the new center, the first freestanding outpatient center for teens in the city, according to the company, during its recent grand opening.
It's the second Evolve center in Santa Clara County. The other is a 30-60-day co-ed residential center in Gilroy.
"We are very excited [about] this new and a one-of-a-kind center in San Jose," said Ashley Thomas, LCSW, the clinical program director at Evolve San Jose.
She looks forward to helping South Bay youth with their mental health and substance abuse issues, particularly LGBT young people.
"We are the first outpatient facility of this kind in the area," she told the Bay Area Reporter at the July 18 opening. "We know that there is a huge need and we are excited to be here."
Judy Sylvia, the center's chief business development officer, estimated that 15% of Evolve's patients identify as LGBT.
Evolve San Jose already has about five youth and their families signed up to receive treatment. It has three full-time staff and is growing, said Sylvia, who has more than two decades of experience in the mental health field.
The privately-operated center, which works with insurance companies, provides a safe space for teens aged 12 to 17 years old, several days a week, depending on the program.
"Success for a client is going to come in many different forms and we are aware of that too," said Thomas, who has about 14 years of experience as a therapist. "We want to help them in whatever their personal goals are."
The center's therapists use a combination of evidence-based treatment techniques and offer individual and family therapy, psychiatry, daily group sessions, multifamily sessions, and addiction recovery. Experiential therapies such as music, yoga, meditation, surfing, art, and drama are also available.
"One of the unique things about Evolve is that we treat concurring disorders, so we may have kids that have, you know, like primarily mental health issues and primarily substance abuse issues or they have both," said Thomas, noting that both issues, as well as suicide, occur at a higher rate among LGBT youth.
"We want to be aware of the unique needs that those youth are experiencing and be able to serve them in our centers," she said.
Sylvia said Evolve treats teens from all backgrounds and does not push a religious agenda or subscribe to any belief system.
"If a teen chooses to engage in observance while in treatment, we do what we can to support them. For example, special dietary needs, transportation to services or modified schedules for observance," she wrote in an email. "Likewise, if they elect to set practices aside, while in treatment, we respect that as well. We recognize that religion (no matter which) can bring solace and healing for some and not for others. ... We meet teens where they are at and work through issues using evidence based clinical modalities, not religion."
Thomas said Evolve hopes to collaborate with community resources like the Bill Wilson Center and LGBTQ Youth Space. The Bill Wilson Center offers a variety of services for children, adolescents, and adults. LGBTQ Youth Space is a program of Family and Children Services. Both are in San Jose.
Neither LGBTQ Youth Space nor the Bill Wilson Center staff were aware of Evolve.
"We want to be a safe space for them, but we are also their treatment center," Thomas said. "So, having them, like, have other safe spaces so they can be in the community and also have, like, sober, fun, and things like that is really important."
Thomas, Sylvia, and Marian Ross, the business development manager were attracted to Evolve because of its holistic approach to therapy, they said.
Evolve
Evolve doesn't have much of a media or online presence beyond its own generated content and news releases. It has been in business for five years.
Reviews by former clients and employees are hard to find. The ones that are available are often outdated. Even information about management and staff beyond their biographies is scarce.
Articles quoting the center's leadership as experts in the field or by the center's executive clinical director, Lauren Kerwin, Ph.D., or any of its therapeutic team don't go beyond news releases from the company or academic papers.
However, the staff at Evolve San Jose are professionals with about 60 years experience between the executive team. On the day of the center's opening they warmly welcomed the area's therapeutic and social work professionals, and youth advocates.
The center has a friendly atmosphere with bright artwork containing calming and inspiring messages. In the back of the building the hallways are lined with administrative offices. Therapists' offices open up into a community center-type space with an education room and a kitchen.
Teens will be allowed to hang out in the community room that has sofas and chairs, a TV, books, and games. The educational center has a computer and other resources.
Clients can choose between the partial hospitalization program that provides teens with a full programming five days a week or the intensive outpatient program that offers three hours of programming three to four evenings a week.
Both programs offer teens daily group sessions and educational support, in addition to one psychiatric session and one family therapy session per week, according to a July 10 news release from the organization. The partial hospitalization program provides teens with two individual therapy sessions per week, while the intensive outpatient program offers one therapy session per week.
Evolve opened its first center in the Los Angeles area in 2014, said Aron Gittleson, CEO of Evolve Treatment Centers, and now has 12 locations. A new residential center is expected to open soon in Danville.
A Google search revealed how private and protective the center is about its patients and business.
Gittleson wouldn't disclose the company's budget, advisory board, or the estimated cost of running a center.
"We invest significantly, primarily on the staff," he said. "We have high staff to client ratios in our inpatient facilities as well as in the therapeutic perspective. We also offer experiential experiences."
The center wouldn't allow the B.A.R. to interview an LGBT-identified former client to protect patient privacy.
The center claims to have helped hundreds of youth and their families.
"I couldn't even put a number on [the success rate]," said Ross, who has worked in the behavioral health business for 14 years. "Since I've been here, and I've been here for a couple of years, there have been hundreds."
The only indication that Evolve is LGBT-friendly is its listing included on Psychology Today's resource page when a Google search for Evolve including "LGBT" surfaces, and a few resource articles on the company's website.
Its news release also mentioned that San Jose is in need of mental health and addiction services for adolescents, "especially LGBTQ teens."
Ross and Thomas are seeking to do more to raise awareness of Evolve's services geared toward LGBT youth, as well as others who need the center's services.
The center will have a booth at Silicon Valley Pride this month, said Ross. Thomas said she wants to participate in next year's LGBTQ Summit, the first of which was held by the Santa Clara County Office of LGBTQ Affairs in late June.
For more information about Evolve Treatment Center's San Jose program, visit https://evolvetreatment.com/locations/san-jose.
Comments on Facebook