HHS rule puts religious objections on 'steroids'
Wednesday May 8, 2019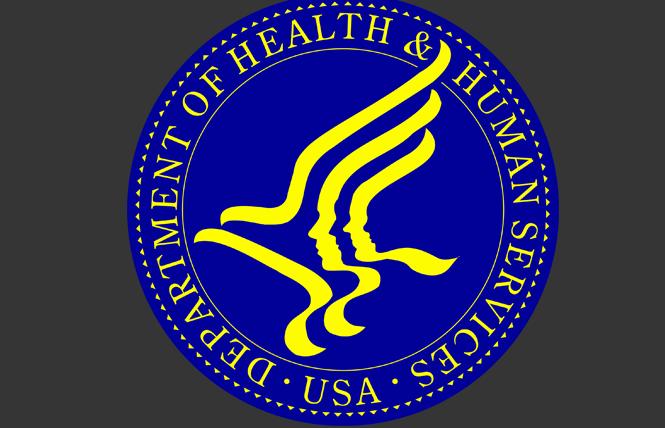 A new Trump administration regulation permitting religious bias came carefully wrapped up in the language of civil rights: Its text promises to "remove barriers" for people who want to work in health care, support a "more diverse" field of health care workers, and stop "discrimination in health care."

But LGBT activists and allies see a wolf in sheep's clothing and read it as an invitation to people who harbor personal bias toward LGBT people to exercise that prejudice under the cloak of "religious or moral conviction."

The new final rule will go into effect 60 days after it is published in the Federal Register. The U.S. Department of Health and Human Services did not respond to this reporter's query about when that is, but LGBT activists expect it to be in the coming days.

As the Bay Area Reporter reported online last week, San Francisco City Attorney Dennis Herrera immediately filed a lawsuit in federal district court against HHS, calling the new rule unconstitutional. The suit seeks a court order preventing the rule from going into effect.

Such conscience laws, or religious refusal rules, have been in place for almost a decade at the federal level and in some states. They have been primarily aimed against women who seek an abortion or emergency contraception, terminally ill patients wanting to accelerate a painful dying process, and LGBT people generally.

The new federal rule announced by HHS May 2 replaces a 2011 rule that applied to only three federal statutes. The new rule will apply to 25 and will enable HHS to strictly monitor compliance and withhold federal funds for noncompliance.

House Speaker Nancy Pelosi (D-San Francisco) blasted the Trump administration's action as an "open license" to discriminate against LGBT people in health care.

"These bigoted rules are immoral, deeply discriminatory, and downright deadly, green-lighting open discrimination in health care against LGBTQ Americans and directly threatening the well-being of millions," said Pelosi in a statement.
Assessing options
A spokesman said Pelosi's office is "assessing our options" for countering the new rule.

So, too, are LGBT groups.

"There were already robust conscience protections," said Robin Maril, associate legal director for the Human Rights Campaign, referring to the 2011 rule adopted by the Obama administration. "This puts that on steroids."

Jamie Gliksberg, a senior attorney at Lambda Legal Defense and Education Fund, said her organization has represented "a large number of LGBT people denied care" by health care entities. The new rule, she said, "is doing a real harm to LGBT people by encouraging more."

An analysis section of the new rule specifically rebuffed statistics on the denial of service to LGBT people, saying, "those statistics were general in nature and did not assist the department in estimating what degree may be attributable to the lawful exercise of religious beliefs or moral convictions."

Surprisingly, HHS's analysis of the new rule acknowledges that the "department attempted to quantify the impact of this rule on access to care" but was not able to do so. It said it could not find "enough reliable data" and that analysis itself was "subject to too many confounding variables" to enable HHS to "arrive at a useful estimate."

"For instance, the department is not aware of a source for data on the percentages of providers who have religious beliefs or moral convictions against each particular service or procedure that is the subject of this rule," states the analysis.

The analysis did not explain why HHS was moving ahead with the rule change despite this stated lack of significant information, except to say, "The department finds that finalizing the rule is appropriate without regard to whether data exists on the competing contentions about its effect on access to services."

The timing of the rule release coincided with President Donald Trump's remarks to the National Day of Prayer event at the White House. The president devoted one sentence to the new rule.

"And just today, we finalized new protections of conscience rights for physicians, pharmacists, nurses, teachers, students, and faith-based charities," said Trump.

HHS 'unaware' of discrimination
Under the rule, any entity receiving HHS funds — including "religious nonmedical health care institutes" (such as foster care agencies) — are covered by the new rule.

The rule, entitled "Protecting Statutory Conscience Rights in Health Care; Delegations of Authority," claims, "The department is unaware of any cases claiming denial of services regarding [HIV treatment, pre-exposure prophylaxis, and infertility treatment] brought under any of the statutes implemented by this rule."

"In the event that the department receives a complaint with respect to HIV treatment, pre-exposure prophylaxis, or infertility treatment," states the rule, "the department would examine the facts and circumstances of the complaint to determine whether it falls within the scope of the statute in question and these regulations."

But later in the discussion of the rule's development, HHS acknowledges having received "comments expressing concern" that the new rule "could impact counseling or referrals for LGBT persons." It brushed off that concern, noting, without explanation, that "many medical treatments and services performed by health care providers are not 'part of'" a federally funded health care program.

The rule suggests HHS will deal with refusals to provide "sterilizations performed in the context of gender dysphoria" on a case-by-case basis. (Gender transition treatments do not require sterilization, and the United Nations has said that requiring sterilization as a condition of transition treatment violates fundamental human rights.)

While the LGBT community is concerned that the new rule will encourage and facilitate discrimination against patients based on their sexual orientation and/or gender identity, the Trump administration said, in the rule, that it is attempting to address a "significant increase in complaints" since November 2016 alleging discrimination based on "religious beliefs or moral convictions."

An analysis section of the new rule states, "it is important not to assume that every patient who wants a particular service is offended by the provider's unwillingness to provide that service ..."

But even if a patient does feel emotional distress when a health care provider refuses to provide a service, said the analysis, "Congress ... did not establish balancing tests that weigh such emotional distress against the right to abide by one's conscience."

The likelihood seems strong that an LGBT person would experience distress when they are denied a medical service, especially given that the new rule allows even clerical personnel, janitorial staff, and, in some circumstances, ambulance drivers to refuse service based on "religious beliefs or moral convictions."

"Scheduling an abortion or preparing a room and the instruments for an abortion are necessary parts of the process of providing an abortion ..." explains HHS in its analysis.

Regarding emergency medical personnel, HHS said, "EMTs and paramedics are trained medical professionals" and their right to decline service "would depend on the facts and circumstances of each case."

The department said it would not permit instances where "the connection between an action and a procedure is irrational ..."

LGBT health centers around the country were quick to condemn the new rule.

Sean Cahill, director of health policy research at Boston's Fenway Health, called the new rule "extremely alarming." He said it is "designed so that government employees and health care providers can deny service or treatment to LGBT people by claiming that providing such service or treatment would violate their religious beliefs or sincerely held principles."

Dr. Magda Houlberg, chief clinical officer for the Howard Brown Health clinic in Chicago, said the rule "puts the personal beliefs of health care providers above their sworn duties to follow science, give all medically accurate information, and serve their patients."

HHS did not respond to a request for how support and opposition for the proposed rule broke down among the more than 242,000 comments from the public since the proposed rule change was published in the January 26, 2018 Federal Register.

But the rule change announced last week is seen as the latest Trump administration attack on the LGBT community inspired by religious right conservatives supporting the president.

Trump's efforts to show favor to particular religious beliefs — those hostile to LGBT people — began in May 2017, when he signed a religious liberty executive order that directed all departments to "vigorously enforce federal law's robust protections for religious freedom." It specifically directed HHS to "consider" amending regulations "consistent with applicable law" to "address conscience-based objections."

In October 2017, then-Attorney General Jeff Sessions issued an eight-page memorandum to all departments, providing "guidance interpreting religious liberty protections in federal law." And three months later, HHS proposed its Conscience and Religious Freedom rule.

"Since Day 1," said Pelosi, "this administration has waged a cruel campaign of intolerance and discrimination targeting the civil rights of our most vulnerable communities. House Democrats fully, flatly reject these attacks on LGBTQ Americans and on the rights of all Americans to get the health care they need and will fight these hateful actions."
Comments on Facebook