Editorial: Biden keeps promise with trans ban repeal
Wednesday Jan 27, 2021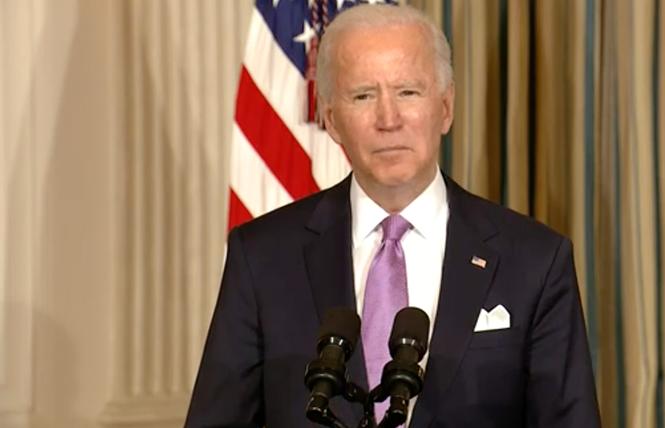 It may be premature to declare President Joe Biden's executive order repealing former President Donald Trump's odious transgender military ban a "victory," as some news outlets have reported. Rather, Biden's action restores the ability for every qualified American to serve in the armed forces, as several trans people have pointed out. After all, before he was sworn in, Biden said he would reverse the ban. True victory will be the seamless integration of transgender members working alongside fellow Americans in all branches of the U.S. military.

Still, Biden's action, coming less than a week into his presidency, is indeed great news for trans people who are serving or wish to serve, as well as for several who filed lawsuits urging courts to block Trump's ban. But as is often the case with these executive orders, it needs to be implemented. Biden and his new defense secretary, Lloyd Austin, understand this. The Palm Center, a think tank that has long studied LGBTQ military service and the discriminatory practices of the old "Don't Ask, Don't Tell" policy and the more recent trans ban, noted in a statement that the president "followed the science." He relied on research by the RAND Corporation as well as "evidence amassed by experts in military health and medicine," noted Aaron Belkin, a gay man who is director of the Palm Center. "A former military surgeon general advised that not only would inclusive policy enhance readiness, but it could also be implemented quickly because the relevant regulations were never canceled under the Trump administration," Belkin stated. Austin echoed that judgment, pledging that the Pentagon would move forward immediately and expeditiously, Belkin noted.

We're impressed that Biden isn't just signing the order and moving on to other issues. According to the executive order, Biden intends to check back in 60 days. At that point, Belkin stated, there should be a new policy in place that welcomes qualified transgender recruits and treats everyone according to a single standard. Moreover, the order returns to the inclusive trans policy that was already working successfully. It will stop all adverse actions against trans troops and require the Defense Department to correct records of anyone affected by the Trump ban. The Palm Center stated that new enlistment or commission in the military will resume consistent with the 2016 inclusive policy and under the same principle that all applicants will be evaluated under the same expectation of fitness for service.

Biden's bid to end systemic racism
A day after Biden signed the order allowing transgender people to serve in the armed forces, he signed several executive orders aimed at reducing systemic racism. As he said during a press briefing, racism will not end overnight, but the actions he took send a strong message. They include: strengthening anti-discrimination housing policies weakened under Trump; ending federal contracts with private prisons; increasing the sovereignty of Native American tribes; and combatting xenophobia against Asians and Pacific Islanders, which is particularly important given Trump's racist language referring to the coronavirus.

While they don't amount to a wholesale overhaul of the criminal justice system as many on the left want, they are a step in the right direction, especially after four long years of race baiting by Trump and many of his supporters both inside and outside of government. Yet they aren't merely feel-good measures either, as Susan Rice, Biden's domestic policy adviser, said at the press briefing.

"The evidence is clear: Investing in equity is good for economic growth, and it creates jobs for all Americans," Rice said. "Economists have estimated that the U.S. economy has lost a staggering $16 trillion over the last 20 years because of discrimination against families of color. If we closed racial gaps in income and opportunity, these same economists have estimated we could add $5 trillion to the U.S. economy over the next five years and add over 6 million new jobs for all Americans."

Rice also said that Biden is committed to working with Congress to advance equity in the nation's economy, criminal justice system, health care, and schools. Changes in all of these areas are desperately needed given the backsliding of the last four years. Biden is off to a strong start — and we expect swift action on other issues.

Help keep the Bay Area Reporter going in these tough times. To support local, independent, LGBTQ journalism, consider becoming a BAR member.