Gay SF man was deported in error, federal judge rules
Wednesday Jan 8, 2020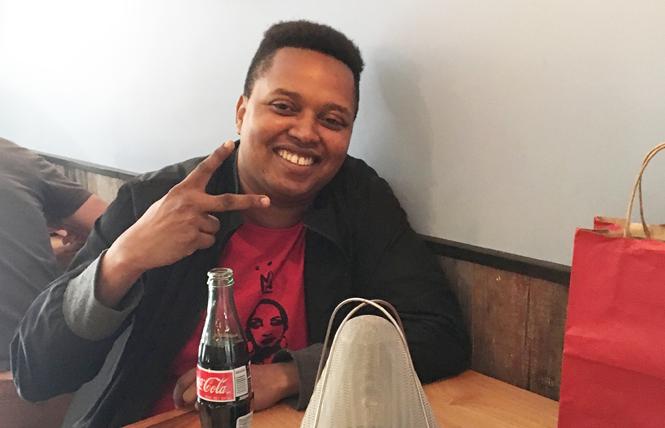 A federal judge has ordered that a gay San Francisco man who was residing in the United States without legal status was deported erroneously.
Judge Charles Breyer of the U.S. District Court for Northern California, brother of U.S. Supreme Court Justice Stephen Breyer, ordered December 18 that Oumar Yaide (known in court documents as Abderman Yaide) has to be returned to the U.S. from the African nation of Chad.
"It's a really incredible decision and we are glad to have him back soon," said Sean Lai McMahon, Yaide's attorney, in a phone interview with the Bay Area Reporter January 7.
Yaide, 31, was seeking asylum in the U.S., where he had been residing without legal permission since 2009, according to court documents.
Yaide initially applied for asylum on the grounds that he is a member of the Gorane ethnic group, sometimes called the Dazaga ethnic group, which is a persecuted minority in his native land.
After the first claim for asylum was denied, Yaide came out as gay in 2019 and wanted his case reopened on that basis, according to court documents.
"He was reluctant to talk about it for a long time because he was worried about being sent back to a country where it can get you killed," said Haley Kay, an Oakland woman who has known Yaide for about five years.
Homosexuality had been legal in Chad until 2017, when it was criminalized. Sexual relations between people of the same sex are punishable with up to three years in prison and a fine of up to 500,000 Central African CFA francs (about $852), according to Chapter II of Title VII of Chad's penal code.
Agents of U.S. Immigration and Customs Enforcement took Yaide into custody in August. At the time he was working at a restaurant and lived in the Mission, Kay said. He was held in Yuba County Jail (outside Sacramento), which contracts with ICE to hold people in the U.S. without legal permission.
Yaide's friends were upset when they learned he had been detained.
"The day we found out Oumar had been picked up by ICE, we were really distraught and wanted to talk about it," Kay said. "We met at a bar for a drink and talked about what we knew about the immigration system, which it turned out wasn't much."
At that bar meeting, the friends decided to start a GoFundMe campaign to raise money for Yaide. Between that and other fundraisers, Yaide's friends raised $14,000, Kay said, which they used for rent on his San Francisco apartment and to give him money he could use at the jail commissary. (The GoFundMe campaign is now over.)
It was when they couldn't find his information to give him money in jail that Yaide's friends found out he'd been deported.
In November — before the motion to reopen Yaide's asylum case on the grounds of his being gay could be heard — he was flown by ICE to Chad. A habeas corpus petition was filed, but by the time the court enjoined ICE, Yaide had already left U.S. airspace, according to court documents.
The federal government argued before Breyer December 4 that the judge did not have the ability to hear the case asking that Yaide be returned so that the court could adjudicate his asylum claim because Yaide was no longer in ICE custody following his deportation.
In his ruling, however, Breyer wrote that "Yaide has a constitutional right to procedural due process."
"(Yaide) faces the loss of his right to have his motion to reopen adjudicated, torture, imprisonment, and death," Breyer wrote. "For its part, the government identifies no hardship it will undergo."
McMahon said that Yaide is still in Chad and that as of Tuesday afternoon nobody knows when Yaide is returning stateside.
"I've talked to him on the phone. He is moving around to try and stay safe," McMahon said. "It's hard to get a hold of him because he doesn't always have reception. We're trying to get all the documents in order for him to return."
After Yaide returns, the court will schedule another hearing to decide whether to reopen his asylum case.
"I hope it's a positive decision and he'll get an asylum hearing again," McMahon said.
Kay remains optimistic that she will see her friend again.
"He's really kind and loyal and loving and super funny," she said. "He's being brought back for a reason."
The San Francisco ICE enforcement and removal operations office did not respond to a request for comment by press time.
Comments on Facebook