Online Extra: SF departments pledge better LGBT data efforts
Thursday Nov 7, 2019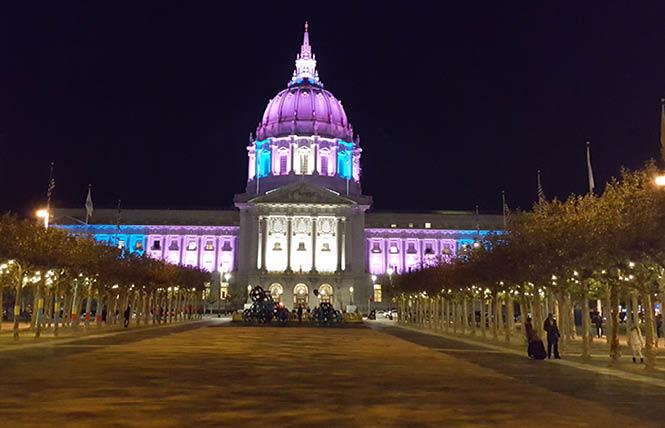 Officials from half a dozen San Francisco city agencies pledged Thursday to improve their efforts to serve LGBT residents over the coming year as they strive to meet a mandate for collecting sexual orientation and gender identity data.
The comments came during a hearing before the Board of Supervisors' government audit and oversight committee. Gay District 8 Supervisor Rafael Mandelman had called for the update on how the six departments were collecting the SOGI data and using the information to determine how to better meet the needs of LGBT individuals.
As the Bay Area Reporter first reported online November 5, there have been marked improvements since the city agencies released their first SOGI data collection reports last fall and discussed their efforts at a City Hall hearing in the spring. Yet various issues remain in ensuring numerous city-run programs are accurately collecting SOGI data and using it to advantageously.
"I think the departments are continuing to make progress and improve on the information they are providing and the ways in which they are using that information," Mandelman said at the hearing. "I think there is a lot of room for improvement."
LGBT advocates have long argued that without the SOGI information the city cannot adequately address the needs of the LGBT community. It is why as of July 1, 2017 the city has required SOGI data be collected by the Department of Public Health; Mayor's Office of Housing and Community Development; Department of Human Services; and the Department of Aging and Adult Services; and the Department of Homelessness and Supportive Housing.
The Department of Children, Youth and their Families is also required to have its grantees ask the SOGI questions of the youth they are serving, though to date they are only doing so with those age 18 and older. Contractors that receive more than $50,000 a year in city funds are also required to collect the SOGI data.
A concrete example for why knowing those individuals among an agency's clients who identify as LGBTQ can be so crucial came up at the hearing. In the affordable senior housing development that opened this year at 95 Laguna, which was built to primarily serve LGBT seniors, 15 of the building's 79 units were designated for people who are homeless or at risk of homelessness.
It was expected that the majority of those units would be given to LGBTQ seniors. Yet Openhouse Executive Director Karyn Skultety, Ph.D., whose agency provides various programs for LGBT seniors and is overseeing the services for the residents of 95 Laguna, noted at the hearing that just three of the units went to residents who identify as LGBT.
Since the senior housing project, which includes another 41-unit building, is the only one of its kind aimed at LGBTQ seniors in the city, Skultety said the community had "lost our chance" to see additional LGBT seniors housed. The city departments need to be more proactive, she said, in ensuring they are reaching LGBT people.
"LGBTQ seniors exist," said Skultety. "When you look at the data and see no LGBT seniors, we can't come to the conclusion they don't exist."
The Department of Homelessness and Supportive Housing was responsible for placing the seniors in the units at 95 Laguna. In response to Skultety's comments, Mandelman asked the agency's representative at the hearing to explain what had happened and address how "it is never going to happen again."
Abigail Stewart-Kahn, the agency's director of strategy and external affairs, acknowledged, "We need to do better."
She explained that when the agency was looking to place people into the units, it had only the trio of LGBT seniors identified in its programs at the time that qualified for them and were able to be allotted the housing. Stewart-Kahn also stressed that under the federal fair housing rules it must abide by, it couldn't designate the units solely for LGBT seniors.
It is also why not all of the housing at the development that Openhouse partnered with affordable housing developer Mercy Housing to open went to LGBT seniors. A majority of the residents, however, do identify as LGBTQ, accounting for 60% of the tenants placed into 95 Laguna. At 55 Laguna, 65% of the residents were LGBT when it first opened in late 2016.
What the city department can do, noted Stewart-Kahn, is target its marketing and outreach efforts to LGBT seniors "to ensure" they are accessing the housing services and can be prioritized for placement if they meet the required criteria. Doing so, she said, will be key to seeing LGBT seniors move into the 95 Laguna units in the future.
"When we have that larger population as people move out of those units, we will have a better group of individuals to draw from to place a higher proportion of LGBTQ seniors in that and other projects we all hope are in the city's future," said Stewart-Kahn.
The department is being proactive in working with LGBT community partners, added Stewart-Kahn; to ensure LGBT seniors are accessing its services and are in its systems.
"We really look forward to improving in this area," she said.
Developing partnerships between the city agencies and the LGBT community is key, said Clair Farley, a senior adviser to Mayor London Breed who, as director of the city's Office of Transgender Initiatives, is working with the departments on their SOGI data collection efforts.
A common theme in the SOGI reports thus far, she noted, is that "LGBT people are best served by programs that explicitly include and reflect them."
Another department that came under scrutiny during the hearing was the Department of Public Health. DPH has set a goal of having at least 75% of its patients provide the SOGI data this fiscal year. That could be a challenge to meet, since just two of its locations met the 50% threshold set for the previous fiscal year.
"I know this is a huge amount of work for a large and complicated department like DPH," said Mandelman, but he noted that "this year's report definitely feels more of a work in progress."
Ashley Scarborough, a member of the public health department's SOGI steering committee, noted its efforts to improve collection of the data were hampered by the rollout earlier this year of a new record-keeping electronic system known as EPIC.
"None of us feel those numbers are the end of our work," she said of the figures included in DPH's SOGI report this year.
The health department, Scarborough noted, continues to expand the training for its staff on how to collect the SOGI data. All new employees outside of its hospital system now receive such training and DPH plans to soon expand it to hospital staff.
"Our training on SOGI is ongoing," said Scarborough.
In the coming fiscal year and in the one covering 2020-2021, Scarborough predicted DPH would see marked improvements in the SOGI data it is collecting. As it continues to improve its SOGI data efforts, she noted that DPH would use the information to better tailor its services to the LGBT community.
"We will be looking at the data to look for health disparities," said Scarborough. "We will develop goals for improving health outcomes based on what we find in this data."
Mandelman responded that "it would be good" for DPH "to be further along" in its SOGI data efforts. Should it need additional resources to do so, he added, "let my office know."
Comments on Facebook