Editorial: Open meth sobering center soon
Wednesday Nov 6, 2019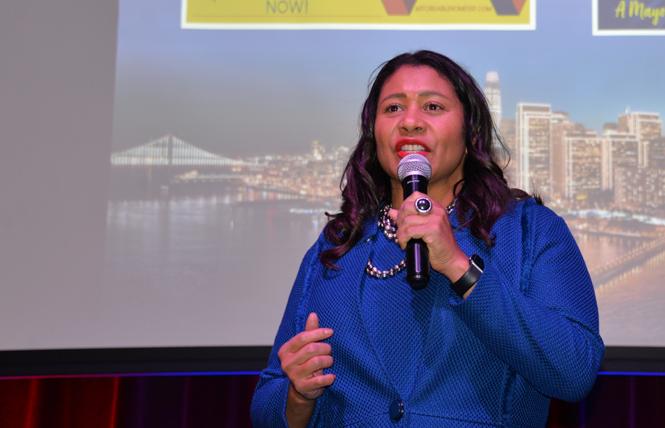 Now that Mayor London Breed has won a full four-year term — with 78% of the vote, according to unofficial returns — it's time for her administration to quickly complete the process for opening a meth sobering center. As we recently reported, such a facility was at the top of 17 recommendations made by the city's Methamphetamine Task Force, which convened most of this year and issued its final report last month. According to the report, the Department of Public Health estimates that there are 24,500 people who inject drugs in San Francisco, with recent data suggesting that 39% of them reported injecting meth. Many in this group identify as LGBTQ, as was found by an earlier city task force established by former mayor Gavin Newsom that focused specifically on the queer community. This year's task force looked at the city as a whole. Meth is an addictive drug, and getting clean is very difficult; continued use can be deadly.

The city reports that since 2008, deaths determined to have been caused by a methamphetamine overdose climbed from 1.8 per 100,000 people to 14.6 in 2018, or 126 deaths. Among decedents experiencing homelessness in San Francisco, methamphetamine was the most commonly present substance (47%), according to the report. The association between methamphetamine use and psychosis is reflected in the number of visits to psychiatric emergency services, of which nearly half (47%) are related to meth. The report noted that, according to the San Francisco Police Department, the number of arrests involving methamphetamine has also steadily risen since 2003, and the percentage of these arrests have trended upward since 2008, from 1 in 20 to roughly 1 in 5 in 2018.

The task force concluded that methamphetamine use disorder is a medical condition that is caused by chronic use of methamphetamine and impairs an individual's ability to carry out daily life activities. Long-term use of the drug can cause significant damage to the individual's brain, heart, lungs, and other organ systems. When an individual stops using methamphetamine, intense cravings, anxiety and depression may follow and last for many months thereafter.

Armed with this information and much more, the task force advocates for the creation of a trauma-informed sobering site with integrated harm reduction services for individuals who are under the influence of methamphetamine. In other words, a safe space where people can come down from their high and be linked with services. Meth use will not be permitted.

The task force's report stated that a meth sobering center is a short-term goal, meaning it could open within a year. We'd like to see it in operation sooner, say six to nine months, along with other short-term recommendations: expand availability and duration of treatment models across the continuum of harm reduction services, and prioritize and protect housing for people seeking treatment. The latter is critically important: people are unlikely to seek treatment if they fear losing their housing. For those who are unhoused and in treatment, the task force urges that the city ensure they are assessed for housing priority.

The report also looks at police response, and in the short term, recommends ensuring that law enforcement staff are trained to use an integrated crisis intervention approach. "It is critical," the report states, "that first responders such as law enforcement officers are equipped to engage people in a manner that reduces the person's agitation and the risk of harms and trauma to the individual, staff, and the general public." The report states, "Academy training for officers could expand current crisis intervention training to incorporate a trauma informed lens that focuses on de-escalation, harm reduction, and the goal of connecting individuals under the influence of methamphetamine to services and care."

Other recommendations advocate for cultural competency in care and services, simplifying the bureaucratic process for admission to programs, and increasing the capacity of programs. All are important, but opening the meth sobering center is key. The goal is to engage people quickly, setting some on the path to recovery through harm reduction.

Last year, after Breed was sworn in following her election to finish the term of the late mayor Ed Lee, we wrote that Breed should begin work on various projects to help stem homelessness. She has devoted much time and energy to that. We still want to see a Navigation Center for queer homeless youth, and it seems the city is now seeking a shelter for transitional age youth (18-24) and a floor of a Navigation Center dedicated for LGB people. As with these types of facilities, however, finding a site is the main hurdle due to objections from residents who usually don't want them as neighbors. This is the wrong attitude that will do nothing to alleviate a problem that is only getting worse. Let's try a meth sobering center and see how it works.
Comments on Facebook