Online extra: Breed names Loftus interim DA
Friday Oct 4, 2019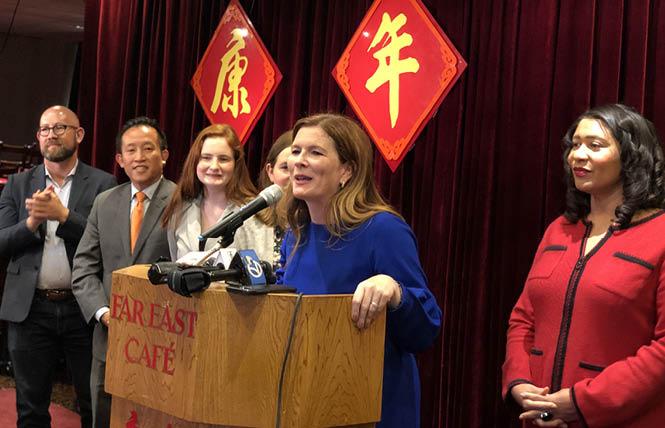 San Francisco Mayor London Breed Friday named Suzy Loftus, a candidate for district attorney, to be acting DA in the wake of George Gascón's sudden resignation.

Protesters arrived at Portsmouth Square, the planned site of the announcement, which was moved to a nearby dim sum restaurant. The announcement led to a chaotic scene as the news media, detractors, and supporters of Loftus followed her through the streets of Chinatown to find the mayor at the new location.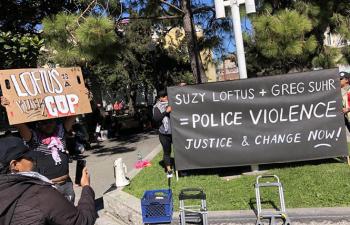 Loftus is one of four candidates vying to be the city's top law enforcement official, and is viewed as having a strong shot at winning the post November 5. She has been endorsed by the city's political establishment, including the mayor and the San Francisco Democratic Party.

But current DA George Gascón announced Thursday that he was resigning effective October 18 in order to move to Los Angeles. He is widely expected to run for DA in that city and needs to establish residency, according to a story in the San Francisco Chronicle.

"I will work every day to build a justice system that is not for the privileged few but works for all of us," said Loftus, accepting the appointment.

Several people spoke out at the protest.

"I cannot believe they went ahead — there's going to be elections," said Maria Gutierrez, a protester with the Mothers of the March Against Police Murders. "Let the people decide."

Protesters had signs showing Latino men who had been killed by the San Francisco Police Department and which accused Loftus of being a "killer cop." She formerly served as president of the San Francisco Police Commission.

Gutierrez was joined by longtime gay activist Michael Petrelis, who said via a megaphone that the appointment was an example of "corruption" at City Hall.

Gay District 8 Supervisor Rafael Mandelman defended the appointment, saying that it wouldn't be responsible of the mayor to leave the office vacant when there is a qualified candidate available.

"I think the mayor was looking for the best person for the job, and I think she found her," said Mandelman.

For their part, both Breed and Loftus addressed the protests as they started speaking in the crowded dining room at the Far East Cafe.

"It wouldn't be San Francisco without a nice protest," said Breed.

Loftus said her daughter told her "don't be mad at the protesters."

"That's how I raised her," Loftus said. "We are San Francisco."

Loftus will begin serving as DA following the October 18 effective date of Gascón's resignation. She currently serves as legal counsel for San Francisco Sheriff Vicki Hennessy. Prior to that, she worked for former state Attorney General Kamala Harris and served as a prosecutor in the San Francisco DA's office.

Friday afternoon, Tony Montoya, a gay man who is head of the powerful San Francisco Police Officers Association, blasted Gascón's decision to leave early. Gascón used to be the city's police chief before being tapped for the DA's post by former mayor Gavin Newsom.

"George Gascón abandoning his sworn duty to climb the next rung of the political ladder is consistent with his character of putting his raw ambition before the public's interest," Montoya wrote on Twitter.

He added that the SFPOA "respects" Breed's authority to appoint an interim DA.

Montoya said the SFPOA is "thankful" Breed did not appoint Chesa Boudin, who he described as a "criminal and domestic-terrorist apologist." When he was a toddler, Boudin's parents drove the getaway car in an armed robbery that took three lives. His mother spent 22 years in prison. His father is still incarcerated.

The SFPOA did not endorse a candidate in the DA's race.

Boudin, a deputy public defender who has broad support for his DA campaign among the city's progressives, told the B.A.R., "This is an obvious power grab by a political establishment determined to protect themselves rather than the people of San Francisco. Voters will see this is about politics, not public safety. Our support is strong and getting stronger every day. I'm confident our campaign can overcome this last-minute effort to preserve the failed status quo."

Boudin added that he thinks voters are "excited about the first open DA race in over a century and want a DA who is accountable to them, not to the mayor."

Regarding Montoya's comment, Boudin said, "I'm lucky and proud to live in a country where children are not held responsible for their parents' mistakes."

The other DA candidates in the race are Alameda County deputy district attorney Nancy Tung and deputy state attorney general Leif Dautch.

Dautch issued a statement Friday on Gascon's resignation, but said nothing about Breed appointing Loftus, his chief opponent in the race. A follow-up email to Dautch was returned with the same statement.

"I filed last year to run for district attorney against George Gascón because I believed he had put his political ambitions above the well-being of everyday San Franciscans," Dautch stated. "Yesterday's announcement that he is abandoning his post to run for office in Los Angeles confirms that belief."

But Dautch did refer to the news of Loftus' appointment on Twitter, writing, "Voters across San Francisco are excited about the first open-seat race for District Attorney in 110 years. They deserve the right to choose their next DA on a clean slate. Machine politics caused the problems facing our city, and machine politics won't solve them."





Tung, the most conservative candidate in the race, blasted the mayor's decision.

"Mayor London Breed appointing her endorsed candidate for district attorney, just days before people start voting, reeks of cronyism and political backroom deals," Tung stated.

Early voting in the election starts next week.


Updated, 10/4/19: This story has been updated to include comments from the SFPOA and other DA candidates.
Comments on Facebook