Lesbian files complaint after denied service at SF salon
Wednesday Oct 2, 2019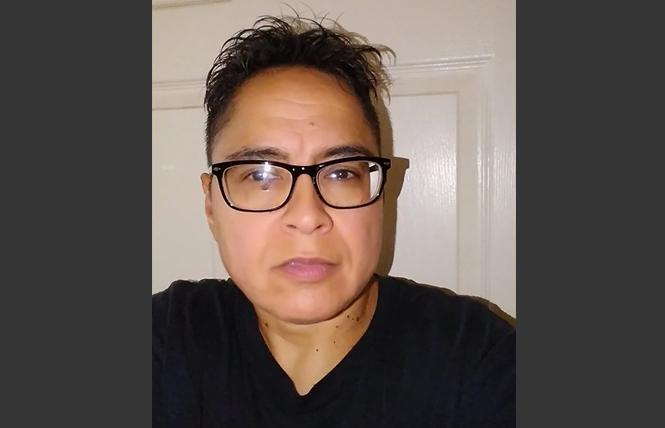 A lesbian has filed a complaint with the San Francisco Human Rights Commission, claiming that a hair salon recently denied her service.
Monica Talavera, a 51-year-old resident of Albuquerque, New Mexico, was visiting Yvette Robles in San Francisco August 12. According to both of them, the two were walking down Mission Street when they stopped inside Salon de Belleza at 2260 Mission. Talavera said that she looked at photos of different styles of haircuts in the shop to decide what kind of cut she wanted for herself. The sign by the shop's front door states "Para Toda La Familia" (for all the family), and in English "Haircuts for Men, Women and Children."
"My sister, Yvette, and I were walking down Mission and I needed to get a haircut," Talavera told the Bay Area Reporter, referring to her close friend.
According to Talavera, the pair walked into Salon de Belleza and said hello. She claims that no one responded.
"We stood there looking at all the pictures of the haircuts," Talavera said. "I'm trying to figure out the kind of cut that I want, because I wanted a trim, but I wanted it to be styled."
Talavera said that there was a man and a woman working in the shop. The man was working on a cut while the woman swept up. Talavera said that the man turned around and said, "I don't cut women's hair." Robles then, according to Talavera, spoke to the man in Spanish and pointed to the cut that Talavera wanted, telling him that she wanted her hair cut like a man's — Talavera identifies as a butch dyke. The man suggested that they ask the woman who was working —Talavera said that the woman shook her head no.
"This feels like discrimination," Robles said, as Talavera continued recounting her story. Robles then pointed to the sign in front of the store that stated that they do cut women's hair.
"He said, 'I don't do that,'" Talavera said. "And Yvette said 'That's discrimination, shame on you. You came here knowing what discrimination is like, and now you're doing it to your own people.'"
Talavera spoke about how the incident made her feel.
"This is my city too," she said. "I lived in San Francisco for almost 20 years, I just left in 2012. With all the changes that's going on in the country, it just felt really sad to me, this is how we're treating each other."
Talavera added that the incident felt awkward to her. She said she feels that the store refused to serve her because she's a lesbian and because Robles is a trans woman.
"There's no hiding who we are," she said. "And here you've got the two of us walking down the street together — you can't miss us!"
Robles corroborated Talavera's story.
"That's discrimination," Robles said. "Monica gets up, she was upset, and she flashed her money at him. And I said this is not the last you're going to hear from us. We went next door, there's another hair salon two doors away and they were really nice. They cut her hair the way she wanted."
Robles noted that she's been in San Francisco for 30 years, and said that she's seeing more discrimination these days.
"It made me angry," she said. "It made me feel confused because I've never experienced that kind of discrimination. It made me feel bad for Monica because we were in there for a long time — why didn't they say something before? Why didn't they greet us? And he said, 'I don't cut women's hair.' But it's a masculine haircut that she wanted. So I felt like that was discrimination. And when he asked the woman if she would do it she just turned her head. So we ended up feeling that we didn't belong in the city anymore."
Robles pointed out that she doesn't want anyone to lose business.
"There has to be a time where people need to realize that everyone's human," she said. "Even if you have discrimination, keep it to yourself and do your job. You're there providing a service for the community. I want these people to have sensitivity training."
The B.A.R. was unable to find a phone number for Salon de Belleza, but was able to speak to owner Arely Vasquez in person.
"I did not know about it," Vasquez said, when told of Talavera's claims. "I don't know who she spoke to but some of the barbers are only licensed to cut men's hair, maybe that's why they said they couldn't cut her hair. I heard that some shops are getting sued because they don't do women's hair. Some of the barbers don't speak English."
Talavera said that Robles spoke to the barber in Spanish.
"He said 'I don't do that' in English," Talavera said. "They refused me service because I'm a woman, or because of the type of woman I am."
She added that she has not yet heard back from the San Francisco Human Rights Commission regarding her complaint. David Miree, media liaison for the HRC, did not respond to the B.A.R.'s email and phone call request for comment.
Comments on Facebook