Newsom signs sex worker protection law
Wednesday Aug 7, 2019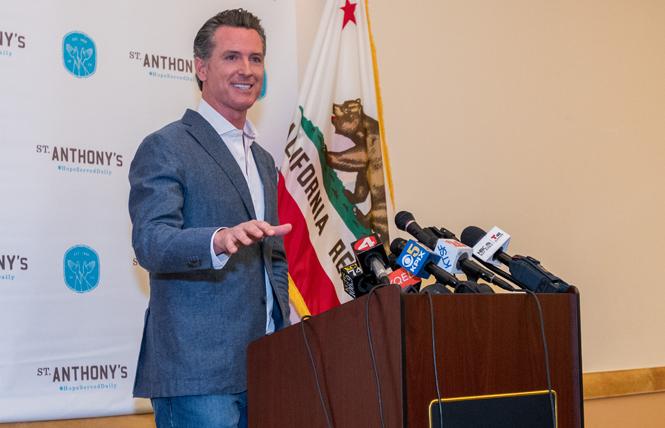 Governor Gavin Newsom recently signed legislation to protect sex workers from arrest for misdemeanor sex work-related crimes after they report a serious and violent felony, such as robbery or assault. The bill also includes a provision that the possession of condoms cannot be used as evidence of sex work.
This law will take effect January 1.
Authored by gay state Senator Scott Wiener (D-San Francisco), Senate Bill 233, which was signed July 30, provides an unprecedented level of health and safety protections for sex workers, and is the first law with these specific protections in the nation.
Current law allows sex workers who come forward to report crimes committed against them to be arrested for prostitution. This complication makes reporting violent crimes too risky for most sex workers, and can heighten public health risk as a result.
The health issues are particularly true if condoms can be treated as evidence of sex work, which induces sex workers to carry few or none at all. Sex workers have a heightened risk for contracting sexually transmitted infections such as HIV. Current laws that allow condoms to be treated as evidence of a crime create an environment wherein sex workers are even more at risk and less able to protect themselves, advocates said.
In a phone interview, Wiener said he was pleased to have made this kind of progress through agreement in the Legislature.
"We got overwhelming support in both houses, including a number of Republicans," he said. "I'm just thrilled my colleagues immediately saw it as a common-sense measure."
Wiener also pointed out that everyone should be able to report a crime committed against them.
"We've tried to make a safe space for sex workers that they can feel comfortable and confident to report a violent crime without getting arrested themselves," he said.
Ultimately, Wiener said, this bill was a step toward the decriminalization of sex work itself, and the eradication of the trafficking that thrives in the secrecy that policies like condoms-as-evidence have helped maintain.
"Sex workers face huge risk of violence, a huge risk of victimization, and a huge risk of STIs," he said, referring to sexually transmitted infections. "We make it very hard for them to protect themselves by arresting them when they report violent crimes and by using condoms as evidence against them. It makes no sense whatsoever. I hope that this puts us on a path to decriminalizing sex work. At some point, we have to grapple with this issue."
Wiener said that opponents of legislation like SB 233 have argued that criminalizing sex work provides a way to intervene and rescue victims of human trafficking.
"I don't agree with that," he said, taking care to rhetorically separate victims of trafficking from people who choose sex work.
"Victims of human trafficking are not committing a crime. They're victims. But the way we've treated it, victims will not report their traffickers because they think they'll get arrested themselves," Wiener said.
Unclear condom policies
Condom policies have not always been clear at the local level, even when San Francisco Police claimed in 2012 that officers did not photograph condoms as evidence of sex work or enter them into the record as proof. Captain Denise Flaherty, who at that time was head of the SFPD's special victims unit, told the B.A.R. that condoms didn't have "any evidentiary value whatsoever," and should not be confiscated or treated as evidence. However, conflicting reports from vice cops indicated that this policy was not widely understood or practiced in a uniform fashion.
Flaherty admitted an on-ground flexibility on this issue, saying, "I can't speak to what a police officer may do."
This was followed by an announcement from former Police Chief Greg Suhr stating definitively that condoms would not be taken by SFPD as proof of prostitution.
Since then, this issue has come up time and again in San Francisco policing and legal circles, with District Attorney George Gascón weighing in in 2013, assuring the city that the late Public Defender Jeff Adachi's office had agreed to "eliminate any discussion concerning the presence or absence of condoms as evidence in convicting or acquitting an individual of a prostitution-related crime."
At the state level, the question of condoms and sex work had further to go. In 2014, former Governor Jerry Brown signed a bill authored by gay former Assemblyman Tom Ammiano (D-San Francisco) that required prosecutors attempting to use the possession of condoms as evidence of prostitution or loitering with intent to commit prostitution to submit a motion to the court stating the reasons that condoms were relevant to the case.
This was a step toward condom decriminalization, but ultimately did not do enough to prioritize public health, since it still allowed condoms to become evidence of wrongdoing.
California is not the first state to take this step. A similar law passed in New York in 2013.
Reaction
Organizations and individuals reacting to the new law describe it as nothing short of historic, and an unexpected victory for sex work, the fight against human trafficking, and disease prevention.
"After 40 years in the sex trade, and being trafficked for 10 of those years, I never thought that we would see a change in my lifetime," said Pearl Callahan in a news release. Callahan is the outreach director for the Sex Workers Outreach Project Sacramento.
"Allowing sex workers to carry condoms and report violent offenses will be lifesaving," she added.
Toni Newman, executive director of St. James Infirmary, a San Francisco occupational health and safety clinic for sex workers of all genders, told the B.A.R by phone she thought this was an excellent move toward the overall decriminalization of sex work.
"I think it's a great move toward decriminalization in California, which we're working on now," she said. "As the executive director of an organization that serves a lot of women of color, many of whom are doing survival sex work, I can tell you jail is not the answer."
Speaking beyond SB 233, Newman was optimistic about the future of this movement.
"We're working with the ACLU, building a coalition to draft a bill for statewide decriminalization to give to Scott Wiener," she said, referring to the American Civil Liberties Union.
The full text of SB 233 is available here.
Comments on Facebook