Jock Talk: FIFA must follow through with new bias sanctions
Wednesday Jul 24, 2019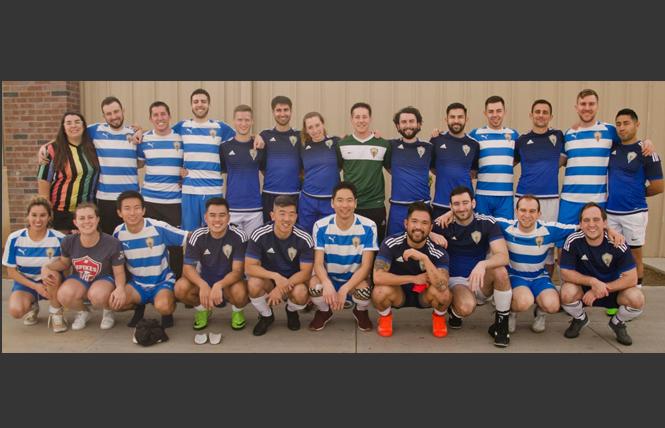 This month, a new disciplinary code of the international governing body for soccer went into effect, and it imposes stiffer sanctions for discrimination on the basis of race, gender, and sexual orientation. FIFA should have the will and the guts to follow through and make a difference.
The new FIFA disciplinary code is 70-some pages (half the length of the old one). It specifies that players or coaches who engage in homophobic acts or statements will be suspended for 10 matches (the old rules allowed for five matches). If a club or its fans engage in such behavior, the team would have the number of spectators at its next match restricted and the club would have to pay a fine of 20,000 Swiss francs ($20,301) for a first offense.
The code states, "For reoffenders or if the circumstances of the case require it, disciplinary measures such as the implementation of a prevention plan, a fine, a points deduction, playing one or more matches without spectators, a ban on playing in a particular stadium, the forfeiting of a match, expulsion from a competition, or relegation to a lower division may be imposed on the association or club concerned."
The FIFA code allows direct victims of any discriminatory behavior to present a victim impact statement.
Match officials have long had the power to suspend play or halt a match if the crowd is spewing homophobic venom. None has ever done so. Is it even realistic or desirable to expect them to do so?
"It's going to be tricky to know at what point the chant is continuing after, say, a public announcement warning in the stadium," said Luis Miller, president of the San Francisco Spikes, an LGBT soccer club. "How loud does it need to be? By how many people? Can thresholds even be set? Shutting down games will probably antagonize fans even more and possibly lead to violence in the stadiums. As much as treating behavior in the moment of a transgression works in other aspects of our lives, I don't think it's worth it in this context or that it will have the desired long-term effect."
Spikes treasurer Danielle Thoe said she thought it was wrong to leave that decision in the hands of a match referee.
"Shutting down matches for homophobic and racist chants is a good thing, but I don't think putting the onus on the on-field referee is the right way to do so," Thoe said. "The referee has so many responsibilities on the field and things to pay attention to that staying tuned in to what the crowd is doing just can't be a priority. It also very publicly puts the decision on one individual who then becomes susceptible to harassment and other abuse both at the stadium and in outside life. I would prefer off-field officials to make this decision — they could be present in the stands to pay attention to what fans are doing and saying as well as may have lower public profiles to avoid backlash. As the rule stands, I can see how it would be very difficult for an on-field official to stop a match and I think the potential backlash would make a referee think twice about doing so."
Fines have been repeatedly imposed. Hell, Mexican teams can practically count in advance on having to pay fines for their fans' ubiquitous chants of "puto" and "maricón," as was showcased last year during the men's World Cup. During that same World Cup, Argentina was fined 105,000 Swiss Francs after many of its fans chanted homophobic slurs during and after the team's shocking 3-0 loss to Croatia.
"I don't think fines will result in the desired change of fan behavior for a long time," Miller said. "Fining teams large sums of money will eventually impact the team's resources and presumably their performance on the world stage, but the punishment is too disconnected from the people promoting these chants."
And so the chants have continued. Maybe because FIFA's heart really wasn't in the fight. Maybe because an organization rife with corruption that awarded back-to-back men's World Cups to nations with horrific human rights abuse records, particularly when it comes to the LGBT community, does not see homophobia or transphobia as "real" problems. Maybe an organization that does have a problem with putting women's World Cup matches on artificial turf or letting the teams pay them less money does not truly see a problem with sexism.
Let's hope not. Let's hope that FIFA is ready to back up its words with action.
"FIFA's reputation is certainly in shambles for many reasons," Thoe said. "I can't speak to the motivations, but I think that any discussion around putting an end to racism and homophobia in sports, especially in codifying that in a governing body's rule, is for the better. Talk is just talk, but increased discussion will hopefully give fans who want to see these elements eliminated from soccer more confidence to speak out. It will be the fans who ultimately need to step up and hold FIFA accountable to enforcing these rules."
Added Miller, "Any organization known for long-standing corruption issues is going to want to present a fresher face to the world through other actions. Doubling down on shutting down homophobic behavior is one way to signal to people that they are 'with the times' and future focused, not stuck in old ways of the 'good old boys' club, which, of course, still persists."
Both Miller and Thoe said they believe increased FIFA commitment to post-game sanctions is critical in the effort to excise homophobia from the sport.
"Fans should be able to report incidents after the fact and have something done about it," Thoe said. "The rules don't cover a situation where a fan witnesses or experiences harassment and reports it after the fact. In a group, and in the moment, it can be difficult for one person to stop a crowd who are carrying on with a racist or homophobic chant. FIFA should place as much value on incidents reported after the fact, with multiple witnesses or video evidence to show the incident, as they do those witnessed live. If, again and again, evidence of derogatory words or actions are shown, FIFA should also take action."
Miller said if FIFA wants fan behavior to change, then it needs to take something away from them.
"In terms of the harshest actions, I think, to quote from FIFA's new rules, 'playing one or more matches without spectators' or 'a ban on playing in a particular stadium' would be more successful and less antagonizing than shutting down games mid-game," he said. "Unfortunately, other fans who either don't care about the chant or actively dislike it will have to deal with the consequences of their fellow fans' actions."
The FIFA disciplinary code is available under the Documents menu at http://www.fifa.com.
The Spikes were formed in 1982 as the host team for Gay Games I soccer. They hold outdoor practices March through October, then practice indoors at Eureka Valley Recreation Center the rest of the year. They participate in tournaments, including the Gay Games and the International Gay and Lesbian Football Association championships, and will host their own annual tournament during Folsom Street Fair weekend. For more information on the Spikes, visit http://www.sfspikes.com.
Comments on Facebook