Political Notebook: Pride continues to grow in Solano County
Wednesday May 29, 2019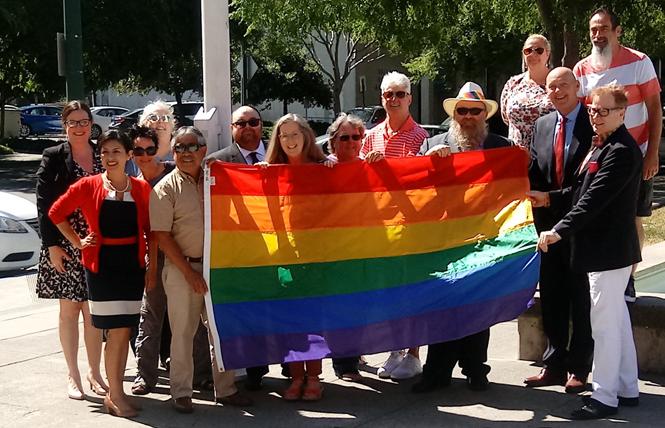 This June marks the 10th year since Vallejo became the first city in Solano County to recognize June as Pride Month. While its doing so sparked protest from conservative religious leaders in the bayside city, much has changed over the ensuing decade.
It now flies the rainbow flag in honor of Pride Month at City Hall — it will go up Monday, June 3, with a formal ceremony to be held at 11 a.m. June 8 — and is host to an LGBT film festival. Last year, city officials waived the fees for organizers of the annual county Pride event, known as Up Bay Pride, to hold it in a waterfront park. It saved them $4,000.
"We're on a total 180-degree footing with the city now," said Vallejo resident Thomas Bilbo, board chair of the Solano Pride Center in Fairfield. "We have a good relationship with the City Council and new city manager in Vallejo."
So as to not compete with the numerous Pride festivals held throughout the Bay Area during June, the LGBT community center decided to push back Up Bay Pride to September 28 and relocate it to the city of Vacaville. They are hoping the city will follow Vallejo's lead in waiving the several thousand dollars it will cost to rent out a downtown park for the event.
"We reached out to the City Council to see if they will make it a city-sponsored event," said Solano Pride Center Executive Director Jonathan Cook, who lives in Vacaville.
His hometown issued a Pride proclamation for the first time last year after the council pushed off doing so in 2017 so that city officials could come up with a policy for issuing proclamations. It is expected to do so again this year June 7, though it is not expected to fly the rainbow flag.
Solano County's Board of Supervisors now routinely issues a Pride proclamation and, as of last year, flies the rainbow flag in June. It flew for two days last June and will be flown for a full week next month beginning Tuesday, June 4. The Solano Community College District board for several years now has also celebrated Pride Month.
Last summer, former vice mayor of Dixon, Ted Hickman, caused an outcry when he declared July "Straight Pride American Month" in his weekly newspaper column. It led to his losing his re-election bid in November.
This year Solano Pride Center officials have reached out to the current council about issuing a proclamation in support of Pride Month and are waiting to hear back, said Cook. They also put in a request with officials in Rio Vista, he said, "so we are able to have coverage throughout all of Solano County."
"We still have a long way to go," acknowledged Bilbo. "But with more staff, we are growing the Pride center. It is looking more positive than it has looked in a long time."
To see a full schedule for this year's Vallejo Stonewall Film Festival, taking place June 13 and 14, visit https://www.solanopride.org/vallejo-stonewall-film-fest.
LGBT caucus seeks state funding
As noted in this week's story about the global AIDS confab being hosted by San Francisco and Oakland next summer, the Legislative LGBTQ Caucus is seeking $2 million in the state's 2019-2020 fiscal year budget to help cover the cost of the conference.
It has three other fiscal priorities it is seeking to be added into the budget as lawmakers hash out a final version to be sent June 15 to Governor Gavin Newsom for final sign off. One already was included by Newsom in his May budget revise, $500,000 to support LGBT archival work by institutions in San Francisco, Los Angeles, and San Diego.
It is also seeking $500,000 to support the new arts center the San Francisco Gay Men's Chorus is constructing inside the Valencia Street building it recently purchased. The caucus' biggest ask, of several million dollars, is to fund Assembly Bill 2153, which if adopted this year would support annual training sessions for educators in the state on how to support LGBTQ students in grades seven through 12 and address issues they face in school like bullying and harassment.
Milk club early endorses SF candidates
As expected the Harvey Milk LGBTQ Democratic Club Tuesday night early endorsed tenants rights activist Dean Preston in the District 5 supervisor race this November. He is aiming to unseat Supervisor Vallie Brown, who was appointed to the seat by Mayor London Breed when she resigned last summer to move into Room 200 of City Hall.
The progressive political group also gave an early endorsement to district attorney candidate Chesa Boudin. He is seeking to succeed George Gascón, who opted not to seek re-election this fall.
At its June membership meeting, the club will vote on early endorsing Public Defender Mano Raju. Breed appointed him to the position following the unexpected death of Jeff Adachi in February.
Web Extra: For more queer political news, be sure to check http://www.ebar.com Monday mornings for Political Notes, the notebook's online companion. The column returns Monday, June 3.
Keep abreast of the latest LGBT political news by following the Political Notebook on Twitter @ http://twitter.com/politicalnotes .
Got a tip on LGBT politics? Call Matthew S. Bajko at (415) 829-8836 or e-mail m.bajko@ebar.com.
Comments on Facebook