Seeing in the Dark: Queer author Galloway charts her own path
Wednesday May 22, 2019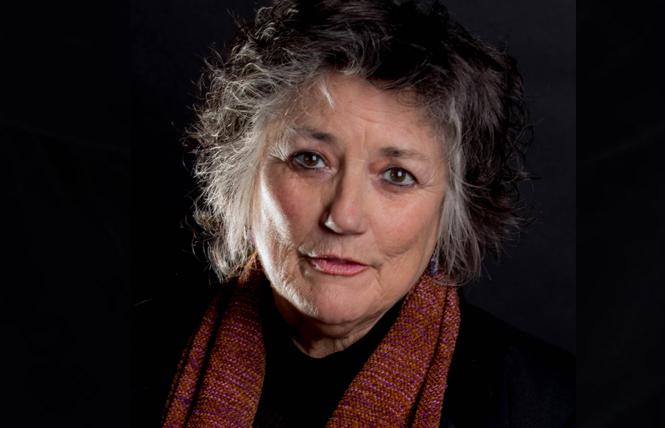 Not quite seeing or hearing artist Terry Galloway ambled through early childhood with mixed emotions. On one end, she was arrogant. In fact, she would even describe herself as "a little shit," yet she also sought physical approval from the people around her.
"My deafness," she said, "even before it was diagnosed, made me cleave more to others for a reassurance that I wasn't quite aware I needed."
When Galloway was 10 years old, doctors discovered she had a chemical imbalance caused by the introduction of drugs to the fetal nervous system, a result of medication her mother took while Galloway was in the womb. Ultimately, the reaction to the treatment left her deaf and with limited eyesight.
"I was saddled with glasses and hearing aids, and my deafness manifested itself then as a savage insecurity," she said.
"I was mainstreamed," Galloway, 68, continued, "and grew up not knowing any other kids who were deaf or Deaf. My own deafness, and my budding, constantly churning sexuality, made me feel warmer toward the kids with their own problems — kids who liked to dress differently, kids who were poor, kids who were too fucking smart for their own good, kids who felt uncertain about their sexualities, kids with disabilities — both hidden and visible. I identified with those odd ducks. When I was in my late teens, I met some other kids who were 'big D' Deaf. I admired the hell out of them, but they frightened me a little — they were tough. But then, they had to be."
In her book, Galloway explained big D Deaf.
"There is a definite hierarchy in that deaf culture," she writes. "If you are deaf of deaf — a deaf person born to deaf parents — and your language is Sign and the company you keep is primarily deaf, you are Deaf with a capital D."
With plenty of experiences to draw from, Galloway plunged herself into the arts, and just like many young people with disabilities in the late 1960s, she faced a lot of discrimination.
"When I was graduating from high school, the guidance counselor was advising all my friends who were in the Thespians of the Scarlet Mask to apply for Yale, or UCLA, or any college that had a decent drama department," she said. "But when I walked in the door, he took one look at me and said, 'Oh, you're the one.' And handed me a brochure that read, errors and all: 'Factory work make good job for deaf.'"
Like many LGBTQ and disabled people of that time, Galloway carved her own path into the arts. With the help of friends, she sought out or created spaces that would welcome people like her.
"Places with people who didn't think of me as a waste of time because I couldn't hear or talked with a kind of muffled lisp," she said. "And from there I started to write pieces that spoke to the experiences of people like me — that's when I started doing my solo shows."
In 2009, Galloway published her memoir, "Mean Little deaf Queer," which has become a cult classic among people with disabilities. Celebrated lesbian author Dorothy Allison called it "a damn fine piece of work that is unbelievably powerful." Author Kenny Fries included it in his article on LitHub titled "8 Books That Move Disability from the Margins to the Center."
"She gives us what we are rarely given in literature: a fully dimensional disabled person, warts and all," Fries said.
Just a year after the release of her groundbreaking memoir, Galloway received a cochlear implant — a process not all deaf people are eligible for. And even Galloway herself was initially unsure it would work. The surgery allowed Galloway to gain significant hearing and her latest show, "You Are My Sunshine," is about her experience of negotiating the world of sound.
Galloway identifies as being a "little d" deaf, omni-sexual, happily married, female-ish artist/activist. Along with her partner, Florida State University communication professor Donna Marie Nudd, Ph.D., she splits her time between Austin, Texas and Tallahassee, Florida.
The couple also co-directs the Mickee Faust Club — an arts nonprofit that creates performance opportunities for marginalized communities through workshops.
"I love Mickee Faust," said Galloway. "I love playing the head rat, Mickee Faust, who is supposedly the swear dwelling, cigar chomping, beer guzzling, foul mouthed, rat bastard brother of that other more famous unctuous rodent in Orlando."
To learn more about the Mickee Faust Club, visit http://www.mickeefaust.com. To follow Galloway's other projects, check out www.theterrygalloway.com.
Belo Cipriani is an award-winning author and prize-winning journalist. His new book, "Firsts: Coming of Age Stories by People with Disabilities," is now available. Learn more at www.olebbooks.com.
Comments on Facebook