Retired ER nurse with HIV in need of liver
Wednesday Apr 17, 2019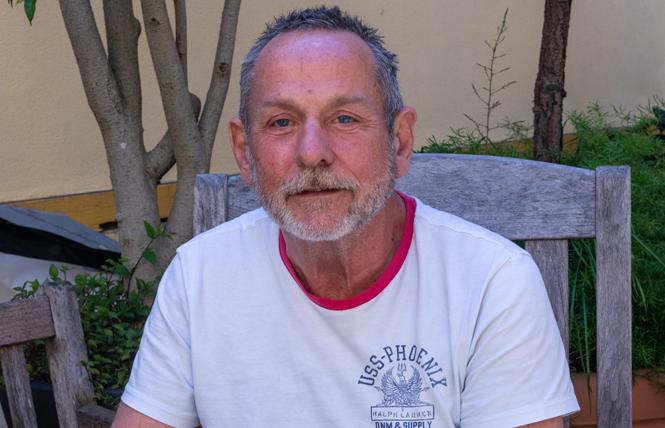 After helping others for 15 years as a registered nurse, John Hoskins is now in desperate need of a partial liver transplant.
The 63-year-old, gay, HIV-positive San Francisco resident was diagnosed almost two years ago with having a rare genetic disorder that restricts his liver from breaking down toxins, the medical name of which is Alpha-1 antitrypsin deficiency. Two lobes of his liver need to be replaced, and he is currently on the transplant list at UCSF Medical Center.
Today, he's living at Maitri Compassionate Care hospice in the Castro and hopes to spread the message that the greatest donation a person can give someone is an organ, the gift of life. As is true for most organs, livers are in high demand but short supply. The number of people awaiting a liver far outnumbers the availability of organ donors. As well, Hoskins wants to inform people that it's possible for HIV-positive people to be organ donors.
April is National Donate Life Month, another factor that prompted Hoskins to share his story.
"I want to get people to understand that donating is the best gift you can give anyone in the world, to be able to let them love," Hoskins told the Bay Area Reporter in a phone interview last week.
In August 2017, Hoskins was rushed to the emergency room after waking up vomiting blood. The varicose veins near his esophagus had ruptured due to his non-functioning liver. He spent time in the intensive care unit, until a biopsy of his liver revealed the rare gene, which was exacerbated by his HIV status. He's been on the liver transplant list ever since.
Shortly after his diagnosis, Hoskins underwent what is known as TIPS surgery, or transjugular intrahepatic portosystemic shunt. A tube was inserted between the portal vein, which carries blood from the intestines and intra abdominal organs to the liver, and the hepatic vein, which carries blood from the liver back to the heart.
He first began his hospice care at Richard M. Cohen House, a San Francisco residential care facility specializing in HIV/AIDS patients that is run by Dolores Street Community Services, a nonprofit that provides services to the HIV, low-income, and immigrant communities. His experience there was not positive, he said, and he eventually moved to Maitri in February. He said Cohen House did not have the proper resources to handle his rare condition.
Mason Jeffrys, associate director of DSCS, said the agency couldn't comment due to privacy concerns.
"In accordance with HIPAA, we are not allowed to confirm any of the names of our residents nor disclose any information about them even if they have disclosed information themselves," he wrote in an email, referring to the health privacy law.
"Maitri actually saved my life," Hoskins said.
Once he was moved to Maitri, Hoskins' condition improved. He had previously been diagnosed with diabetes at Cohen House, but at Maitri it eventually cleared up. Still, everyday is a struggle for Hoskins.
His husband, Chad Bank, is also spending time in a medical facility, Laguna Honda Hospital and Rehabilitation Center, after suffering a spinal cord injury when he fell from the second story of a business where he was installing cable for a friend. Due to his accident, Bank is no longer eligible to donate his liver.
Hoskins' condition has been hard on both of them. Not having a functioning liver causes physical and mental issues for Hoskins.
"I have difficulty concentrating, difficulty seeing things," Hoskins said. "I have cognitive issues, problems communicating effectively. When the toxins are high in my liver, I have to evacuate them in order to stay aware of what is going on and to complete my sentences."
Bank talked about the ups and downs of being his husband's caretaker and that he has had to relearn how to do many things including simply communicating with Hoskins.
"I didn't understand what it meant to be a caregiver," Bank, 44, said. "I learned how to listen to him more and not challenge him and his thinking. His mind can get really foggy sometimes, which can be stressful as a caregiver. We had to navigate how to find a different style of communication."
The couple switches between spending days at Laguna Honda and Maitri. For those considering organ donation, Bank said, "Really think about it because a lot of people are in need of a liver and you can save a life."
Waiting game
As is the case for many people in need of an organ, each day is a waiting game for Hoskins. He said he is trying to remain healthy to be strong enough to undergo the transplant surgery, which lasts about four to six hours. At one point, he was matched with a donor, but they ultimately declined to donate.
"A lot of people have fear around it," Hoskins said. "There are a lot of misconceptions in the community about donating organs. You can donate a liver without it affecting you or killing you. The liver is the only organ in the body that grows back."
According to UCSF's website, "the liver begins to regenerate almost immediately. Most of the regeneration occurs in the first two weeks after surgery, followed by a slower phase of growth over the next year." The organ of the donor is said to grow back to its normal size about three months after the surgery.
Another misconception Hoskins is trying to clear up is that HIV-positive individuals are not excluded from donating organs. Last month, surgeons at Johns Hopkins University in Baltimore performed the world's first kidney transplant from a donor living with HIV to another HIV-positive recipient, according to http://www.HIV.gov. Until this transplant, all organs donated to HIV-positive recipients had come from deceased donors with HIV.
In 2013, the HIV Organ Policy Equity Act was passed by Congress enabling the use of HIV-positive organs for transplantation, as well as authorizing the transplantation between two people who are HIV-positive. However, such transplants are currently only allowed among participants under a clinical trial at an approved organ transplantation center, according to guidelines issued by the National Institutes of Health in 2015, states HIV.gov.
The interim executive director of Maitri, Michael Smithwick, explained to the B.A.R. in an emailed response that HIV-positive people were once stigmatized when being considered for organ donation.
"Since our beginnings at the start of the AIDS epidemic, Maitri has always been about community, taking care of community. Positive-to-positive organ donations are simply an extension of that history," Smithwick wrote.
Maitri opened in 1987 as a response to the HIV/AIDS epidemic and today is the only AIDS-specific care facility in California that focuses on those dying of AIDS, according to its website.
"Up until now, it seems that HIV-positive individuals in need of organ transplants were left waiting because many health care providers and organ donors questioned the wisdom of 'wasting' a healthy/negative organ on an individual who was likely to die prematurely from AIDS anyway," said Smithwick, who returned to Maitri as interim ED in March, after Anne Gimbel's unexpected departure from the role. Smithwick served as ED from 2011 to 2016.
"Now that antiviral medications are allowing HIV-positives to live longer, healthier lives, it is encouraging to see other positives willing to help those less fortunate with their organ donations," he added. "The implicit message is that those with HIV still have a lot of life to live and are typically just as worthy of an organ transplant as someone untouched by AIDS."
Hoskins remains positive despite his condition and is hopeful he will find a matching donor.
"I want to live. I feel I have many more years left," he said.
To donate to Hoskins' medical costs, visit https://www.gofundme.com/save-john-sf. To register to be an organ donor, visit https://register.donatelifecalifornia.org/register. To find out more about the UCSF liver transplant program, visit https://www.ucsfhealth.org/clinics/liver_transplant/.
Comments on Facebook