Gay SF supe against rent board pick
Wednesday Apr 17, 2019
Gay District 8 Supervisor Rafael Mandelman shares the concerns of those who are questioning the credentials of gay rent board member Reese Aaron Isbell.

In an interview with the Bay Area Reporter Tuesday, Mandelman said he would vote to unseat him next week.

"I don't think he should be on the rent board," said Mandelman, the lone out person on the Board of Supervisors. "I have a lot of personal affections for Reese, but the tenant representatives on the rent board for 40 years have been accomplished, experienced, and knowledgeable tenant advocates and primarily lawyers."

The supervisors rules committee Monday recommended that Isbell be unseated from the rent board. The supervisors will take up the matter at their April 23 meeting and can reject Isbell with a super-majority vote of eight supervisors.

"I was concerned when he was appointed that he didn't have the history of tenant activism or legal knowledge I would expect of a rent board commissioner," said Mandelman. "That concern was amplified and confirmed as I watched the hearing yesterday."

Mandelman also questioned how the mayor's office handled the appointment, faulting the administration for not consulting with tenants rights groups about it as previous mayors have done.

Despite Mandelman's decision, it is likely Isbell will receive the four votes he needs to remain on the rent board. Mayor London Breed is standing by him.

In a statement to the B.A.R. following the rules committee vote, she called Isbell "an incredible advocate for tenant protections and rights," adding that "just as importantly he's been a strong and steadfast fighter and advocate for the LGBT community."

Isbell knows from "firsthand experience," noted Breed, that "LGBT people, particularly those living with HIV and our trans communities, experience higher rates of homelessness and housing insecurity ... Reese is the right person to represent all renters on the rent board because as a tenant himself, he knows firsthand what it means to live with housing insecurity."

The brouhaha began when Breed swore in Isbell, a Democratic Party activist and former state legislative aide, onto the oversight body March 29. The rent board oversees how much property owners can annually raise rents on rent-controlled units and resolves tenant complaints against their landlords.

Isbell's first meeting was Tuesday, April 9, replacing longtime rent board commissioner Polly Marshall. She had blasted how the mayor's office handled her desire to be nominated for another term in an interview with the B.A.R.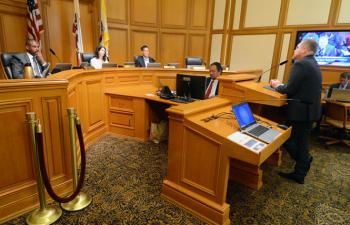 She found out that Isbell had been named to the seat by reading about it in a B.A.R. story posted online the day of his swearing in. The news prompted tenants rights activists supportive of Marshall to question Isbell's qualifications to serve on the quasi-judicial panel.

A number of progressive supervisors have echoed those concerns, including District 9 Supervisor Hillary Ronen. Chair of the rules committee, she called for Monday's hearing and voted along with District 4 Supervisor Gordon Mar to recommend that Isbell be removed from the rent board.

"I want to explore today the depth and breadth of your knowledge in this subject area," she told Isbell before asking him pointed legal questions. "Given the importance of this position, it is incumbent of the supervisors to carefully examine and scrutinize the qualifications of the mayor's appointee."

Stressing that her concerns were not focused on him personally, Ronen said she questioned his knowledge about local rent laws and ability to handle cases that come before the rent board.

"I have no question about your dedication to tenants and to your commitment and intelligence and to your experience whatsoever. With almost any other commission in the city, I agree, the ability to learn on the job is completely possible," Ronen said. "My particular concern with the rent board is that practically every meeting you could be creating precedent that then locks in for the future other tenants. These are very intricate and difficult areas of the law."

Mar said he believes the rent board appointment "requires much deeper knowledge and expertise on tenant issues" as for why he decided to oppose Isbell for the seat.
District 10 Supervisor Shamann Walton voted against recommending Isbell be unseated. He said he was confident that Isbell was up to the task.

"He is working hard to learn everything he needs to be successful in this role," said Walton. "He knows the inequities himself as a renter."

Isbell argued that his 20 years of policy work on local and state issues had given him the necessary experience to be a member of the rent board. He also spoke of his experience fighting his landlord's attempt to raise his rent after his husband moved in following their marriage.

"I know what it is like to come home to find a piece of paper under my doorway giving me notice from my landlord and being terrified to open it," said Isbell.

He pledged to work with tenants rights groups and noted he had reached out to various individuals working on housing issues since joining the rent board.

"I bring my own experiences as an unemployed renter with me to these discussions," he said. "I am not the same as everyone else on the rent board. I plan to use those different experiences with my own expertise in advocacy and policy at the federal and state level to find new ways to keep renters in their homes."

A number of speakers urged the supervisors to reject Isbell due to his lack of legal expertise on housing issues and asked that Marshall be reappointed. Others spoke on behalf of Isbell and his ability to do outreach to the community.

Ronen said the responses to her questions did not give her faith that Isbell was up to the task of the position. She suggested it would have been better had he been named as an alternate to the rent board so that he would have time to become knowledgeable about the laws involved.

"Clearly you have the passion, the intelligence, you have the passion to do this job," she said. "My only concern is the subsequent knowledge."
Comments on Facebook