Berkeley's Pacific Center ED set to retire
Wednesday Apr 3, 2019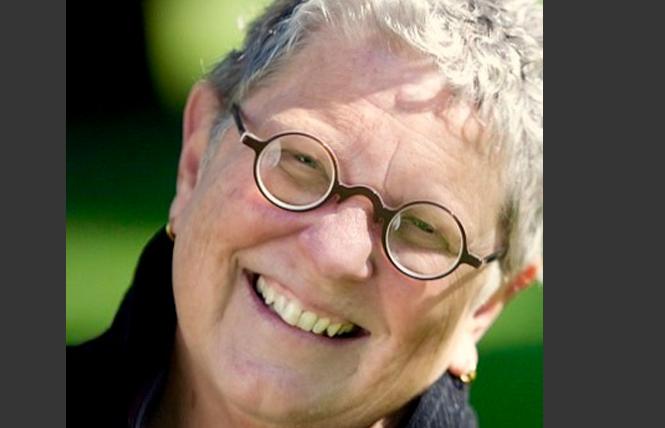 As first reported online last week, the oldest LGBT community center in the Bay Area, the Pacific Center for Human Growth, is losing its longtime executive director, Leslie Ewing, to retirement.
Ewing has been with the Berkeley mental health and wellness center that serves Alameda County for a little over a decade. Her last day will be July 31.
"My hope is that the new executive director will love the job as much as I do," Ewing, a lesbian, told the Bay Area Reporter March 28. "Perhaps someone very different than me. It's time for the next 10 years and important to foster a new generation to do the work and time for me to step back."
Ewing, 70, said it's a personal decision to retire and that it's time for new leadership at the center. Once Ewing departs, Jared Fields, its deputy director, will handle the day-to-day operations until an interim director is chosen.
Her journey to the Pacific Center is an interesting one. In the late 1980s, Ewing and her then-partner of five years decided to attend a community meeting they thought was about housing.
"The first time I ever went to the center was in 1987 because I thought there was a meeting going on about housing," Ewing said. "Turns out it was about the upcoming March on Washington and a civil disobedience training."
They walked out of the meeting having helped form Queer and Present Danger, an affinity group of ACT UP that organized a trip to Washington, D.C. for the historic march that brought out hundreds of thousands of activists in support of LGBT civil rights. At the Capitol, Ewing and many others were arrested. Her relationship with activism was never the same.
Shortly afterward, she began volunteering with a small group of San Franciscans who wanted to create a memorial quilt for those who had died of AIDS. That was the beginning of today's NAMES Project AIDS Memorial Quilt, which was founded by gay activist Cleve Jones.
Ewing has formerly been board president at the AIDS Emergency Fund and associate executive director at Lyon-Martin Health Services. She also served as a buyer for the old Under One Roof store that raised money for HIV/AIDS organizations.
The Oakland resident said among some of her proudest accomplishments during her time with the Pacific Center is its expansion of programs. Today, the center offers youth programs, peer groups, counseling and psychotherapy, and serves more than 3,000 people at four locations throughout the county.
"Small community centers are really the heart and soul of the LGBT civil rights movements," Ewing said. "Our organization has really evolved into the LGBT support organization for all of Alameda County, not just Berkeley."
A new member of Berkeley City Council, Rigel Robinson, a straight ally who won the District 7 seat last year after the retirement of longtime former councilman Kriss Worthington, has been to the center and talked about Ewing's accomplishments.
"The Pacific Center has thrived under Leslie's leadership, and I wish her the best in her retirement," Robinson said. "I was lucky enough to join Pacific Center for one of their LOUD youth group meetings recently to meet the kids there — the team at Pacific Center is doing some of the most important and meaningful work in the world. Countless LGBTQ individuals across the bay and the world are better for the services and community that they found at Pacific Center, which has grown so much under Leslie's watch."
The after-school youth programs at the center have become popular. LOUD, or Loving Ourselves and Uniting Diversity, provides a safe space and peer support twice a week for LGBT youth. Through its Youth Speakers Bureau, young people are trained to become leaders in their community and have the opportunity to lead anti-bullying workshops in Berkeley and other Bay Area schools.
"I am really happy with this and want to make sure the Pacific Center continues going strong," Ewing said.
The center also has 18 peer support groups, led entirely by volunteers, that usually see 10-20 attendees, Ewing added. Additionally, older adult services have expanded to Dublin, Livermore, and other areas of Alameda County.
"In most parts of Alameda County there is very little out there for folks," Ewing said.
As for Ewing, she is looking forward to the next chapter of her life and what the future holds. Although she will initially take some time off, she says nothing is off the table.
"I'll always say yes until I have a reason to say no," she said.
Interested candidates for the executive director position are asked to send their cover letter and resume to boardpresident@pacificcenter.org.
Comments on Facebook