Harvey Milk airplane to take flight with Norwegian
Thursday Mar 28, 2019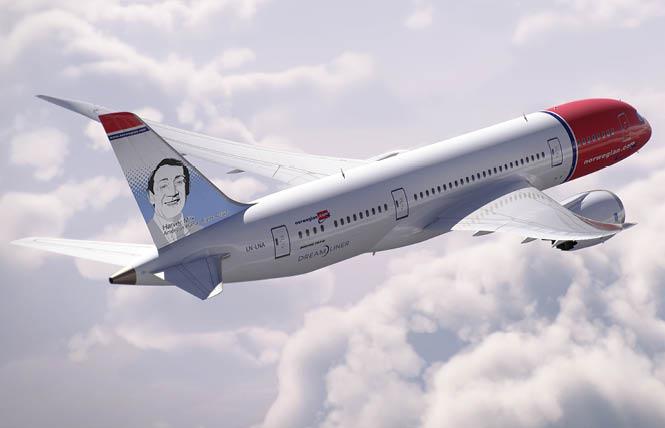 Norwegian Airlines is adding the late gay San Francisco supervisor Harvey Milk to its list of tail fin heroes.
Milk, the first out gay person to win elective office in both San Francisco and California, only to be assassinated 11 months into his term on the morning of November 27, 1978, is the eighth American to be honored by the international carrier on one of its aircraft.
His image will be featured on a newly built Boeing 787-9 Dreamliner that flew from Seattle Monday for London to receive its final detailing and installation. The aircraft, the 168th in the Norwegian fleet to feature a tail fin hero, will be based out of London but is expected to fly various routes to the U.S. including to New York City's JFK airport and to San Francisco International Airport.
"It should be operating in the next two to three weeks, and you will see it at SFO very soon," said Norwegian spokesman Anders Lindström.
The Bay Area Reporter's March 14 Business Briefs column broke the news about the aviation memorial for Milk. The company officially announced the Milk tail fin and released images of it Thursday morning (March 28).
In a statement Norwegian founder and CEO Bjørn Kjos said the company sees the honor as paying tribute to Milk's "bravery and courage" in fighting for equal rights "that will span the globe for years to come, reinforcing our joint commitment to making the world a smaller, friendlier and more inclusive place."
It also ties into the airline's "message of inclusion," stated Kjos, beyond just offering affordable fares by helping to unify its customers, employees, and global business partners who share Norwegian's vision of diversity.
"Like ours, Harvey Milk's mission was reflective of a pioneering spirit," stated Kjos. "He demonstrated a tireless hunger to look past the differences of people and instead focus on bringing them together for the greater good, which we know resonates with many Americans."
Milk is the third male LGBT icon, and first American out man, to be featured on a Norwegian airplane. The visage of the late Queen frontman Freddie Mercury and the late author Oscar Wilde have both graced the tail fin of one of the airline's crafts.
As for LGBT women, Norwegian earlier this month announced it would be honoring two British women who had same-sex affairs, the civil rights activist Emmeline Pankhurst and author Virginia Woolf, through its tail fin heroes program. It previously had memorialized actress Greta Garbo and author Jane Austen with their own tail fins, as both also had affairs with women, though their inclusion as members of the LGBT community is a matter of some debate.
Stuart Milk had revealed in early March that a transcontinental carrier, which he declined to name, would feature his gay uncle on the tail fin of one of its planes this year. In an interview with the B.A.R. he would only say that the airline in question has honored a number of human rights leaders from around the world by displaying their images on the tail fins of its planes.
"The plane will travel to many countries where it is illegal to be LGBT," noted Stuart Milk, who is also gay and oversees a foundation his family co-founded to honor his famous relative. "For the Milk foundation it will be very meaningful."
Turbulence at SF supes hearing
Stuart Milk had disclosed the aviation tribute while testifying at a San Francisco City Hall hearing focused on complaints that SFO officials are mishandling the signage for renaming Terminal 1 as the Harvey Milk Terminal. The honor marks the first time an airport facility has been named for an LGBT figure, and community leaders want to ensure the signs inside and outside the currently under renovation terminal adequately display Milk's name.
In April the Board of Supervisors is set to approve an ordinance authored by District 9 Supervisor Hillary Ronen that will require all signs for the terminal refer to it as the Harvey Milk Terminal. A spokesman for Mayor London Breed has told the B.A.R. that she will sign it into law once it reaches her desk.
The first travelers to use the Milk terminal are expected to do so this summer when a portion of the facility reopens. As it is one of the airport's three domestic terminals, it is unclear if Norwegian's Milk airplane will be assigned one of the gates at the Milk terminal.
In an interview with the B.A.R. Tuesday evening during an event to celebrate Norwegian's launch of direct flights between SFO and London, Lindström said he hoped such a gate assignment could be arranged. He was unclear just how soon the Milk plane would be able to land at SFO.
When asked if its inaugural flight into the Bay Area could be timed to the state's Harvey Milk Day holiday this May 22, which is Milk's birthday, Lindström didn't rule it out.
Norwegian marketing director Ben Kaufman had recommended that the company add Milk to its list of tail fin heroes. The New Jersey native is a gay man, as is Lindström, who is from Sweden.
"What better format than an airplane to show people what made Harvey Milk special?" responded Kaufman when asked this week by the B.A.R. why he had suggested the native New Yorker for the company's memorial program.
Diversity is a key priority for Norwegian, noted Kaufman, as the airline's employees represent more than 100 nationalities. The tribute to Milk, he said, reflects that diverse workforce.
"As for Harvey Milk, this is a tribute to how he was a fighter for everybody, not just LGBTQ people,' said Kaufman.
The airline worked with the Milk foundation on the image it is using for the tail fin. It has also signed on as a sponsor of the organization and will be participating in its annual awards gala in Fort Lauderdale this Saturday, March 30.
"We are proud to partner with Norwegian, having Uncle Harvey join the airline's forward- thinking Tail Fin Hero program that already includes change makers like Sojourner Truth and Oscar Wilde," stated Stuart Milk in the airline's release. "This is such a unique way to educate and celebrate those that have come before us, allowing for their legacies to live on. We look forward to seeing Harvey 'flying' into airports across the globe and continuing to spread his message of acceptance."
To learn more about Norwegian's tail fin heroes program, visit https://www.norwegian.com/us/about/our-story/tail-fin-heroes/.
Comments on Facebook