Wiener bill would ban most infant intersex surgeries
Wednesday Feb 6, 2019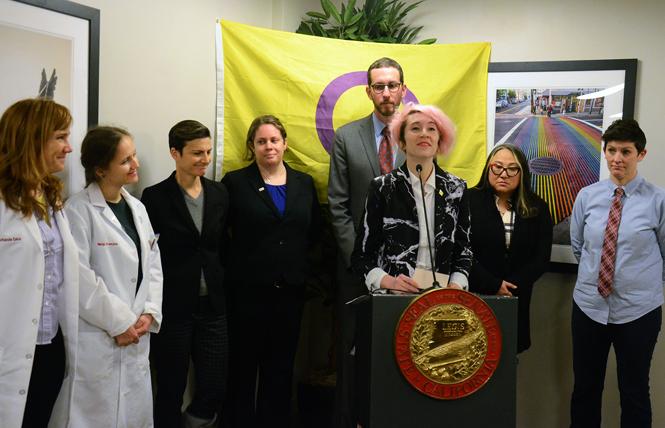 California would become the first state in the nation to ban medically unnecessary surgeries performed on intersex infants if state lawmakers approve a bill authored by gay state Senator Scott Wiener (D-San Francisco).
At a news conference in San Francisco Monday morning, Wiener announced his Senate Bill 201, which is being referred to as the Intersex Bodily Autonomy bill.
"It will ensure physicians in California move away from performing medically unnecessary surgeries on babies who are born as intersex," said Wiener, chair of the Legislative LGBT Caucus. "Instead, it will allow people to make decisions for themselves when they are able to do so to have intersex surgeries."
Intersex people, who account for 1 to 2 percent of the population, are defined as those born with any variation of reproductive or sexual anatomy characteristics including genitals, chromosome patterns, and sex hormones. While some intersex people also identify as transgender or nonbinary and members of the LGBT community, not all do.
According to a summary of the bill, which the Bay Area Reporter first reported on in an online story Monday, it would ensure that intersex minors are able to give informed consent before any medical treatments or interventions are performed on their sex characteristics, excluding cases of medical necessity.
"This important measure will ensure that intersex individuals will not have important choices about sex and gender identity made for them in infancy by parents and doctors, but will rather be able to make those important and life-altering decisions themselves," states the bill.
"We are not talking about anything that is medically necessary," explained Hans Lindahl, who is intersex and the director of communications and outreach for InterACT Advocates for Intersex Youth, stressing that those supporting the legislation "are not anti-surgery; we are pro-consent."
Senator Jim Beall (D-San Jose) is a co-author of the bill, as are Assemblymen David Chiu (D-San Francisco), Kevin McCarty (D-Sacramento), Phil Ting (D-San Francisco), Bill Quirk (D-Hayward), and Todd Gloria (D-San Diego), who is gay and vice chair of the LGBT caucus.
As the B.A.R. first reported in early January, Wiener had been in talks for months with advocates within both the LGBT and intersex communities about authoring a bill that would outright ban the procedures. Surgeries that decide the infant's sex at birth are still being performed in California and around the country, despite medical evidence of physical and psychological harm.
Last year, Wiener was successful at having his legislative colleagues adopt a resolution calling on medical professionals to discontinue the use of sex assignment and normalizing surgery performed on intersex infants. Equality California, the statewide LGBT advocacy organization, co-sponsored the resolution last year and is partnering with Wiener and several other advocacy groups on this year's legislation.
In an interview last month EQCA Executive Director Rick Zbur told the B.A.R. that, of all the LGBT-focused bills it is sponsoring this year, "probably one of the most unique and cutting edge is focused on intersex surgeries."
He added that it is "groundbreaking" legislation.
"Basically, it will protect the intersex community by targeting and banning unnecessary surgeries for intersex infants," said Zbur.
Because such a bill is expected to face fierce resistance from medical professionals and conservative groups, lesbian Senate President Pro Tempore Toni Atkins (D-San Diego) had advised Wiener last year to take a go-it-slow approach to the issue. As he recounted to the B.A.R., Atkins suggested he first introduce the nonbinding resolution as a way to educate lawmakers and the public about the topic.
Wiener's office did just that by holding an informational hearing last March where intersex people and medical professionals discussed the issue. The resolution was also widely covered in the press, though the coverage often inaccurately reported that it would have more legal weight than it does.
"She was 100 percent right," Wiener said of Atkins.
Anthony York, a spokesman for the California Medical Association, told the B.A.R. that the group is reviewing this year's legislation and plans to take a formal position on it prior to it being heard in committee.
In a statement, CMA Senior Vice President for Governmental Relations Janus Norman said the organization has "some very serious concerns" about the proposed bill, from its medical implications to how it defines "informed consent" and other legal issues.
"In these cases, the current guidelines call for a multi-disciplinary care team to be convened to understand the particulars of each individual case, with an eye toward the physical and emotional health and future of the child. The details in these cases can vary greatly, and no two individual circumstances are exactly alike," stated Norman. "Our concern is that the approach in this bill may be overly prescriptive and not give families and medical professionals the ability to take the specifics of each case into account."
The Societies of Pediatric Urology has already come out against the bill, calling it "anti-choice, anti-parental rights and anti-science."
It issued a statement calling the legislation "a broad overreach which serves to abrogate parental rights and limit a child's access to medical care."
The bill it contends is "predicated on outdated, false information and intentionally circumvents current scientific medical research. Moreover, the inclusion of diagnoses where issues with gender identity is no greater, or marginally greater, than the general population only serves to conflate and confuse the issues that apply to a very small number of children around the country."
The group added, "The leading medical research on the subject is clear; the overwhelming majority of affected babies will grow up never questioning their gender regardless of the appearance of their genitals."
Since the mid-20th century, American physicians have performed sex assignment and genital modification surgeries on intersex infants in order that they can be classified as either male or female. The procedures can entail infant vaginoplasties, clitoral reductions, or the removal of gonadal tissues.
Those opposed to the practices point out that the medical intervention can result in extreme scarring, chronic pain, incontinence, loss of sexual sensation, post-traumatic stress disorder, and incorrect gender assignment.
"Being intersex is not something to be fixed," said McKenzie Eakin, a medical student at Stanford Medical School.
interACT is thrilled to announce our co-sponsorship of California's #SB201. By passing this bill, CA would affirm that cosmetic procedures permanently affecting fertility, puberty, and sexual function must be delayed for an individual's informed consent. #DelayIsOkay pic.twitter.com/STIO2WIHXQ— interACT (@interACT_adv) February 4, 2019
The San Francisco Human Rights Commission over a decade ago had published a report that called for an end to performing intersex surgeries on infants. Having served on the oversight body at the time, transgender advocate Cecilia Chung praised Wiener for introducing the legislative ban.
"I am really glad this is finally turning into a piece of legislation today by Senator Wiener in California," said Chung, who now serves on the city's health commission and works on policy issues at the Transgender Law Center.
If adopted, the legislation would impact hospitals like UCSF Benioff Children's Hospital. As it states under the "treatment" tab on its "Disorders of Sex Development" webpage, which has been updated since state lawmakers adopted Wiener's resolution last year, the treatments it performs varies depending on each child's diagnosis.
"Some children need surgery to prevent medical problems while others do not. Some children require life-long hormone or electrolyte supplements," states the website. "Gender is not assigned by the medical team but by the individual. The team's role is to support the child and family."
Both Human Rights Watch and the World Health Organization have condemned performing surgeries on intersex infants, while the United Nations deems doing so akin to torture.
As Wiener's bill states, "Not unlike the victims of LGBT conversion therapy, intersex individuals living with the results of nonconsensual genital interventions often deal with the harmful emotional and physical consequences of medically unnecessary attempts at 'treatment' for the rest of their lives."
Comments on Facebook