Gay mayor gets attention in prez race
Wednesday Feb 6, 2019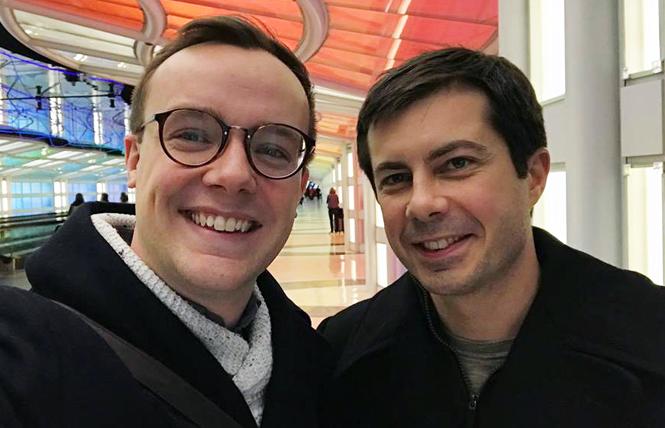 The gay mayor of South Bend, Indiana recently announced a 2020 presidential bid, and while he has received mainstream coverage, he remains an underdog in a Democratic field that is expanding.
Pete Buttigieg jumped into the race last month in Washington, D.C., where he was attending the U.S. Conference of Mayors winter meeting.
"The show in Washington right now is exhausting: the corruption, the fighting, the lying, the sense of constant crisis," he wrote in a January 23 email to supporters. "It has to end. But we can't just revert to where we were a few years ago, trying to tinker with a broken system. This is a season for boldness, and we need to focus on the future."
He said that he had formed a presidential exploratory committee, an announcement that is usually followed some weeks or months later with a formal declaration of candidacy.
Buttigieg, 37, is now the first openly gay candidate for the Democratic nomination for president and a long shot by any measure.
But despite his relative obscurity to most Americans and the fact that there are more than 140 candidates who have signed up to run for the Democratic nomination, Buttigieg's name and photo have been included in brief profiles of the top party hopefuls in almost all mainstream media summaries.
Those other hopefuls include a large number of Democratic leaders popular with the LGBT community, including U.S. Senators Kamala Harris of California, Elizabeth Warren of Massachusetts, and Kirsten Gillibrand of New York. Senator Cory Booker (New Jersey) announced last week on Twitter that he was running for president.
When he was just 29, South Bend voters elected Buttigieg mayor in 2011 with 74 percent of the vote. Voters re-elected him in 2015 with 80 percent of the vote just months after he came out publicly as gay.
Buttigieg (pronounced Buddha-judge) came out in an opinion piece he wrote for the South Bend Tribune in June 2015, just before the U.S. Supreme Court released its opinion striking down state bans on marriage for same-sex couples.
Buttigieg was a Phi Beta Kappa graduate of Harvard University and a Rhodes Scholar at Oxford. Right out of college, he volunteered with the presidential campaign of Democratic Senator John Kerry and then did brief stints with a business advisory group led by former Defense Secretary William Cohen and the international management consulting firm of McKinsey & Company.
Buttigieg served as an intelligence officer in the U.S. Naval Reserve in Afghanistan in 2014 and, in 2017, ran for the chairmanship of the Democratic National Committee. It was that race that first brought him some national attention.
Richard Socarides, a gay longtime Democratic Party activist and aide to President Bill Clinton said, "I like Pete Buttigieg very much."
"He is smart, thoughtful, charismatic, and practical. He seems to understand and connect with traditional Democrats and millennials at the same time. He certainly starts off as a long shot but, as we know, anything is possible. He very much deserves serious consideration," said Socarides. "And if you are an LGBT voter, all the more reason to give him a look."
I launched a presidential exploratory committee because it is a season for boldness and it is time to focus on the future. Are you ready to walk away from the politics of the past?

Join the team at https://t.co/Xlqn10brgH. pic.twitter.com/K6aeOeVrO7

— Pete Buttigieg (@PeteButtigieg) January 23, 2019
While Buttigieg's being gay is always mentioned in mainstream candidate profiles, the pieces also take him seriously as a candidate. In 2012, when the Republican Party had its first openly gay candidate seeking the nomination, Fred Karger, he was frequently excluded from summaries and debates.
Fivethirtyeight.com, the political analysis site founded by gay data guru Nate Silver, says Buttigieg's core base is millennials (those in their early 20s to mid-30s).
"If Buttigieg can become the preferred choice of young voters," wrote the site, "... it would give him a powerful toe-hold in the race. ..."
But still, said the site, Buttigieg's candidacy faces long odds.
"Beyond standing out in a crowded field and finding footholds with key Democratic constituencies, Buttigieg's campaign also raises the question of whether Democrats are ready for an openly gay nominee," said fivethirtyeight.
Win or lose, "he'll begin to hone a national message and help normalize the idea of an openly gay president," said the site. "That alone makes him worth keeping an eye on."
Politico noted that Buttigieg was taunted as a "sodomite" by a "few" members of the notorious Westboro Baptist Church during a recent visit to Kansas.
Buttigieg married middle school teacher Chasten Glezman last year.
Buttigieg's father, Joseph, died just three days after his son announced his plans to run for president. Joseph Buttigieg immigrated from Malta in the 1970s, earned his U.S. citizenship in 1979, and married Anne Montgomery in 1980. They were both professors at the University of Notre Dame.
In a January 31 email to supporters, Buttigieg wrote about his father's passing.
"When I got to Dad's bedside, all he wanted to hear about was the trip to Washington and the launch," he wrote. "He was proud and excited. But we were also facing the crushing reality that he was not going to make it."
In his 2015 coming out essay in the Tribune, Buttigieg said that he was "well into adulthood before I was prepared to acknowledge the simple fact that I am gay."
"It took years of struggle and growth for me to recognize that it's just a fact of life, like having brown hair, and part of who I am," wrote Buttigieg, who said he had not known of a single other LGBT person at his high school of nearly 1,000 students.
"Being gay has had no bearing on my job performance in business, in the military, or in my current role as mayor," wrote Buttigieg. "It makes me no better or worse at handling a spreadsheet, a rifle, a committee meeting, or a hiring decision. It doesn't change how residents can best judge my effectiveness in serving our city: by the progress of our neighborhoods, our economy, and our city services."
Being gay will almost certainly have a bearing on how American voters and the media will respond to his candidacy for the Democratic presidential nomination. That, and his age, are both consistently prominent discussions in most media reports about him.
But he has another hurdle, too: his last name. As he has acknowledged, most people find his last name hard to read and say. Buttigieg is a name of Maltese origin and, in his soon-to-be-released biography, "The Shortest Walk Home" (published by W.W. Norton), he explains it is pronounced, "Buddha-judge."
Peter Sagal, host of National Public Radio's "Wait, Wait Don't Tell Me," asked Buttigieg on the show last year, "Does it worry you that nobody with a funny name like yours could ever get elected president?"
"Around here," he replied, in front of an audience in South Bend, "it's actually an asset. You know, this is a community [with] a lot of East European settlement here. ..."
His campaign website is http://www.peteforamerica.com.
Comments on Facebook