News Briefs: Oakland LGBT bar seeks to help nonprofits
Wednesday Jan 30, 2019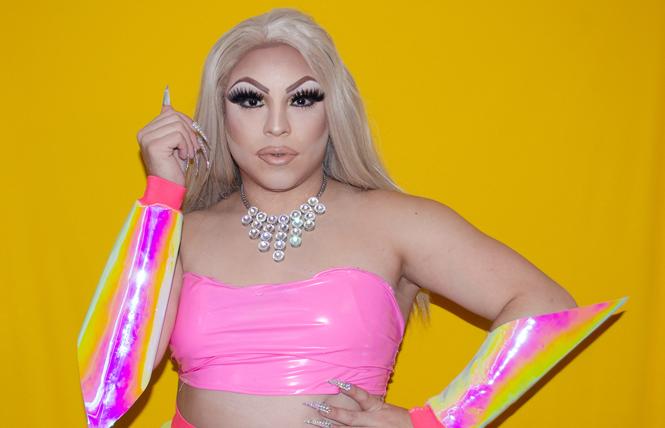 The gay-owned Port bar in Oakland is looking for nonprofits to be beneficiaries of its "Karaoke for a Cause" events this year.
Sean Sullivan and his partner, Richard Fuentes, who co-own the bar, said the karaoke benefit nights are a way for people to have fun while supporting a good cause. The next event is Saturday, February 9, from 6 to 9 p.m. and the beneficiary is Bay Area Youth Rugby. It will be hosted by drag queen Amoura Teese.
Sullivan said there are dates available in March for nonprofits.
"The Port bar sees itself as Oakland's LGBT community center, but with alcohol," Fuentes said in a statement.
Oakland's LGBTQ Community Center opened in September 2017 and is a drug and alcohol-free space.
Sullivan and Fuentes said that the bar raised over $5,000 in 2018 for nonprofits and individuals raising money for nonprofits through the karaoke benefits.
"We were really pleased to raise so much money through the program and are optimistic we can raise even more in 2019," Fuentes added.
Karaoke for a Cause raises funds through the bar's donation of proceeds from all beer and well wine purchases at the bar during the three hours.
"Nonprofits are also encouraged to bring their own methods of fundraising to the event as well, such as raffles, auctions, or asking for a donation per song," Sullivan said.
Fuentes and Sullivan were involved in nonprofit fundraising for many years. Sullivan is a former president of the Association of Fundraising Professionals — Golden Gate Chapter.
The Port bar is located at 2023 Broadway, next to the Paramount Theatre.
Nonprofits that are interested in taking part in Karaoke for a Cause should contact Sullivan at sean@portbaroakland.com or through the bar's social media.
Community open house at new hospital
Sutter Health's new California Pacific Medical Center Van Ness hospital will host a free community open house Saturday, February 2, from 1 to 4 p.m. at 1101 Van Ness Avenue in San Francisco. (Event entrance is at the intersection of Post and Franklin streets.)
The 11-story hospital includes 274 acute-care beds and houses myriad inpatient services — with an emphasis on maternity care, pediatrics, transplant, orthopedics, emergency, and cardiac care. The hospital also uses first-in-the-nation seismic technology, which allows it to withstand a major earthquake, according to a news release.
When fully complete, the campus will knit together Sutter hospital and emergency services, affiliated medical offices, and specialty outpatient services.
Among the day's activities will be a teddy bear "first aid" clinic (hosted by CPMC's child life experts), face painting and balloon animals, silent disco, silent yoga, chair massages, photo booths, live music, and healthy cooking demonstrations by Williams-Sonoma.
National Black HIV/AIDS Awareness Day
San Francisco will observe this year's annual National Black HIV/AIDS Awareness Day with an event Thursday, February 7, from 5:30 to 8 p.m. in the community space at the Sunnydale Community Wellness Program, 1654 Sunnydale Avenue. (Best public transit lines are Muni 9 and 9R.)
The San Francisco HIV Community Planning Council, which is organizing the event, said that this year's theme is "For Our Protection," and the focus will be on black youth.
Food and refreshments will be available. There will be entertainment, health screenings, and information on available resources.
Shanti and its Pets Are Wonderful Support program are co-sponsors.
SF library celebrates black history
The San Francisco Public Library started celebrating Black History Month over the Martin Luther King Jr. holiday and programs continue in February.
Dubbed "More than a Month," the library is promoting important historical events, contributions, leadership, and activism of African-Americans. The celebration includes special music, dance, crafts, and storytelling events at every branch in the city.
Some of the upcoming events include African-American quilts Wednesday, February 6, at the Ocean View branch, 345 Randolph Street. That same day, there will be a program, "The Other Black Migration: Genealogy Workshop Series" at the San Francisco African American Historical and Cultural Society, 762 Fulton Street.
The always-popular drag queen story hour will include a Motown and disco family dance party with Black Benatar Saturday, February 9, at the Sunset (1305 18th Avenue) and West Portal (190 Lenox Way) branches.
Exhibits include "The Port Chicago Story: Lighting the Fuse to Civil Rights," which runs through July 7 at the Treasure Island Museum, 1 Avenue of the Palms, Room 111, on Treasure Island. (A special program will be held February 9, from 1 to 4:30 p.m. For more information, visit https://www.treasureislandmuseum.org/portchicago.)
Finally, there will be "A Conversation on Blackness" Thursday, February 28, in the Koret Auditorium of the main library, 100 Larkin Street.
All programs and exhibits are free and open to the public.
For times and a full schedule of events, visit http://www.sfpl.org/more-than-a-month.
Queer ancestors exhibit at Strut health center
The Queer Ancestors Project will present an exhibit at Strut, the men's health center in the Castro, Saturday, February 9, with an artist panel at 7 p.m. and a reception and print sale from 7:30 to 9:30.
The project uses history to offer queer and trans artists, ages 18-26, free interdisciplinary workshops in printmaking, writing, and queer history. Public exhibitions and readings of the artists' work provide a window on the past.
Featured artists include Christine Abiba, Samantha Espinoza, Benny Gordon-Murer, Fernando Miguel, Sho Nakashima, Nidhi Patel, Shannon Prasad, and Queen Sen Sen. The artistic director is Katie Gilmartin.
The event is free and accessible.
Strut is located at 470 Castro Street.
Park Stop program expands to Dolores Park
The San Francisco Recreation and Parks Department's Park Stop program recently was expanded, and attendants will soon be placed at Mission Dolores Park, as well as several other parks.
Park Stop is operated in collaboration with the Human Services Agency and Hunters Point Family. It is based on the successful Pit Stop program operated by Public Works since 2014. Park Stop will provide safe needle disposal and pet waste bags in addition to universal toilet access.
In addition to Dolores Park, other new service areas include Raymond Kimbell Playground, Portsmouth Square, Rolph Playground, Potrero del Sol, Bayview Playground, and Jackson Playground. The parks were prioritized based on the number of 311 calls and maintenance and vandalism costs.
The program builds on Mayor London Breed's recent mandate for street cleaning programs, including funds for the Pit Stop program in JC Decaux public restrooms, a rapid response syringe cleanup team, and block sweepers.
"I am focused on making our neighborhoods cleaner and safer for everyone, and our Park Stop program is a great part of that effort," Breed said in a news release.
Rec and Park general manager Phil Ginsburg said Hunters Point Family has already proved to be an ideal partner for the endeavor, staffing Pit Stop as well as helping transform the troubled Civic Center area into a model public space.
"Hunters Point Family employs men and women who serve as extraordinary ambassadors," Ginsburg said in the release. "Their presence makes the public feel welcome at the same time it deters vandalism and petty crime."
Lena Miller, executive director of Hunters Point Family, said Park Stop builds on the success of Pit Stop.
Contact the reporter at c.laird@ebar.com.
Comments on Facebook