Online Extra: Q Agenda: Trans detainees claim dangerous conditions in ICE custody
Tuesday Aug 6, 2019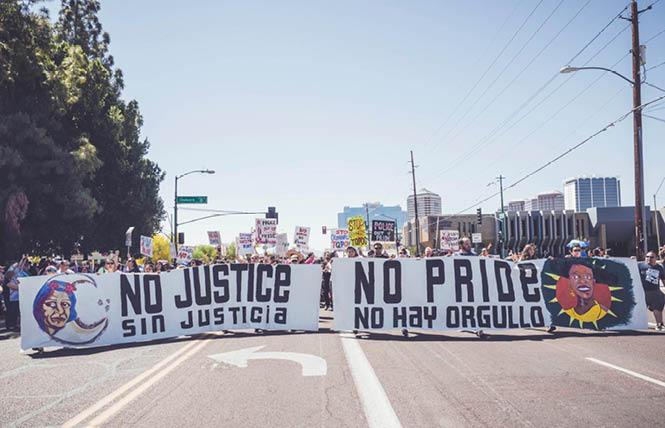 Twenty-nine trans women currently detained by Immigrations and Customs Enforcement in New Mexico sent a handwritten letter in late June to Arizona-based migrant advocacy organization Trans Queer Pueblo calling for the facility to be investigated on their behalf.
The letter alleges assault and mistreatment, as well as a lack of needed medical care and being forced to provide falsifying images to portray their life in captivity to media outlets, including the Washington Blade, reporters from which toured the facility in June.
Complaints from detainees are not unusual; what sets this letter apart is the fact that each of the detainees signed her name. This is risky as identifying oneself while in custody can lead to retaliation and may affect the outcomes of these women's individual cases for asylum.
The letter was reproduced in total by the Phoenix New Times and translated into English. The complaint came just days after ICE gave the media tour of the facility, publishing photos to Twitter of detainees styling one another's hair and painting an orderly picture of life inside Cibola.
Stephanie Figgins, media project coordinator for Trans Queer Pueblo, spoke with the Bay Area Reporter about what she saw as an incredible moment in this ongoing crisis for trans people in detention.
"People haven't really yet caught on to the monumental meaning of 29 trans women organizing from within a detention center," Figgins said. "Activists ask what can we do for these women, and here we have them actually telling us what to do. Saying, 'shut this place down.' They've spotted the lie of these LGBT pods that are meant to pacify liberals and pacify the left showing that identity is respected in detention when it is blatantly not respected in the process toward asylum. There is no such thing as humane detention."
Since the statement, Figgins said TQP's coordinator for liberation has been in steady contact with a handful of the women who signed the letter through phone calls and letter-writing. Some of the women who signed the original letter have been freed, some paid bonds, and others are still detained at Cibola. Of those who are free, three are coming to Phoenix. TQP is working for find sponsors to help them join queer communities of color in the city.
The women who are still detained told TQP that conditions have not changed since the letter was written, according to Figgins.
"We haven't heard about retaliation, but all communications are monitored and it's hard to speak about it by phone," she said.
The Cibola facility includes ICE's only "transgender pod," or housing facility specifically for trans women. It is not clear from either ICE policy information or reports from inside Cibola whether trans men are housed in this same pod. ICE policy is written broadly to include transgender and intersex people and their specific needs, but does not delineate within those groups except to say that detainees are held in a "single-sex" environment.
ICE's record on protecting the health and well-being of transgender people in its custody has been ongoing issue for years and has received great scrutiny following two deaths of two trans women during, or just after being in, custody. Roxsana Hernández, a 33-year-old trans woman who was seeking asylum from Honduras, died in custody in May 2018, suffering from dehydration and complications from HIV. Hernández had also been held at Cibola.
Hernández's death was followed almost exactly one year later by El Salvadoran trans asylum-seeker Johana Medina Leon in El Paso, Texas.
Leon was just a few days out of ICE custody when she died. Leon, a 25-year-old nurse, had been in custody for six weeks, and had pleaded with her jailers for water, salt, and sugar to treat her own symptoms of extreme dehydration, according to her family. The cause of her death was also reported as complications from HIV. Leon's family has filed a claim against the federal government.
A media spokesperson for ICE offered a statement to the B.A.R. via email, pointing out that its treatment of transgender detainees has been based on policy established in 2015, developed through work with "subject matter experts."
The emailed statement also noted that a former facility for trans people existed in Santa Ana, California, which closed 2014 when its contract ended.
"In 2017, ICE opened a dedicated unit for transgender women in the Cibola County Correctional Center (Cibola) in New Mexico, equipped with common areas, televisions, microwaves, a library, and access to outdoor recreation. At this time, ICE has not established any formal transgender units outside of the one at Cibola, but the agency is continuing to explore options for housing transgender detainees," the statement concluded.
In addition to the statement, ICE indicated that it will not comment to the media on congressional correspondence, referring to the members of Congress who signed an open letter in June calling for the release of Alejandra Barrera, a 44-year-old trans woman and asylum seeker from El Salvador currently held at Cibola. Barrera has been in ICE custody for over a year and a half.
Cibola is run by private prison contractor CoreCivic. Its website stresses in multiple places that the facility does not house unaccompanied minors and is in compliance with the Prison Rape Elimination Act.
According to Amanda Gilchrist, who is director of public affairs for CoreCivic, the company offers a "robust grievance process" to all detainees, and stressed that they have direct access to management staff.
"CoreCivic cares about every person entrusted to us, especially vulnerable populations for which our partners rightfully have very high standards that we work hard to meet each day," Gilchrist wrote. "We take seriously all allegations and investigate them thoroughly. However, we cannot investigate or provide comment on any allegations, including alleged medical mistreatment, without the specific details."
The statement concluded with a commitment to providing "a safe environment" to transgender detainees, achieved through mandatory training for all detention officers, which includes "respectful interactions" with LGBTI detainees. It also stressed the company's zero tolerance policy for harassment or sexual assault.
Report: South Carolina needs anti-discrimination law to protect LGBT citizens
Over 137,000 LGBT adults in South Carolina are vulnerable to discrimination based on sexual orientation and gender identity, according to a new report by the Williams Institute, a think tank at UCLA School of Law.
South Carolina's current statewide non-discrimination law, the South Carolina Human Affairs Law, does not include provisions to protect people targeted for their sexual orientation or gender identity. Local ordinances written to protect LGBTQ people from discrimination in certain cities and counties are scattered across the state, but protect only about 1% of South Carolina's workforce from employment discrimination based on sexual orientation and gender identity.
Local ordinances also protect only about 8% of adults from discrimination in housing and about 12% of adults from discrimination in public accommodations, according to the report.
Christy Mallory, who is the director of state policy and education initiatives at the Williams Institute, co-authored the study and spoke with the B.A.R. via email about her findings in this research, which are not limited to just South Carolina.
"We have been doing a series of reports looking at discrimination against LGBT people in the 28 states that lack state laws prohibiting discrimination based on sexual orientation and gender identity," wrote Mallory, who identifies as a member of the LGBTQ community, but declined further specificity, as it "doesn't have an impact on the research."
"We've looked at several states in the South within the past few years, including Florida, Georgia, Texas, Alabama, Tennessee, and North Carolina," Mallory added. "We will continue to focus on doing research in these states going forward."
The B.A.R. asked if recent religious freedom legislation was a factor in this study. Mallory said it does complicate matters of basic rights.
"We also thought now would be a particularly interesting time to do a report on South Carolina because last year the state passed a law that allows child welfare agencies to refuse to place children and provide services to families if doing so conflicts with their religious beliefs," she wrote. "Such laws can be interpreted to allow organizations to discriminate against LGBT people and same-sex couples."
South Carolina is also the only state in the nation to exclude same-sex couples from domestic violence statutes.
Mallory went on to explain that there are currently no Southern states with a statewide law that prohibits discrimination against LGBT people. However, some South Carolina cities and other localities enact protections at the local level; including Richland County, Charleston, Columbia, Folly Beach, Latta, Mt. Pleasant, Myrtle Beach, and North Charleston.
A lack of statewide legislation leaves queer people all over the nation vulnerable to "changes to federal policies that protect LGBT people from discrimination or policies that expand health care providers' authority to refuse to treat people based on religious objection," Mallory wrote.
She added that these policies "have a more severe impact on LGBT people in states like South Carolina that lack statewide protections from discrimination. In these areas, federal law provides the only source of protection from discrimination."
If South Carolina were to pass a statewide non-discrimination law to protect LGBTQ people, it would be the first in the region to do so. Mallory pointed out that the state could provide a model for other Southern states to follow.
The study also found that 58% of people surveyed supported protections for LGBTQ South Carolinians from discrimination in housing, employment, and public accommodation.
One gay resident said the state is a long way from having such legislation.
"These are not hateful places to be, as an LGBT person," said Stefan Varner, chairman of the Democratic LGBT Committee of Myrtle Beach.
Speaking to the B.A.R. by phone, Varner pointed out that the report might not be granular enough in some ways.
"Only a few municipalities have any protections, and many of those are resolutions and aren't codified into law. That's the case in Myrtle Beach, I looked it up today," he said.
Speaking as to whether he thought statewide protections were likely in his lifetime, Varner, a gay man, was cautious.
"I'm absolutely in favor of a state law, but we're not even close to that," he said. "We're always fighting anti-LGBTQ efforts. There is hope here, because what a lot of folks don't realize that although we have conservative legislatures in the state and representatives in Washington, individuals are still getting involved all over and making things happen. It's not easy or fast, but we're doing it."
South Carolina was added to the list of states with which the City and County of San Francisco cannot set contracts or fund travel to by Mayor London Breed in April, owing to its laws about the placement of children in foster homes that discriminate based on religion. The Palmetto State is also on California attorney general's list of banned destinations for state-funded travel for the same reason.
To read the full text of the study on LGBTQ discrimination in South Carolina, click here.
Q Agenda is a new online column that appears weekly, usually on Tuesdays. Get updates on the latest LGBTQ national news by following Q Agenda reporter Meg Elison on Twitter at http://twitter.com/megelison .
Got a tip on queer news? Call Meg Elison at (415) 875-9986, or email m.elison@ebar.com.
Comments on Facebook