Singer-songwriter Blackberri dies
Tuesday Dec 14, 2021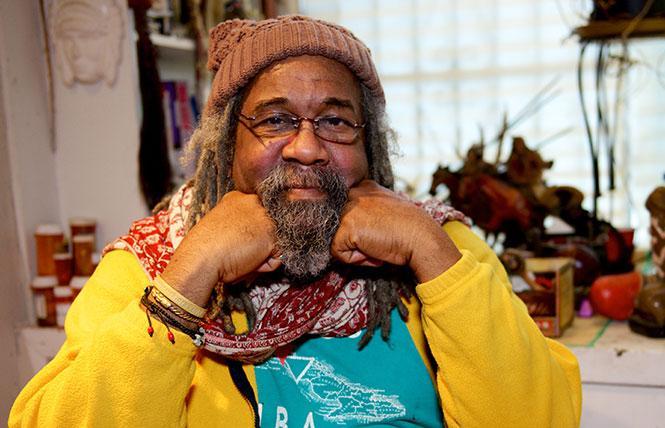 Blackberri, a gay Black singer-songwriter whose music has been archived at the Smithsonian, died December 13 at Alta Bates Summit Medical Center in Oakland, friends announced on Facebook. He was 76.

There will be an in-person and virtual tribute Tuesday, December 21, friends announced.

Blackberri, who used one name, had been ill, according to posts by Kin Folkz, a member of his care team, and others. In early October he suffered a heart attack, his care team wrote on Facebook December 9.

Blackberri was a presence in the Bay Area LGBTQ community. Tributes came in from many who were moved by his music and activism.

"I first met Blackberri in 1989 at a Black Men's Xchange (BMX) meeting, an organization created by Cleo Manago to empower Black men who love men, that we both were members of at the time," Joe Hawkins, executive director of the Oakland LGBTQ Community Center, wrote on Facebook. "After we signed the lease to open the Oakland LGBTQ Community Center, he came to energetically clear our space with sage. After he finished, he gave me a card with Ochún the Orichá of love on it that I keep on a bookshelf in my office.

"Thank you for all the love and joy that you have given to our community here in Oakland and to the world," Hawkins added. "You will be remembered always."

"Tongues Untied," the 1989 Black queer film by Marlon Riggs, contained music by Blackberri. He told the Bay Area Reporter in a July interview that his work appeared in other films and that music of his has been archived at the Smithsonian.

"I have music in Peter Adair's film 'Word is Out,' [and] in the film 'Looking for Langston,'" he said.

The context of that July interview was that Blackberri received an award from The Barony, a 501(c)(3) nonprofit based in the East Bay that raises funds for charities within Alameda, Contra Costa, and Santa Clara counties. However, the award had the wrong name for him. On Facebook, Blackberri was forced to use the moniker "Blackberri Singer," and that's what organizers had originally put on his award.

"Blackberri Singer is not my name," Blackberri told the B.A.R. "I had to choose it because Facebook didn't let me use one name."

In 2015, Sister Roma of the Sisters of Perpetual Indulgence and others met with Facebook officials to discuss the issue. Facebook officials promised that they would make it easier for users to provide the company with more information about themselves so that the names they are commonly known by could be used on their profiles.

But some fell through the cracks, as Blackberri did. Singer was chosen as his last name on his Facebook profile because it is what he does for a living.

"I took my passport, my credit card, and everything," Blackberri said. "They have one name on them. So they realized that I had one name, and they said they would drop 'Singer' and just let me use the one name, but they never did."

Organizers of The Barony corrected the mistake and apologized.

In 1981, Blackberri released "Blackberri and Friends: Finally" on his music label, Bea B. Queen. It included the song "Eat the Rich." He performed at LGBTQ festivals and open mics for many years. He was also active in the fight against HIV/AIDS. He received awards for his work and music.

Blackberri was born May 31, 1945, according to his Facebook page.

In 2017, Blackberri was a recipient of the Audrey Joseph Entertainment Award from San Francisco Pride


The 2017 Audrey Joseph LGBTQ Entertainment Award goes to Blackberri, selected by @SFPride Board of Directors! https://t.co/caEoabtHjT pic.twitter.com/Ws0LGvOkX1— SF Pride (@SFPride) June 11, 2017
"Blackberri and his entire care team (there are at least 14 of us + dozens of medical caregivers) send prayers and love to all who know Blackberri as a beloved extended + blood family member," Folkz wrote. "None of us did this alone. We ask for patience as we will reach out for support in the days to come."
Blackberri's homegoing (the Itutu) per his wishes and in accordance with his faith tradition as a Lucumí priest took place Sunday, December 19, at his home with his faith community and his care team of chosen family members. Blackberri's ashes will be carried to Cuba where another larger ceremony will take place in accordance with his will and his religion.
On Tuesday, December 21, the community around the globe is invited to the online and in-person celebration of Blackberri's life and legacy taking place during the QT Open Mic (the event that he and Folkz co-founded in 2013) at the Queer Arts Center that Blackberri and Folkz co-founded in 2020. The Queer Arts Center, located at 3411 Lakeshore Avenue in Oakland, is the site of Blackberri's last concert and the location of his current exhibit "Flowers In The Spring." Blackberri's memorial celebration will be free online and in-person (with limited in-person tickets). Tickets are available
here
.
Updated, 12/21/21:
This article has been updated to include information on a celebration of Blackberri's life.
Help keep the Bay Area Reporter going in these tough times. To support local, independent, LGBTQ journalism, consider becoming a BAR member.