SF supervisors OK apartment smoking ban with cannabis exemption
Tuesday Dec 1, 2020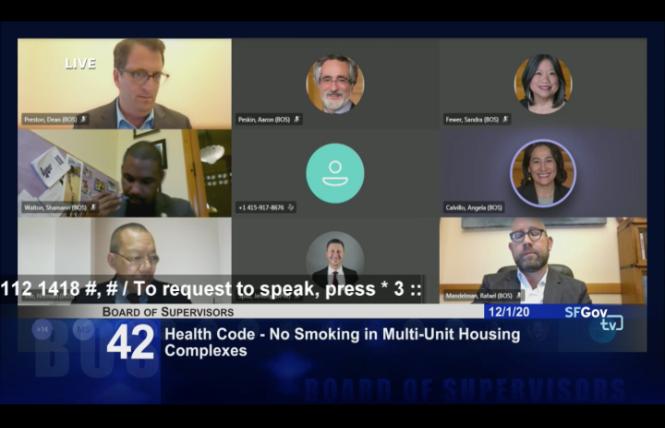 An amendment to strike cannabis from a proposed ordinance banning smoking in apartment buildings of three or more units passed the San Francisco Board of Supervisors 8-3 at a highly anticipated meeting late December 1, and the ordinance was then approved 10-1 in its first vote before the legislative body.
The amendment was offered by gay District 8 Supervisor Rafael Mandelman, who told the Bay Area Reporter November 19 that he would propose an exemption for cannabis smokers if District 7 Supervisor Norman Yee, the outgoing board president and sponsor of the ordinance, would not do it himself.
Yee voted against the amendment, along with fellow Westside Supervisor Gordon Mar (D4) and District 11 Supervisor Ahsha Safaí. District 10 Supervisor Shamann Walton and District 1 Supervisor Sandra Lee Fewer, who co-sponsored the legislation, voted for the amendment.
As the Bay Area Reporter previously reported, the Harvey Milk LGBTQ Democratic Club had opposed the smoking ban, specifically when it came to cannabis. They were joined by the San Francisco Cannabis Oversight Committee, which authored a letter in opposition to the supervisors November 18.
Cannabis advocates said that since they are not allowed to smoke outdoors, it is in a legally different category from tobacco cigarettes, and making it against the law to smoke cannabis in buildings of three or more units would restrict its use to consumption lounges (currently closed due to the pandemic) and only some private homes.
This concern was echoed by Mandelman as he introduced the amendment.
"I remain concerned that this legislation, though it exempts medical cannabis, does not fully exempt cannabis," Mandelman stated. "Tobacco cigarettes and cannabis smokers are in fundamentally different categories under the law."
In 2016, California voters passed Proposition 64 that allows for the adult use of recreational marijuana. It went into effect in 2018 and allows for cannabis consumption in private residences.
Yee, in his role as board president and seeming to expect the passage of the amendment, told Mandelman that "I appreciate your professionalism."
"I'll be voting against it [the amendment] because of my moral compass," Yee said. "I'm going to say to my colleagues: vote the way you need to vote on this one. I'm not going to support this particular amendment. The smoke is still going to be harmful to young kids."
District 5 Supervisor Dean Preston, who has been a tenants rights advocate, said that the issue is "a very complex" one.
"In 20 years of my landlord-tenant experience, I cannot think of an issue that divided folks, with good intentions on both sides," Preston said. "It's difficult, if not impossible, to find consensus."
Still, Preston recommended that the legislation return to committee to hammer out the cannabis issue and how the legislation will impact long-term tenants who signed their leases before it was standard to ban indoor smoking in them.
District 9 Supervisor Hillary Ronen agreed that the issue should be discussed later, saying that the Department of Public Health, which would be tasked with enforcement, can't be asked to do so due to the pandemic.
"DPH is totally overwhelmed," she said.
Yee rebuked Preston, and others who wanted to send his legislation back to committee.
"You said we've been having dialogue for years; years and years," Yee said. "I have a feeling you can have dialogue on this for another 10 years and end up in the same place."
Yee said the rights of smokers should not be prioritized over the rights of people not to breathe in secondhand smoke, which he said is responsible for 41,000 deaths a year nationwide, citing U.S. Centers for Disease Control and Prevention numbers.
"Maybe there should be a new tenants' advocacy group — people who don't want to smoke," Yee scoffed. "It's one of these things, you can't win.
"At some point, we got to take a stance and say this is enough," he added.
The supervisors voted 6-5 against returning the ordinance to committee. In the next vote, Mandelman's amendment passed and in the vote the legislation, as amended, passed its first reading 10-1, with Preston — who had mentioned the potential impact on long-term tenants — voting against.
In a text message, Mandelman expressed pride in his colleagues.
"Tobacco smokers are in a very different position legally from cannabis smokers," Mandelman wrote. "Given the prohibitions on outdoor cannabis smoking, the legislation would have amounted to a prohibition on smoking cannabis anywhere for people living in multi-unit apartment buildings. I am glad most of my colleagues agreed we need to add a cannabis exemption to the ban."
The passage of the ordinance this week sets it up for a final vote next week, which constitutes its final approval.
Updated, 12/2/20: This article has been updated with a comment from Supervisor Mandelman.
Help keep the Bay Area Reporter going in these tough times. To support local, independent, LGBTQ journalism, consider becoming a BAR member.