Trump accepts GOP nomination: 'The best is yet to come'
Thursday Aug 27, 2020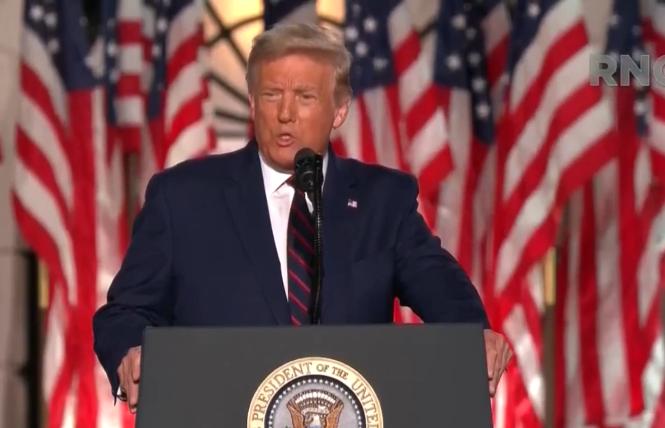 In a speech full of falsehoods, President Donald Trump accepted the GOP nomination for president of the United States August 27 at the final night of the Republican National Convention, saying he stands between America and a Democratic Party agenda he characterized as socialist and anti-American.
"I profoundly accept this nomination for president of the United States," Trump said. "The Republican Party, the party of Abraham Lincoln, goes forward united and welcome to bring together millions of Democrats, independents and anyone who believes in the greatness of America and the righteous heart of the American people. In a new term as president we will rebuild the greatest economy in history. ... We will defend America against all threats and protect America from all dangers."
In an unprecedented move, Trump made his speech from the White House. The use of the White House during the convention has received some criticism. The convention was initially scheduled to be held at the Charlotte Convention Center in Charlotte, North Carolina but plans changed due to the COVID-19 pandemic.
"In recent months our nation and the entire planet have been struck by a dangerous and invisible enemy," Trump said. "We will defeat the virus and the pandemic and emerge stronger than ever before."
There are now more than 5 million Americans infected with coronavirus, and more than 180,000 have died. Trump has been criticized for not doing enough to curb the pandemic, from promoting unproven drugs to at one point suggesting people ingest disinfectant. He has pushed for states to reopen too early, and has largely refused to wear a face covering or encouraged others to wear them. He was photographed wearing a mask once in public during a July visit to a military hospital.
Trump listed a series of American achievements from the founding of the nation then added "everything we have achieved is now in danger. This is the most important election in the history of our country."
"This election will decide whether we save the American Dream or whether we allow a socialist agenda to destroy our cherished destiny," Trump said. "Your vote will decide whether we protect law-abiding Americans or whether we give free reign to agitators, anarchists, and criminals."
Speaking in general terms, Trump compared the Democratic Party to "authoritarian" movements of the past and spoke in blistering terms about his general election opponent, former Vice President Joseph R. Biden Jr.
"How can the Democrat Party ask to lead our country when they spend so much time tearing down our country? They see a wicked nation that must be punished for its sins. Our opponents say redemption for you can only be overcome by giving power to them," Trump said, using a derisive term for the Democratic Party. "Joe Biden is not a savior of America's soul. He is the destroyer of America's jobs and if given the chance he will be the destroyer of American greatness. For 47 years, Joe Biden took the jobs of blue collar workers, gave them hugs and even kisses and told them he felt their pain and then he flew back to Washington and voted to give our jobs to China and many other distant lands."
Biden voted for the North American Free Trade Agreement in 1993, which was replaced by the United States-Mexico-Canada Agreement last month. Over 4.5 million manufacturing jobs were lost after NAFTA took effect, according to the U.S. Bureau of Labor Statistics.
Trump touched on the renegotiation of trade deals and building the border wall, two recurring themes in both of his campaigns for president.
"Today America's borders are more secure than ever before," Trump said. "We have already built 300 miles of border wall and we are adding 10 miles every single week. The wall will soon be complete and it is working beyond our highest expectations."
While it is true 300 miles of border wall have been built, only five miles have been constructed in locations where there were no pre-existing barriers.
Trump said he has "done more for the African American community than any president since Abraham Lincoln, our first Republican president" and that "the best is yet to come."
"We worked hard to pass historic criminal justice reform. Before the China virus came in, produced the best unemployment numbers for African Americans, Hispanic Americans, and Asian Americans ever recorded," he said, employing his racist nickname for COVID-19.
Trump touted his support of Israeli government policies and the recent Israel-United Arab Emirates peace agreement.
"We also launched the Space Force, the first new branch of the United States military since the Air Force was created 75 years ago," Trump said.
Biden's record is a "shameful roll-call of the most catastrophic betrayals of our lifetime," Trump said, mentioning Biden's past support of NAFTA, the entrance of China into the World Trade Organization and the Iraq War.
Trump went on to mock Biden's "empty words of empathy" for unemployed workers.
Trump touted the paycheck protection program that was part of the CARES Act passed by Congress that he signed into law March 27. He criticized Biden for saying "I would shut [the economy] down; I would listen to the scientists" if there is a second wave of COVID-19 cases.
"His shutdown would inflict unthinkable and lasting harm," Trump said. "The cost of the Biden shutdown would be measured in increased drug overdoses, depression, heart attacks, economic devastation, job loss and much more."
Trump referenced Biden's acceptance speech last week when the Democratic presidential nominee said he would be an "ally of the light."
"Joe Biden may claim he is an 'ally of the light' but when it comes to his agenda Joe Biden wants to keep us completely in the dark," Trump said. "He doesn't have a clue."
Trump falsely blamed the California power outages on the state's Democratic leadership. In Northern California, they were ordered by Pacific Gas and Electric Company and opposed by Democratic Governor Gavin Newsom, who said the outages were "simply unacceptable."
"How can Joe Biden claim to be an ally of the light when his own party can't keep the lights on," he said, adding that Biden can't "lecture" about morality or "saving America's soul" while he supports keeping abortion legal.
Trump also falsely said Biden is in favor of defunding the police.
"Make no mistake if you give power to Joe Biden, the radical left will defund police departments all across America," Trump said. "Nobody will be safe in Biden's America."
He falsely stated the phrase "under God" was omitted from the Pledge of Allegiance during the Democratic National Convention.
Trump said that Biden would be soft on rioters and looters, "or as the Democrats would call them: peaceful protesters."
In fact, Biden disavowed rioting as recently as Wednesday, saying that "burning down communities is not protest."
Trump said that the Democratic Party is responsible for "the left's repressive mandates," referring ostensibly to the rise in popularity of critical race theory, "cancel culture," and political correctness.
"The goal of cancel culture is to make decent Americans feel ashamed," he said. "We will always, always protect free speech on college campuses. ... They are coming after me because I am fighting for you, that's what's happening. Remember this: they spied on my campaign and they got caught."
The claim that then-President Barack Obama or Biden ordered an investigation of Trump, which Trump calls Obamagate, is unfounded. A 2019 Justice Department report states that the inspector general "did not find documentary or testimonial evidence that political bias or improper motivation influenced [the] decision to open Crossfire Hurricane," referring to the FBI's investigation of key Trump associates on suspicion they were colluding with the Russian government.
A recent report released by a Republican-led Senate committee found that the Trump campaign's contacts with Russian spies constituted "a grave counterintelligence threat" to the United States.
Trump said the United States will send a woman to the moon and will become the first country to go to Mars.
"There has never been such a difference between two parties or two individuals in ideology, philosophy or vision than there is right now," he said. "Our opponents believe America is a depraved nation. We want our sons and daughters to know this isn't true. ... Our country wasn't built by cancel culture, speech codes, and soul-crushing conformity."
The speech was followed by a fireworks display set to patriotic music at the Washington Monument, along with an operatic rendition of "Ave Maria."
The president thanked his younger brother, Robert, who died August 15 at the age of 71.
"I know my brother Robert is looking down on us from Heaven," Trump said. "He was a great brother and was very proud of the job we are doing. Thank you. I love you, Robert."
Trump was introduced by his daughter Ivanka Trump, who told a personal anecdote about a Lego White House her son made.
"Donald Trump did not come to Washington to win praise from the Beltway elite," she said. "He came for one reason and one reason alone — to Make America Great Again."
Help keep the Bay Area Reporter going in these tough times. To support local, independent, LGBTQ journalism, consider becoming a BAR member.
Comments on Facebook