Online Extra: CA surpasses national 2020 census response rate, as count deadline is pushed back
Thursday Apr 16, 2020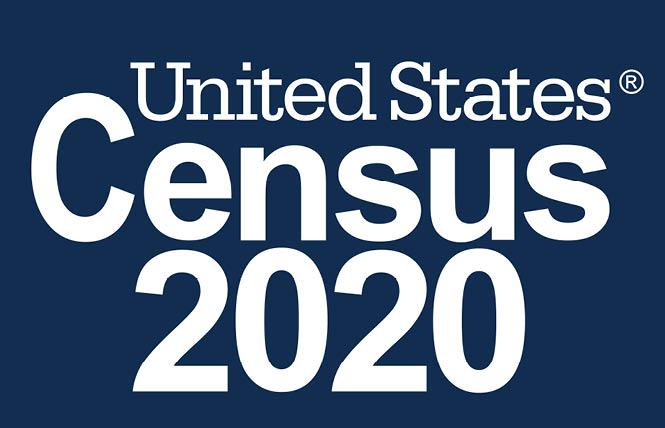 California has now surpassed the national response rate for the 2020 census, while the final date for people to fill out their form has been pushed back again. Census officials are now aiming to complete the decennial count by October 31.
As of Thursday (April 16) the Golden State has a self-response rate of 50.3%, slightly more than the national rate of 49.4%. In 2010, the state reached a total response rate of 68.2%.
"We are happy that despite the difficulties currently facing so many Californians, people are filling out the census and are being counted. They know how critical the census is for the LGBTQ+ community and the vulnerable populations to which we belong," Beatriz E. Valenzuela, a communications manager with Equality California, the statewide LGBT advocacy organization, told the Bay Area Reporter this week. "But we also know that we are not done and will continue to do our outreach to ensure an accurate count be that digitally, through social media or through direct text or phone calls to those marginalized people."
California's 2020 census self-response rate has now inched up from being at 25th place in the rankings for the 50 states to being tied for 22nd with Pennsylvania. Minnesota remains in the top spot with a response rate of 59.2% of households, while Wisconsin, Nebraska, Michigan, and Iowa are all tied for second place with 55.7%.
Santa Clara County continues to outperform the state's 58 counties with its 59.7% response rate. It is tied for 131st place with counties in Illinois, Indiana, and Ohio. Close behind is San Mateo County tied at 156th place with 59.2%.
Alameda County is currently in sixth place among the state's counties with 56.8%. San Francisco is at 22nd with 48.3%. The East Bay city of Piedmont has the state's best response rate among cities, at 72.5%; San Francisco's 48.3% response rate currently puts it tied at 329th place with Tulare, Los Banos, and Laguna Beach.
According to an online tracker being kept by the U.S. Census Bureau, 45.8% of the 7.6 million California households that have filled out their census form this year have done so online. The option is new, and as the B.A.R. has noted in previous stories, it was launched at an opportune time now that most Californians are sheltering in place due to the novel coronavirus outbreak.
State and local leaders, in addition to community groups, have been plugging the online form at http://www.my2020census.gov as something for people to do while bored at home. Those without internet access can also call 844-330-2020 or mail back their census form they should have received by now.
Federal funding at stake
California receives billions of dollars in federal funding based on the census count, and like all states, its number of U.S. House seats is decided by the census results. With other Western and Southern states' populations growing, while California's stagnates, there is concern it could lose one or two seats in Congress.
The push for people to take part in the decennial count of the nation's population has taken on new urgency amid the global health pandemic as the financial costs to cities and the state government mount by the day. With California under shelter-in-place orders through at least May 3, and likely longer, countless businesses are scrambling to obtain federal loans in order to remain open and millions of workers are signing up for unemployment benefits.
In light of the global pandemic upending plans to send people to knock on the doors of those who have yet to fill out their census, the census bureau had initially pushed back the date to finish this year's count from July 31 to August 14. But U.S. Department of Commerce Secretary Wilbur Ross and U.S. Census Bureau Director Steven Dillingham announced Monday, April 13, they now want to extend the window for field data collection and self-response to October 31.
They are asking Congress to approve the new deadline. It would mean that the apportionment counts for House seats would be delivered to the president by April 30, 2021, and redistricting data would be delivered to the states no later than July 31, 2021.
Having suspended its field data collection activities in March, the census bureau is now looking to reactivate its field offices June 1 and resume field data collection operations quickly thereafter.
According to the statement from Ross and Dillingham, "In-person activities, including all interaction with the public, enumeration, office work and processing activities, will incorporate the most current guidance to promote the health and safety of staff and the public. This will include recommended personal protective equipment (PPE) and social distancing practices."
Imani Rupert-Gordon, executive director of the San Francisco-based National Center for Lesbian Rights, which is a national LGBTQ organizational partner for the 2020 census, told the B.A.R. in an interview this week that she didn't have any immediate concerns with the delay in the deadline for filling out the census.
"I would imagine it would give folks more opportunity to fill out the census, that is what I would be hoping to see more folk fill it out," said Rupert-Gordon, who stepped into the position a month ago. "We are underrepresented and need to get more folks to fill out their census forms."
Valenzuela told the B.A.R. that EQCA understands the need for the delay and will continue to work with its community group partners that had initially agreed to host kiosks at their sites where people could fill out their census form. EQCA received $1 million, mostly from the California Complete Count Office, to fund its census outreach efforts it is conducting in conjunction with community groups around the state.
Their campaign to "queer the census" has now moved to online platforms and phone banking since people are being asked to remain home. As of this week, EQCA's canvassers and partners have completed 138,917 texts and 3,007 calls since March 14.
"Everyone's safety and health is paramount and therefore understand the need to temporarily suspend in-person activities, including all interaction with the public and field data collection," wrote Valenzuela in an emailed reply. "But as before the COVID-19 pandemic, we will insist on a fair and accurate count no matter the necessary delays."
The decennial count of the nation's population will fall short in terms of collecting exact data on the number of LGBT residents, since the 2020 census will not be asking people to specify if they identify as gay, lesbian, bisexual, or transgender. In terms of a person's gender, the only choice one can select is either male or female.
But it will collect for the first time this year a more accurate count of same-sex couples in the U.S. The 2020 census forms include the options "same-sex husband/wife/spouse" or "same-sex unmarried partner." It is a marked improvement from the 2010 census, when the options for explaining the relationship of a couple living in the same household were the generic terms "husband or wife" or "unmarried partner."
EQCA is working with its partners to conduct online events centered on the census, noted Valenzuela, including the Sacramento LGBTQ Center's census hotline. It is planning to hold virtual town halls about the census this Sunday, April 19, with CHIRLA, the Coalition for Humane Immigrant Rights of Los Angeles, and Thursday, April 23, with the Latino Equality Alliance's SELA Youth Council for LGBTQ youth in Southeast Los Angeles.
"California is home to many vulnerable populations and as a matter of fact, the most difficult to count counties in the nation is Los Angeles County," noted Valenzuela. "That said, being able to identify those locations which may need further outreach and assistance is extremely helpful for Equality California and other organizations diligently working to ensure we have an accurate census count."
To learn more about EQCA's census efforts this year, visit https://www.eqca.org/census2020/
Editor's note: If you liked this article, help out our freelancers and staff, and keep the B.A.R. going in these tough times. For info, visit our IndieGoGo campaign.
Comments on Facebook