Support softens for banning religious based LGBT discrimination, study says
Tuesday Apr 14, 2020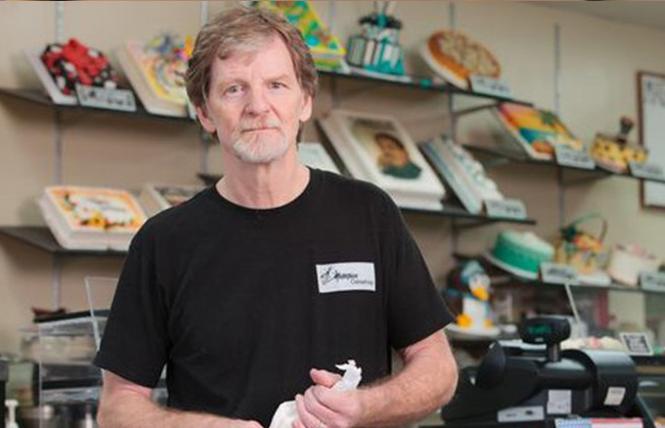 Although a majority of Americans continue to believe small business owners should not be allowed to use their religious beliefs in order to refuse service to gay and lesbian customers, there has been a weakening in such sentiment over the last three years.
That is one of the major findings in PRRI's 2019 survey of over 40,000 Americans. The nonpartisan, nonprofit research organization found that 56% of Americans last year opposed allowing a small business owner in their state to refuse products or services to gay or lesbian people if providing them would violate their religious beliefs.
It marks a five-percentage point drop from PRRI's 2016 survey, when 61% of respondents said they opposed religiously based refusals to serve gay and lesbian people. During this period, PRRI also found that Americans have become less likely to say they are strongly opposed to religiously based service refusals (33% in 2016 vs. 25% in 2019).
"It kind of hit a critical point this year where we said this has been sliding 1% over the last few years. We are at a point now where it looks like it is a trend," said PRRI's research director Natalie Jackson in a phone interview with the Bay Area Reporter. "It is not that society is reversing itself on this issue, just that on a very complex question we are seeing some slippage."
As more and more states have adopted protections for their LGBT residents, with Virginia on Saturday becoming the first state in the South to enact protections in employment and public accommodations, anti-LGBT groups have turned to using religion to skirt such laws. The U.S. Supreme Court has enabled such a tactic with its decisions in two recent federal lawsuits that sidestepped ruling on if such a religious exemption for business owners to LGBT nondiscrimination laws is constitutional.
It is widely expected the justices will have to weigh in on the matter as state courts have issued opposing rulings in cases related to the laws. In September the Arizona Supreme Court ruled that a business can — under certain circumstances — cite the business owner's religious beliefs to claim an exemption from a city human rights ordinance.
In 2018 the U.S. Supreme Court vacated a Washington Supreme Court decision that said a florist violated state law when she refused to sell flowers to a same-sex couple for their wedding, claiming that she was exercising her religious beliefs. In doing so, it sent the case back to the state Supreme Court for "further reconsideration in light of" the Supreme Court's ruling that June in Masterpiece Cakeshop v. Colorado.
In the Masterpiece decision a 7-2 majority of the U.S. Supreme Court ruled only that the record in a case from Colorado showed there had been significant hostility shown by the state civil rights commission for a businessman's religious views against marriage for same-sex couples. The case involved baker Jack Phillips, who refused to sell a cake to a same-sex couple for their wedding reception, claiming his religious beliefs prevented him from doing so.
The high court set aside the lower court ruling against Phillips in Masterpiece and said the greater issues in the case — concerning religious beliefs and civil rights laws protecting LGBT people — would have to be "resolved in the future ...."
As media coverage of the issue has ebbed and waned around the court cases, it may be leading to the response changes the PRRI is seeing in its surveys. According to the 2019 survey results, half or more Americans in 40 states oppose allowing small business owners in their state to refuse service to gay and lesbian people based on religious objections.
Seven in 10 (70%) Democrats and a majority (57%) of independents, compared to only 39% of Republicans, oppose allowing small business owners to refuse service to gay and lesbian people based on their religious beliefs, according to the survey. With the exception of white evangelical Protestants (44%), Mormons (43%), and Jehovah's Witnesses (42%), majorities of all major religious groups oppose such religiously based refusals, according to PRRI.
"It is a tricky question with regard to what is driving this particular trend," said Jackson. "The question itself gets at three different attitudes. It is asking about small business behavior and should small businesses be able to do whatever they want. The second piece is the religious aspect and should they refuse service based on religion. The third is people's overarching views on LGBT people."
It thus makes its difficult, said Jackson, to pinpoint what is behind the shift in public opinion on the issue.
"One of the things we thought of is perhaps the issue has become less salient over the last few years," she said. "Maybe it is not quite as top of mind for people."
There did seem to be a correlation in 2016 being a "high water mark" in support for not allowing religious based discrimination and that being a presidential election year.
"Perhaps this is an electoral factor we might see again this year, so we are watching for that as well," said Jackson.
As for the 2019 decline in opposition to religiously based service refusals, PRRI has found it is most pronounced among subgroups that have historically been the most opposed to such a policy. Among liberal Democrats support dropped from 85% in 2016 to 78% in 2019) and among liberal Republicans it fell from 63% in 2016 to 51% in 2019.
Support also fell among younger adults under the age of 30 (70% in 2016 to 62% in 2019), and white Democrats without a college degree (76% in 2016 to 68% in 2019).
Other troubling trends
Another troubling trend has been the 5-point decrease in the share of Americans who strongly favor LGBT non-discrimination protections, from 35% in 2017 and 2018 to 30% in 2019. Notably, PRRI pointed out, the drop in intensity is especially large among liberal Democrats, among whom strong support has dropped from 65% in 2018 to 52% in 2019. Intensity of support among Republicans and independents has remained relatively stable.
Nonetheless, more than seven in 10 Americans (72%) support LGBT non-discrimination protections. Only about one in five (21%) Americans oppose these protections. The current level of support (72%) has remained relatively stable since PRRI began asking this question in 2011.
"Support for LGBT rights continues to be strong and expansive in all 50 states. Issues that in the recent past demarcated major political and religious fault lines now find broad agreement," noted PRRI CEO and founder Robert P. Jones. "However, this landmark survey also finds some erosion in opposition to allowing business owners to refuse to serve gay and lesbian people based on their religious beliefs."
Support for marriage equality holds strong
Since the Supreme Court ruled in 2015 that same-sex couples have a constitutional right to marry, support for same-sex marriage has increased dramatically, with PRRI finding that more than six in 10 (62%) Americans support same-sex marriage.
That marks a nearly 10-point increase from 2015 (53%), and an even larger increase from 2007 (36%). And for the first time, a majority of American seniors (ages 65 and older) support same-sex marriage (51% favor, 41% oppose).
Majorities of all major racial groups, including 58% of African Americans, and most major religious groups, with the exception of white evangelical Protestants (only 41% favor), now support same-sex marriage.
Partisan gaps in views of same-sex marriage still persist, however. Seven in 10 (70%) Democrats and two-thirds (66%) of independents are in favor, compared to less than half (47%) of Republicans.
"Same-sex marriage opinion has hit a steady state. We saw it move really rapidly over the last 20 years," said Jackson. "It is one of the fastest shifts in public opinion we have seen in any issue."
The PRRI survey received funding from the Arcus Foundation, the E. Rhodes & Leona B. Carpenter Foundation, the Evelyn and Walter Haas Jr. Fund, the Gill Foundation, and Unitarian Universalist Veatch Program at Shelter Rock. Interviews in both English and Spanish were conducted between March 26 and December 29 last year among a random sample of 40,357 U.S. adults (ages 18 and up). The margin of error for the total sample is +/- 0.6 percentage points at the 95% level of confidence.
For more information about the survey, visit https://www.prri.org/
Editor's note: If you liked this article, help out our freelancers and staff, and keep the B.A.R. going in these tough times. For info, visit our IndieGoGo campaign.
Comments on Facebook