Bay Area Cannasseur: 4/20 offers special events and sales
Wednesday Apr 17, 2019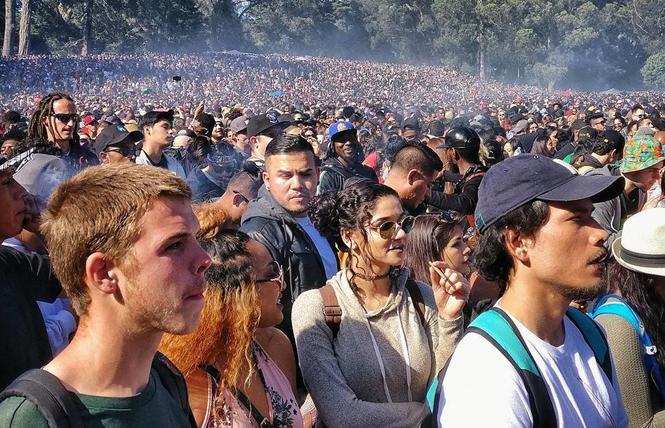 April 20, the cannabis high holiday, falls on a Saturday this year, enabling people to start celebrating in the morning at Golden Gate Park's Hippie Hill and end the day with a swanky underground dinner.
In between, there are lots of other gatherings, including concerts, a stoner comedy festival, and dispensary sales galore.
Over the years, various stories have circulated about the origins of 4/20, the most popular of which says it first began in 1971 when a group of San Rafael High School students met at 4:20 p.m., just after classes, to smoke a joint. The Oxford English Dictionary added the term "4/20" recently, citing this story.
The Hippie Hill event, the second since recreational pot became legal and the first to fall on a weekend, promises to be bigger than ever, according to sponsors.
Beginning at 9 a.m. in Robin Williams Meadow, the city has again permitted the event and brought in sponsors to help pay for fencing all around the perimeter of the meadow, increased security, portable toilets, food vendors, and an improved sound system and DJs for entertainment. The cleanup crew will also be beefed up, said sponsor Alex Aquino in a telephone interview with the Bay Area Reporter.
Aquino, owner of the Haight Street clothing shop Black Scale, said the minimum age requirement was brought down to 18, from 21, with hopes that this will reduce the number of people spilling out into the surrounding neighborhoods of the Haight and north Panhandle during the day. Aquino said that around Hippie Hill there will be at least eight food trucks as well as vendor booths, medical staff, and the music stage. And because a record crowd is expected, Aquino said organizers have arranged for more ambulances on site for those who might overindulge.
Once again, organizers have prohibited the sale of pot and alcohol and prohibited the possession of any glass objects, including bongs, although previous parties have ignored these rules, offering lots of edibles and flowers for sale.
Last year, the 4/20 celebration attracted an estimated 20,000 people, said Aquino. If the weather is good this year, he said attendance could be "considerably larger." If you're not planning to attend the event, you'd be wise to steer clear of the Haight that day.
Other parties
Not to be confused with Hippie Hill, Trippie Hill is a party from 3 to 10 p.m. at the Midway, 900 Marin Street, featuring Berner, Nef the Pharaoh, Los Rakas, and Kool John. Tickets are $45-$100 (plus fees) and available at https://bit.ly/2uaOk36.
Over the 4/20 holiday weekend, comedians from North Beach's Cobb's Comedy Club, as well as some who have appeared on Viceland, NBC, and ABC, share their best stoner jokes and stories at the inaugural San Francisco Stoner Comedy Festival.
In addition to an evening of comedy, California Love Bud will have complimentary prerolls, vape pens, and CBD oils. The shows will be held at Neck of the Woods, 406 Clement Street, Friday, April 19, at 8 and 10 p.m. and Saturday at 7 and 9 p.m. For more information and tickets, visit https://bit.ly/2GfVoBc.
For a swanky way to end your 4/20 celebration, the Opulent Chef is holding "The Heightened Series: 4/20 Opulent Takeover" consisting of a session from 4 to 7 p.m. ($75 plus fees) and a sesh plus dinner from 7 to 10 p.m. ($175, plus fees) at an undisclosed private spot in the city. Combining cannabis and fine dining, the dinner includes sun-grown flowers from Humboldt County, concentrates you can try out in vaporizers, and a gourmet meal. For more information and tickets, visit https://the-hightened-series.ticketleap.com/.
Dispensary specials
And, finally, it's not 4/20 without dispensary specials.
Gay-owned and -operated SPARC, with three locations in the city (http://www.sparcsf.com), will feature "the biggest sales in the history of the company," Robbie Rainin, director of retail, said in a telephone interview with the B.A.R. On Saturday only, SPARC will knock up to 50% off select products from 9 a.m. to noon, and up to 40% off from noon to 10 p.m.
Not to be outdone, the Apothecarium's three locations in the city (http://www.apothecarium.com/san-francisco) will have a sale on both Friday and Saturday. According to spokesman Eliot Dobris, the sale will feature 59% off deals from Atlas, Sunday Goods, State Flower, Henry's Originals, Plus, and Legion of Bloom and one penny deals on fanny packs (with $100 purchase), T-shirts (for early birds), and Pax Era portable vapes (with cartridge purchase). The Castro flagship store, at 2029 Market Street, will also have one-penny chair massages and, from 3 to 3:45 p.m., an appearance by the Waldos, the former Marin County High School students credited with coining the 4/20 term.
Most of the city's other dispensaries will also have specials that likely will be announced at the last minute so be sure to check the website of your favorite shop for deals over the holiday weekend.
Bay Area Cannasseur usually runs the first Thursday of the month; this is a special 4/20 edition. To send column ideas or tips, email Sari Staver at sari@bayareacannasseur.com.
Comments on Facebook