Business Briefs: CA biz leader connects gay, Latino communities
Wednesday Apr 10, 2019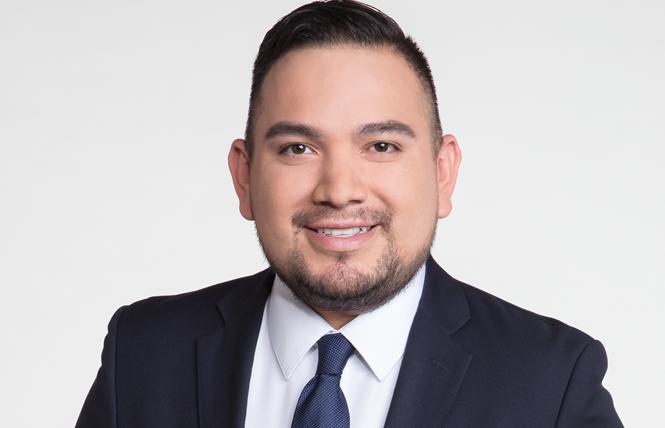 Opening doors for Latino business owners as well as LGBT Hispanics in California drives Juan P. Novello's work, whether with his local chamber of commerce or at his current job as the chief operating officer of the California Latino Economic Institute.

At a time when the White House vilifies immigrants, especially those from Spanish-speaking countries, Novello is playing a powerful role in countering the negative narratives about Latinos in today's political discourse.

"It is important for people to know what we contribute to our community. With Latinos being a majority in the state of California, we are the backbone of our economy. Not only due to Latinos owning businesses but because of our purchasing power and labor," said Novello, 29, who lives in Sacramento with his husband, Josh Novello. "It is necessary for us to have a clear picture and understanding of what the numbers are for Latinos in California."

According to the U.S. census, Latinos accounted for 39.1% of the Golden State's population of more than 39.5 million people as of July 2018. Their share of the state's population is likely to increase when the census bureau releases updated population estimates next week.

In terms of their economic output, Latino-owned businesses are a key driver of the country's economy. According to a recent report by Bank of America, 74% expect to see their revenues increase this year, compared with just 57% of non-Hispanic small business owners. And 87% of Latino-owned businesses plan to expand this year.

"Today, the Hispanic business community is the fastest growing sector of the California economy," notes the Hispanic Chamber of Commerce of San Francisco. "The Bay Area and California Hispanic market alone produces revenue of billions of dollars a year."

Thus, ensuring that the Latino business community and the state's LGBT community are working collaboratively is key for Latino-owned firms to meet their hiring needs and for LGBT Californians looking for financial security, argues Novello. His ability to bring both communities together has not gone unnoticed, with the Golden Gate Business Association, the LGBT chamber of commerce in San Francisco, honoring him at its Power Lunch event in February.

"A dreamer in every sense of the word, both politically and philosophically, Juan has been a man of action in building bridges, uniting the Hispanic and LGBT communities," said GGBA board member John Henning, the chief marketing officer of Granite Solutions Groupe, a San Francisco-based recruiting and consulting firm founded by his husband, Daniel L'Abbe. "The adopted son of two amazing fathers and the husband of an incredible designer, Juan is here today to tell his story and give us the inspiration to build bridges to make our community safer, economically stronger and more prosperous for all."

Born in Mexico City, Novello moved to San Diego at age 12 with his younger sister to reunite with their mother and an older sister. His parents divorced when Novello was 5 years old and he has not seen or talked to his father since.

He graduated from San Diego State University with a degree in business management. Accepted into the Chicano Youth Leadership Project, Novello met Eric Astacaan, a gay legislative staffer at the time, and his husband, Michael Butler. He moved into their home the day after Barack Obama was elected president in 2008.

The couple considers Novello one of their three adoptive sons, though they did not legally adopt him. Befriending them helped Novello come out as gay.

"For a Latino Catholic guy who grew up in a conservative household, being gay was not an option," said Novello, who still speaks with his mother and considers his dads to be his "fairy godmothers ... They are so loving, positive people."

In 2012 Novello applied to Obama's Deferred Action for Childhood Arrivals program for those youth, known as Dreamers, brought to the country illegally by their parents. As of September, Novello is a permanent resident.

He had been working for the California Hispanic Chambers of Commerce as a senior vice president until switching jobs this winter. He is the nonprofit institute's first full-time employee and sees the position as furthering his advocacy on behalf of Latino entrepreneurs.

"It is something I am really passionate about," he said. "There is a lot of need for a voice for the Latino community. But, at times, it doesn't get heard."

And he aims to continue building connections between Latino business leaders and the LGBT community for the betterment of both communities.

"If you are so close-minded, and if people are still so culturally inept per se, then how do they do their job? Our community is so diverse; California is extremely diverse," said Novello. "If we are representing our community we need to do so in a way that is inclusive and truly reflective of our constituency. If we don't do that we shouldn't be at the table."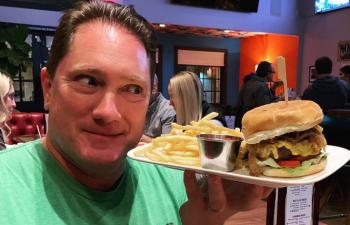 Noe Valley eatery teams with gay ice skater for a good cause
A restaurant in San Francisco's Noe Valley neighborhood with gay minority investors will be helping to raise money next week for gay ice skater Brian Boitano's nonprofit foundation Youth Skate. It helps introduce inner city youth to the sport.

The special cocktail event will be hosted by Noe's Cantina, 1199 Church Street at 24th Street. The hybrid Mexican restaurant and local bar is co-owned by Tommy Basso, whose family formerly operated a tavern there called Noe's, and husbands Liam Mayclem and Rick Camargo.

Mayclem is a well-known local media personality whose nickname is the Foodie Chap. In addition to hosting his KCBS Radio food program of the same name, Mayclem serves as an emcee and auctioneer for nonprofit fundraising galas and other events.
One Monday night a month he has invited one of his famous friends to be feted at Noe's Cantina by having a special drink named after them. A portion of the beverage sales goes to the nonprofit of their choice. The March "Cocktail For A Cause" featured a drink named after SF Giants announcer Renel Brooks-Moon and raised money for Black Girls Code.

Mayclem, who mans the restaurant most Monday nights, was tight-lipped about the specialty cocktail the bar staff is creating in honor of Boitano. He would only say that the gold-medal winning Olympian would be behind the bar himself from 8 to 9 p.m. Monday, April 22, to help mix the $15 drinks, with $5 from each going to his foundation.

"My big thing is using the venue for my nonprofit, philanthropy work," said Mayclem, who lives a few blocks from the restaurant. "So, once a month we have a 'Cocktail For A Cause' and one of my celebrity friends, if you will, comes in."

The owners have been tweaking the restaurant's menu since it opened in late December. It currently features tacos served on a soft tortilla — or a lettuce shell by request — made to order with pork, sautéed Portobello mushrooms, or chicken ($5 each) or shrimp or fish ($6 a piece).

Fajita plates can be ordered with pork, chicken, steak or Portobello mushroom (for $18) or shrimp or salmon ($20) with choice of two sides. There is also more traditional pub food available, such as baby back ribs ($15), an 8 oz. burger or chicken sandwich (both $12), or a vegan Beyond burger ($14). All but the ribs come with fries.

Since he has been overseeing Monday dinner service, Mayclem has observed more LGBT families coming in those nights with their kids. Known for his gregarious nature, Mayclem likes to treat his younger guests to churros.

"I am there every Monday from 5 p.m. I am wanting that to be the night for English folks and also my LGBTQ friends looking for a new spot to hang out on a Monday," said Mayclem, a British ex-pat himself. "Noe's was a bar I went to for 20 years. When it disappeared, I lost my watering hole. I lost my hangout."

Helping Basso to revive it "was a no brainer," said Mayclem. "I not only got my bar back, it comes with even better food as we are serving Mexican food that I love."

Noe's Cantina is open daily from 11:30 a.m. to 10 p.m.

Got a tip on LGBT business news? Call Matthew S. Bajko at (415) 829-8836 or e-mail m.bajko@ebar.com.
Comments on Facebook