Business Briefs: Gay crime novelist launches own press with podcast
Wednesday Feb 13, 2019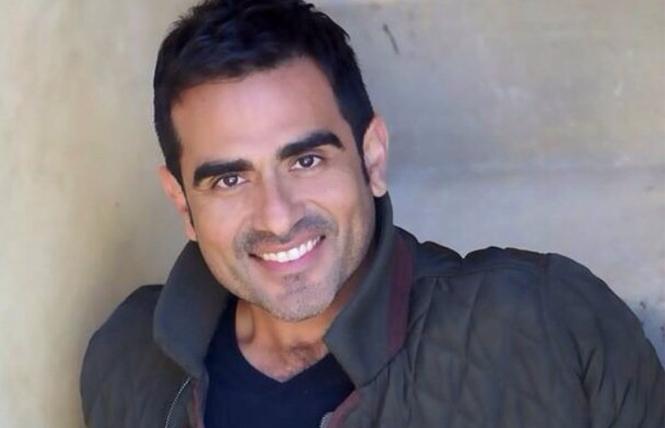 A year ago this month celebrated gay crime novelist Michael Nava secured the rights for all of his published works, including the seven titles in his acclaimed series featuring the gay criminal defense lawyer Henry Rios.

Nava aims to republish the series under his own imprint, Persigo Press, named after the Spanish word for "to seek." But first, he intends to publish the ninth Rios novel, "Carved in Bone," this September.

"My contract with Open Road expired and I didn't renew it. I wanted to control my work," said Nava during a recent interview with the Bay Area Reporter over breakfast in San Francisco's gay Castro district.

Ahead of the new novel's release, Nava has debuted an 18-episode serialized podcast based on his 2016 book "Lay Your Sleeping Head." It was a revised, more sexual version of the first Rios novel published in 1986 under the title "The Little Death."

Fans of the books will find the same mix of mystery, sex, and course language on The Henry Rios Mysteries Podcast, which is free to download on various podcast platforms. It is believed to be the first of its kind to serialize a work of gay fiction.

It is also the public debut for Persigo Press, as it is the first project Nava has unveiled under his imprint.

"I mistakenly thought it would be easy," said Nava, 64, who lives with his husband in Daly City. "It was supposed to be just promotion for the books, but it became this monster."

Starting last spring Nava rewrote his novel so it would work in the format of a classic radio program. He then sought a dozen actors to cast in the various roles, secured studio space in Oakland to record the episodes, and then edited the roughly 20-minute episodes to include an intro he narrates, theme music composed specifically for the podcast, and sound effects.

"It's like producing a movie. I had to write the script from the book. I had to rewrite the dialogue because what is written on the page doesn't necessarily work when spoken by actors," said Nava, who had been a staff attorney for retired California Supreme Court Justice Carlos Moreno and lost a bid to become a Superior Court judge in 2010.

He is spending $30,000 on the project and began rolling out the first podcast episode on January 14. New episodes in the first season are released weekly, and the cast is recording the final six in March.

"Podcasting is new and no one knows how to monetize it, so once I develop an audience I hope to raise the money to produce season two," said Nava.

Within the first week of uploading his podcast's debut episode, Nava said it had been downloaded 1,000 times. Reviewing it for the Lambda Literary website, fellow gay author John Copenhaver called it "an electric combination of storytelling, voice-acting, and noir-ish ambiance."

Playing Rios is former San Francisco resident Armando Rey, 47, an actor now based in Ventura. While he has done voice over work and radio shows, Rey had never performed in a podcast prior to being cast by Nava. Landing the role was particularly special for Rey since, like Rios, he is gay and Latino.

"As an actor I play all different kinds of characters and sexualities and whatever you want," said Rey. "This is really special to me. I am portraying somebody very positive to our LGBT community and to the Mexican-American community. That is what I work hard for."

Rey was aware of the books and aware of the character, which remains to this day one of the few out people of color to carry a crime novel. Many of Rey's friends are fans of the books, and when they learned he would be playing the role, they would ask how to listen to the show. Unfamiliar with podcasts, Rey admitted he didn't really know himself.

"I would tell them, 'I don't know, but if you do, tell me,'" said Rey, whose 33-year-old nephew showed him how to listen to it. "When the first episode came out my nephew, who is also gay and is loving the podcast, he sent it to me to make sure I heard it."

To come up with a voice for Rios, Rey read the novels again to pick up on clues Nava had inserted into his manuscripts about the character. With sharing Mexican ancestry with the character, and himself fluent in Spanish, Rey said having a bit of a Mexican accent for Rios came naturally, such as when he rolls his r's.

"I just wanted it to be a straightforward voice. In a way I came to that conclusion when doing the character analysis. Henry Rios is a serious guy; he wants to be taken seriously," said Rey. "He's got this masculinity to him, and so when I created that personality, that is what naturally came out that way."

Also performing in her first podcast is Scarlett Hepworth, who plays Detective Terry Ormes and Katherine Paris, the mother of Rio's lover Hugh Paris. She said she could easily see it be turned into a scripted show for television.

"I think the writing and the plot is very cinematic," said Hepworth, 66, who lives with her wife in El Cerrito. "I think that an out private eye is a really cool character. He is a wonderful amalgamation of different types."

Various entertainment producers have optioned the rights to the Rios novels to turn them into a movie or television series over the last 25 years, with production company Working Title currently paying for them. But no project has ever come to fruition, leading Nava to contend his character has "been orphaned" in Hollywood.

Hepworth expects the podcast will find its audience.

"Clearly, there are mystery and noir readers out there who want to read about a gay detective," she said. "I think Michael Nava is brilliant in having invented this character Henry Rios."

According to the website Podcast Insights, there were more than 630,000 podcasts by the end of 2018. Los Angeles-based Revry, which bills itself as the first queer global streaming network, has added a number of podcasts to its library since launching in 2016. But they are mainly talk shows created by queer and transgender people of color.

"Off the top of my head, I can't think of one that serializes an LGBT novel or work of fiction," said Revry co-founder Alia J. Daniels, 33, a straight ally. "We are definitely looking for podcasts that are innovative."

While the platform's podcasts have largely stuck to a "talking heads" format, Daniels said they are open to hearing pitches from LGBT authors who want to serialize their work.

"We are looking at, in the future, having more scripted type podcasts," she said. "We think the genre has such an opportunity to expand."

Nava hopes other out authors will follow his lead and experiment with the podcasting platform to promote their work.

"I think you should just do it and I hope more people will," he said when asked what advice he would give to podcasting novices. "There is not enough queer content on podcasts."

Eventually, Nava envisions using his Persigo Press to launch the careers of other authors who are LGBT or people of color. Should all go well, the first such book would be released in the fall of 2020.

"My dream is to publish other queer writers and writers of color who write genre stuff, from sci-fi and speculative fiction to mysteries," said Nava. "I would especially love to publish transgender writers."

To learn more about Nava, his works, and the podcast, visit https://michaelnavawriter.com.

UPDATED 2/15/2019 the age of actor Armando Rey's nephew.>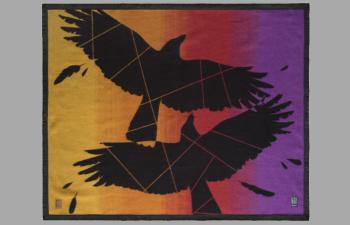 Blanket designed by two-spirit artist for sale
Eighth Generation, the first Native American-owned company to offer beautifully crafted wool blankets, has partnered with two spirit and queer indigenous artist Ryan Young to create a blanket inspired by a traditional Ojibwe story about crows.

Young, 27, a member of the Lac du Flambeau Band of Lake Superior Chippewa, answered a call last year that the Seattle-based company put out announcing it wanted to partner with a two-spirit artist as part of its Inspired Natives Project it launched in 2014. It is aimed at offering community-based artists business skills development and mentorship to build their business capacity and distribute artwork globally.

Young's blanket, made from New Zealand wool, is two-sided and features two soaring black crows that are losing several feathers. One side the background features muted rainbow colors, while the other is all black.

It is based on an Ojibwe tale about how the once rainbow-colored birds lost their ability to sing aiding other woodland creatures escape a forest fire. The soot blackened their feathers and damaged their vocal cords.

"It is a symbol of the huge sacrifices the crows had to make to help their community," explained Young in a phone interview with the B.A.R. "It ties into Native Americans and the LGBTQ community."

Having earned a BFA at the Institute of American Indian Art in Santa Fe, New Mexico, Young is currently living in Champaign, Illinois and working as the Native American students services outreach coordinator for the University of Illinois at Urbana-Champaign. Young would like to move to Seattle and focus fulltime on their art.

"I went there when they did an early release of the blanket. To see all the space there for indigenous artists was really inspiring," said Young.

As a child Young felt discouraged by a teacher who called a painting they did about mental health issues "too sad." So it has been a delight, Young said, to now have people emailing photos of themselves wrapped in their blanket.

"It makes my heart happy to see people really identify with the blanket and to see everyone who has been able to enjoy it," said Young.

The queen-size blanket costs $208, with 5 percent of the proceeds going toward the program for emerging arts entrepreneurs.

To order one online, go to https://eighthgeneration.com/collections/blankets/products/two-spirit-wool-blanket.

Honor Roll
For Your Eyes Only Optometry, at 552 Castro Street, has been granted legacy business status by the city. The program is aimed at ensuring longtime locally owned businesses remain in San Francisco.

The late Dr. Kenneth Agues first opened the optometry practice in 1983. A member of the LGBT community, Agues treated people living with HIV and AIDS who were susceptible to an aggressive eye infection that led to blindness.

In 1991, Dr. Kathleen Kennedy, a straight ally, bought the business and has continued to welcome all clients to the practice.

"At For Your Eyes Only Optometry we love San Francisco and we especially love our Castro community," stated Kennedy. "For over 35 years we have proudly provided compassionate care of the highest quality to our neighborhood during times of hardship and joy."

Got a tip on LGBT business news? Call Matthew S. Bajko at (415) 829-8836 or e-mail m.bajko@ebar.com.
Comments on Facebook