Best Events - Weekly, monthly and one-off parties rock
Wednesday Apr 3, 2019
From drag shows to dancing bears, game nights and beer busts, cubcakes, mangos and other treats, your choices for Best Nightlife Events truly represent a diverse menu of options.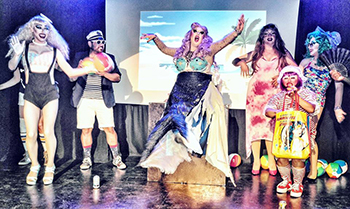 Best Drag Show: Mother/Oasis
Runners-up: Monster/Edge,
Daytime Realness/El Rio

Mother gets weekly billing in the events calendar as "Heklina's popular weekly drag show, with special guests and great music themes," but that hardly covers it. The show is a transplant from the its original run at The Stud and it's been wildly popular for years.

In the last year the show has featured 11-year-old drag icon Desmond Napoles, winner of Season 10 of RuPaul's Drag Race Blair St. Clair, a Prince tribute night, a Dolly Parton tribute, Kim Chi from Season 8 of Drag Race as well. As their website says, "It's standing room only," and then some. Mother is returning as a winner in this category and it's a well-deserved accolade. If you have been, isn't it time you went back?

Best Comedy Night: Comedy Returns/El Rio
Runners-up: Comedy Night/Eagle, Hysteria Comedy/Martuni's

Comedy Returns, produced by Kung Pao Kosher Comedy's Lisa Geduldig, is in its 11th year at El Rio and yet it's still fresh and cutting edge. In the past year, the third Fridays show has featured Diane Amos, (The Pine Sol Lady), Ngaio Bealum, Sampson McCormick (from the Netflix documentary A Tough Act To Follow), Karen Ripley, Eloisa Bravo, Nick Leonard, Nicole Tran and of course Geduldig herself. Comedy Returns is returning once more as the winner of best comedy night, and if you think that means you should check it out you would be right.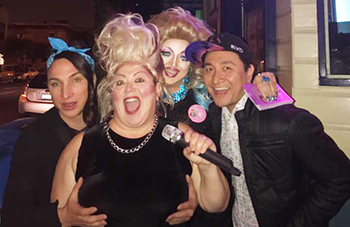 Best Game Night:
Miss Kitty's Trivia Night at Wild Side West
Runners-up: Gaymer Night at SF Eagle,
Gaymer Night at Midnight Sun

Kit Tapata has been hosting this weekly trivia extravaganza for a while now and it is a wildly popular prize-filled fun night at the Bernal Heights bar. It's always a lively raucous fun night. Miss Kitty claims the top spot from last year's winner (and this year's runner-up) Gaymer Night at the Eagle, so that should give you an idea as to how popular this event is. Celebrate Hump Day in style with Miss Kitty and her many fans at Wild Side West.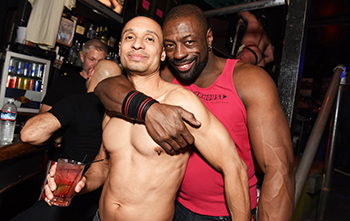 Best (Non-Contest) Leather Event at a Bar: Lick It at The Powerhouse
Runners-up: BLUF at SF Eagle,
Code at The Edge

DJ Blackstone provides the soulful sounds and Lance Holman hosts the popular night at the Powerhouse — where the denizens dance and play and have an evening of low-key sexy cruise and kink. Lick It often features special nights for holidays and events like Folsom Street Fair. Events benefits organizations like the Breast Cancer Emergency Fund with sponsorship from companies and products like Mr. S Leather, 9x6Lubes Pure Silicone and wüfGear. Lick It takes its place at the top of our readers list this year, beating out last year's winner Code at the Edge. Don't you deserve to find out why?

Best Weekly Nightlife Event: Beer Bust at SF Eagle
Runners-up: The Monster Show at The Edge, Pan Dulce at Beaux

The Sunday Beer Bust at the Eagle is both a tradition and a party — and it benefiting various nonprofits and local charities. Previous Beer Busts have benefited the Leather Pride Contingent for the Pride Parade and raised money for Eagle Plaza. What could be better than an afternoon of fun, good food, hot men and cold beer all for a good cause? Clearly our readers agree. The Beer Bust at the Eagle returns again to claim the Bestie for Best Weekly Nightlife Event.


Best Monthly Nightlife Event: Disco Daddy at SF Eagle
Runners-up: Go Bang! at the Stud, Beatpig at the Powerhouse

DJ Bus Station John has an amazing sense of fun. This year when Disco Daddy fell on the President's Day three-day weekend, he suggested that it was "Another chance to steal a kiss from a bawdy bank teller, play Post Office with a man-hungry mail carrier, and/or, uh, drive a dreamy DMV worker to ecstasy!" Aside from the fun, enjoy his amazing musical taste — Disco Daddy just celebrated their fifth annual Sylvester tribute. In an interview with Broke Ass Stuart he said he's "workin' hard to keep our connection to old-school gay culture, aesthetics & history alive." There's no doubt that he's doing it, and our readers love it.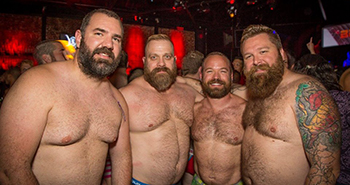 Best Non-Weekly, Non-Monthly
Nightlife Event: Bearracuda
Runners-up: ShangriLa at the EndUp, Hard French Winter Ball

Whether it's at the Eagle or the Folsom Street Foundry, underwear night or jock straps and singlets — Bearracuda is the place to be. With their sexy dancers and DJs like Matt Consola, Paul Goodyear and Robert Jeffrey Bearracuda has made a place in our readers hearts. It is billed as a 'fun, friendly party for bears, cubs and other wildlife," and that it is! You'd have us down, down, down to our knees. Wouldn't you, Bearracuda?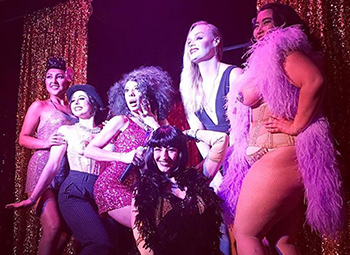 Best Stage Show In A Bar/Nightclub:
Red Hots Burlesque at the Stud
Runners-up: Baloney at Oasis, Buffy The Vampire Slayer at Oasis

Red Hots Burlesque says their mission is to be inclusive. When you see their shows you should "expect drag, comedy, striptease, sideshow, circus from folks of every gender, size, race, performance style and country." They've been featured locally in the Examiner, the Chronicle and even on the local NBC affiliate, and it's no wonder why. They have had over 500 performers participate in their shows and it is always fresh. They say "you will never see the same show twice." Put them in the Stud and our readers say you have a winning combination.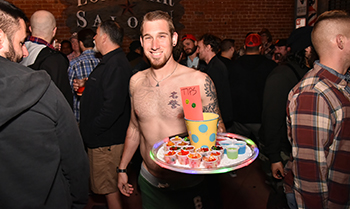 Best Bar Theme Night:
Cubcake at the Lone Star Saloon
Runners-up: Onesie Parties at Lookout, Frolic at SF Eagle

Take one historic bear bar add a feisty mix of cubs and bears with a great sense of fun, plus Jell-O shots and other sweet treats, and you've got the magic that is Cubcake. In the past year they've featured DJs Dominant and Paul Goodyear spinning tunes while the wildlife frolic on the patio. It's an event that is so notable that the international press has checked in: they've been featured in the UK Guardian. They have won the furry hearts of B.A.R. readers too.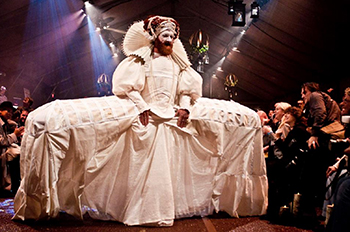 Best Unusual Nightlife Event:
Project Nunway at SOMArts
Runners-up: Broadway Bares Strip SF @ DNA Lounge, Flagging In The Park

Project Nunway gave us Project Nunway 9 to 5: Work! last September in their ninth annual event that has in the past seen them celebrate the 666 Heretics of Fashion (for year six). It's fun, it's fashion, it's drag, it's the Sisters and it's for charity. so much glamour in one room can be a bit overwhelming, but their sense of wit and grace keeps it all in check.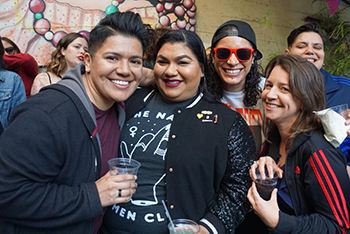 Best Women's Bar Event:
Mango at El Rio
Runners-up: Uhaul at Jolene's, Vamp Mondays at Beaux

Way back in 2013, The Bold Italic quoted Mango's DJ Edaj as telling the crowd at Mango, "If nobody told you today that they loved you, we'll tell you. Mango loves you."

Our readers say, "Right back at you, Mango." The queen of women's parties, still going strong 23 years on, is a celebration of community that hearkens back to a time when Valencia Street was the place to be for women in the city. With music that's a mix of salsa, hip-hop and more, Mango fans get up off their feet and have a great time.

A brainchild of the late (and much missed) Chantal Salkey, Mango shows that her vision is still much needed. Coming up on a quarter of a century, Mango is the kind of institution that generates love and makes El Rio a special place.
Comments on Facebook