Milk's spirit lives on in art
Wednesday May 15, 2019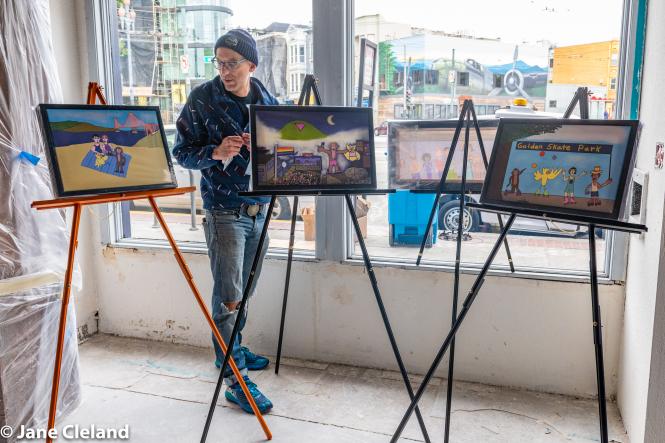 With 35 storefront windows throughout the Castro district displaying work by local artists beginning Friday, this year's Windows for Harvey exhibit is set to be the biggest one yet.

The initiative, presented by Castro Merchants, aims to honor Harvey Milk and his legacy through artwork that centers around a theme. This year's is "Soapbox," a reference to Milk's spirited activism and campaigning.

Milk made history when he was elected to the San Francisco Board of Supervisors in 1977, becoming the first out gay man to win elective office in the city and state. He and then-mayor George Moscone were assassinated by disgruntled ex-supervisor Dan White in November 1978.

"This year's theme is about speaking up and providing people with hope," said Yi Lin Pei, a participating artist whose work will be displayed in the windows of Local Take on 17th Street. "My piece is my own interpretation of that theme — it's a small child crawling onto a soapbox and being assisted by an adult."

Pei, 31, who left her job in the tech industry to work as a full-time watercolor artist, said she's been interested in art since she was a toddler. Born in China and raised in Zambia, she immigrated to the U.S. 15 years ago to pursue an education.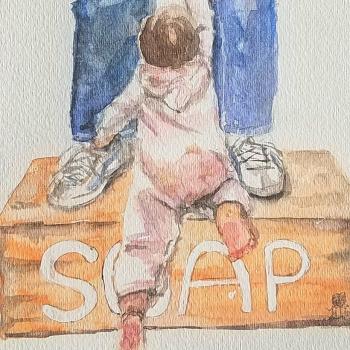 "I immigrated to this country for my own education," Pei, a straight ally, said. "I think there's a lot of things I relate to in people's struggles. And this is one more struggle I didn't even realize existed until I came to this community. I feel very proud to be a part of this."

Pei currently has some of her artwork on display in the gallery of Local Take. This is her second year participating in Windows for Harvey.

"I try to make art that makes people stop and think," she said. "I'm excited for seeing people use this opportunity to bring people together. It's really cool to see other people's interpretations of Harvey and share our stories with each other, and open up more dialogue — which was really the whole point of Harvey's message."

The artwork being displayed for Windows for Harvey ranges from paintings and photographs to more eclectic mediums such as floral, electronic, and felt.

Some participants, like author and artist James LaCroce, Ph.D., drew on inspiration from their own lives in their window displays. His pieces feature characters from children's books he's written, including his most recent book, "A Chimp and a Chicken Go to Therapy."

"I used characters from the books," LaCroce, who's married to Bay Area Reporter assistant editor Matthew S. Bajko, said. "They're waiting in line to see a display of Harvey Milk's suit, the one he was wearing the day that he was killed."

LaCroce, 45, who works as a clinical psychologist, has written and illustrated three books over the past 10 years. They explore issues such as gay adoption, neighborhood violence, and the reasons people go to therapy, through San Francisco-dwelling characters Chimpy and Matthew Chicken. The artwork he's displaying was digitally created and printed on canvas.

Some of his other art on exhibit depicts scenes from his books.

"The books have always served as a creative outlet for me," he said, "to express myself in a different way than through work. I wanted to do stories that weren't being told, and stories about the gay community."

Windows for Harvey is a new experience for LaCroce.

"This is a first for me," he said. "I'm excited to see what people have to say about it."

His art will be displayed at 2075 Market, next to Ace Hardware.

Members of the public will be able to vote for their favorite window displays this year by posting pictures of the art on Instagram with the hashtag #windowsforharvey. Additionally, tours that include many of the windows will be run by Cruisin' the Castro Walking Tours.

Windows for Harvey was launched three years ago by Castro Merchants. At the time, it consisted of store owners displaying posters in their windows that read "Happy Birthday, Harvey."

"There's so much love for Harvey Milk in the neighborhood," said Brian Springfield, one of the event's organizers. "Most of the business owners were more than happy to participate. And it's just kind of grown since then."

Springfield said that, while reading Randy Shilts' book "The Mayor of Castro Street," he came across a passage that mentioned how Milk would use the windows of Castro Camera to tell stories and engage people on the street.

"He'd put up a Christmas tree and presents around the holidays," Springfield said, "and the wrapping paper would be torn open after Christmas Day. He'd put boxes of Alka-Seltzer tablets there after New Year's. In some ways, Windows for Harvey is something Harvey himself was doing when he had windows in the Castro neighborhood. It's kind of meant to be."

The event will run from Friday, May 17, to Sunday, May 26, and is one of the activities around Harvey Milk Day (May 22). An opening party to celebrate participating artists and merchants will be held Saturday, May 18, from 6 to 8 p.m. at 575 Castro Street, the former location of Harvey's Castro Camera shop.

"Harvey Milk represents our community at its most unified and its strongest, and really its most beautiful," Springfield said. "He represents us at our most able to accomplish our goals through standing together. We still need to remember that — we still hear that call to action sometimes."

For more information, visit www.windowsforharvey.com or the Windows for Harvey Facebook Page.
Comments on Facebook