News Briefs: Castro patrol improves medical response
Wednesday May 8, 2019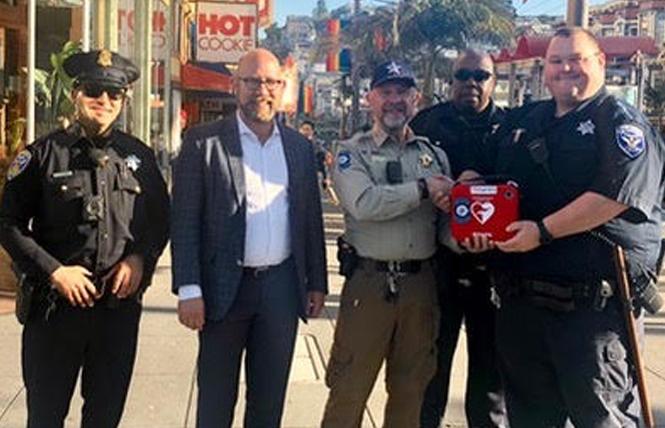 Castro Community on Patrol has purchased a portable automatic external defibrillator to improve response to medical emergencies.
The volunteer safety organization and gay District 8 Supervisor Rafael Mandelman transferred the AED unit to the San Francisco Patrol Special Police in a brief ceremony April 22. PSP services are paid for by merchants, residents, and the Castro/Upper Market Community Benefit District to provide additional law enforcement to supplement the police department. PSP officers are already in the area and often arrive at emergencies before police or fire units, CCOP officials said in a news release.
"Minutes count when someone experiences a sudden cardiac arrest," CCOP chief of patrol Greg Carey said in the release. "We are lucky that fire station 6 usually provides quick response, but [it] is sometimes engaged with other emergencies. Having an AED within the area provides an added critical response."
Carey noted that in addition to the AED unit, several CCOP volunteers have recently been certified in first aid, CPR, and AED. CCOP volunteers will begin carrying Narcan, the medication that can reverse opioid overdose, within the next month after receiving proper training and certification.
CCOP was established in 2006. Tax-deductible donations to the organization can be made through SF-SAFE, which serves as its nonprofit fiscal sponsor, through a link on its website at www.castropatrol.org.

Open house at PRC's new service center
PRC will celebrate the official opening of its new integrated service center and community hub Wednesday, May 15, at 4 p.m. at 170 Ninth Street in San Francisco.
Mayor London Breed will preside over the ribbon cutting ceremony and continue the work of the late mayor Ed Lee, who supported the merger of the AIDS Emergency Fund, Positive Resource Center, and Baker Places into PRC, according to a news release from the agency.
"Providing a continuum of care and resources in one location is an essential part of our efforts to help people exit homelessness and to care for the city's most vulnerable populations," Breed said in the release.
The new center, a $6 million project, provides services such as mental health counseling, drug rehabilitation, housing support, and job reintegration to over 5,000 people in need every year. About 90 staff work out of the building.
Brett Andrews, PRC CEO, said in the release that the merger and opening of the center "represents the culmination of input from many stakeholders and many hours of planning and implementation, based on a unifying vision — to help secure a permanent home, to integrate our social and treatment services, and to strengthen our nonprofit sector through strategic partnerships."
For the Bay Area Reporter's previous story on the new center, go to https://www.ebar.com/news/news//273837.
Key West Cocktail Classic comes to SF
The world's largest annual LGBTQ bartender competition will make a stop in San Francisco later this month.
The Stoli Key West Cocktail Classic kicked off in March in Dallas. The San Francisco event will take place Monday, May 20, at 7 p.m. at Hamburger Mary's, located at 531 Castro Street.
The theme for this year's event is "Visibility: Making it Loud and Clear," attaching to the new Stoli branding campaign. Contest participants will be judged on their Stoli-based cocktails. They also must use an element of their presentation to represent a person, place, film, song, or movement that brought a new spotlight to something in the community that was previously unseen. Judges will factor in bartenders' creativity and knowledge.
Fourteen finalists, one crowned in each city, will then win a seven-day, all-inclusive trip to represent their city at the grand finale in Key West June 4-10.
"For six years now, the cocktail classic has recognized bartenders and establishments that celebrate gay bars as the original safe spaces for the LGBTQ community," Patrick Gallineaux, Stoli vodka national LGBTQ ambassador and manager, said in a news release.
Part of SPI Group, a leading premium spirits business, Stoli Group was established in 2013 as the division responsible for the management, distribution, and marketing of SPI's global spirits portfolio.
Admission to the Castro event is free. The first 100 people to RSVP and check-in at 7 get to sample all cocktails and vote. For more information, visit https://bit.ly/2VCAkhX.
Historic property photos now accessible to the public
Historic San Francisco property photos that were preserved by Assessor-Recorder Carmen Chu's office are now available in the San Francisco Historical Photographs Collection at the main library.
Previously only kept in work files of the assessor's office, the initiative was made possible through Chu's recent efforts to modernize and digitize hundreds of thousands of real estate vital documents in the office. That led to over 94,000 photos being accessible. The span covers the late 1940s through the early 2000s and includes commercial and residential property in the city.
"San Francisco history is rich and worth preserving," Chu said in a news release last week. "Our view into how our city once looked and felt is an important reminder of where we came from. I'm proud to be the catalyst for making these historic photos available for generations to come. Our history shouldn't be boxed away and forgotten."
New city Librarian Michael Lambert said the library has created a searchable database and map for members of the public to be able to locate images of specific properties.
"The photos are an invaluable resource for people trying to find pictures of their own house or neighborhood," Lambert said in the release. "They also contain abundant documentation of back alleys, street and building signs, automobiles, and other details of daily life — essentially Google Street View for the past 60 years."
To check the database, visit http://www.sfpl.org/sfphotos.asr. Photographs can be requested using an online photo request form. When available, photographs and negatives can be viewed at the main library, 100 Larkin Street, during Photo Desk open hours: Tuesday and Thursday from 1 to 5 p.m., and Saturday from 10 a.m. to noon and 1 to 5 p.m.
Comments on Facebook