GAPA troupe to perform in Asian American festival
Wednesday May 1, 2019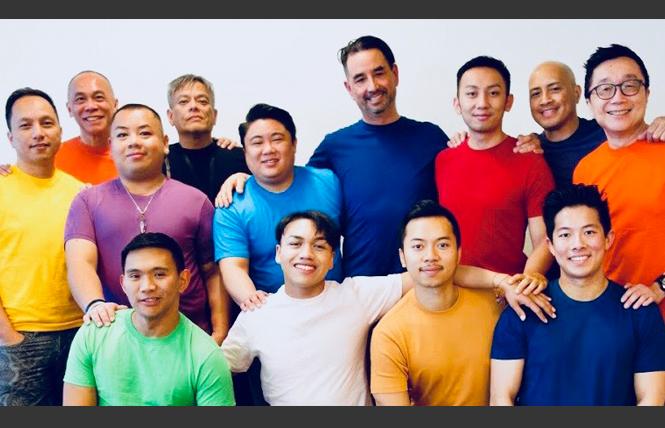 In three shows scheduled for May 10-12, the Gay Asian Pacific Alliance will present "Finding Your Voice," a collection of original works written and performed by members of the GAPA Theatre Group at Bindlestiff Studio in San Francisco.
The show is part of the 22nd annual United States of Asian America Festival, presented by the Asian Pacific Islander Cultural Center. The festival itself runs through June 22.
The festival's theme is "Collective//Memories."
Cesar Cadabes, 58, is the artistic director of the GAPA Theatre Group. GAPA was formed in 1987 and Cadabes had joined in its early days, simply because "there were not a lot of opportunities for gay Asian men to socialize," he said. His route to becoming an actor and later the artistic director was more complicated, and related to how his life had taken some unexpected turns in the late 1980s.
Cadabes first discovered his interest in performing after he volunteered for a speakers program called Wedge run by the San Francisco Department of Public Health. Wedge organized volunteers to talk with young people in San Francisco high school classrooms about what they were experiencing as HIV-positive gay men.
Cadabes was an enthusiastic speaker because he found he enjoyed being in front of an audience.
"Wedge instilled in me a concern for stories about our communities, whether you're queer or HIV-positive," he recalled. "It was a way to advocate and be political."
That experience motivated him to help organize GAPA's response to the HIV epidemic in 1988. That program later became part of the Asian and Pacific Islander Wellness Center, now known as the San Francisco Community Health Center.
And, in 1994, it motivated him to be a founding member of GAPA's first theater program.
"Our goal was to promote queer Asian stories, as well as to educate and combat stigma about HIV in the Asian Pacific Islander community," he explained.
Cadabes remembers the group's productions would "talk about sex and the dynamics of dating Asian and other men."
"Our friends were dying and we stepped up to the plate," he added.
Cadabes left San Francisco a few years later, but when he moved back in 2008, the GAPA Theatre Group was no longer active. So, in 2015, Cadabes said he "started getting my feet wet" at Bindlestiff Studio, a multi-media performing arts venue that features Filipino and Filipino American artists.
He wanted to do something that he felt was "a political or cultural expression." In 2017, he helped resurrect GAPA Theatre, "partly as a response to the last election, when we started seeing people like [President Donald] Trump doing this narrative about people of color."
Fast-forward to late 2018, when the revived theater group's growing energy inspired it to apply for, and be awarded, a grant from APICC to sponsor its participation in the USAA Festival. A month later, the group started playwriting workshops to develop material for the USAA show.
"As folks became more confident," Cadabes said, "they wanted to move forward with their playwriting. Ultimately, the group developed three single-person narratives and four multi-person vignettes."
Diverse stories
The three narratives were written by, and about, an especially diverse group: a Vietnamese man born and raised in Poland, describing his move and adjustment to San Francisco; a 20-something Hmong gay man in the San Joaquin Valley, portraying how his bond with his mother gives him strength as he discovers himself; and an older biracial gay man, talking about his identity.
For writer and performer Dennis Xiong, his piece about his mother was something that spoke to "the approval and love of our parents" that "are treasures that we innately and tirelessly strive for consistently throughout the Asian American diaspora."
"I'm excited to share my 'Summertime Magic' on stage about a journey I took with my mother to build a loving and understanding relationship," he wrote in an email, "and hope my story will uplift and remind others of how valuable and heartwarming the love of a parent can be."
The four multi-person vignettes include: "Hear me out," about a young gay Asian man struggling to express himself; "Bravery," about the lasting impact of "Don't Ask, Don't Tell" on a gay couple serving in the army; "Different Boy," about a mother teaching her son to be who he is; and "Lunar New Year," about a Chinese gay man finding connection and commonality with his father through the process of dumpling making.
Kevin Lim is the writer and performer of one of the vignettes.
"My short play, 'Lunar New Year,' is a letter of gratitude to my parents for all the support they've given to me on my artistic and personal journey," he wrote in an email. "Hopefully, this play will be an opportunity for those struggling with navigating family dynamics and alternative cultural identities to reevaluate the way they balance their relationships and, ultimately, find fulfillment within themselves and their families."
This is the first time the GAPA Theatre Group worked with APICC on the festival.
"They are great at getting together very diverse group of people," Cadabes said. "And they always include LGBTQ folks in this festival."
As a news release stated, "What is unique about GAPA Theatre is that stories come from the members and their lived experience."
"The information they are sharing is pretty incredible," Cadabes said. "It's Mother's Day on May 12 and some are considering inviting their parents."
On Saturday, May 4, GAPA is holding a "GAPAret" benefit to raise money for the group's Pride contingent. It will be hosted by the current Miss GAPA, Shu Mai, at Manny's, located at 3092 16th Street in San Francisco.
Tickets for "Finding Your Voice" are $15 and can be purchased at https://bit.ly/2V8EHC1. For more information about that or the May 4 event, email gapa.theatre@gmail.com.
For information about the USAA Festival, visit https://www.apiculturalcenter.org/usaaf2019.
Comments on Facebook