PrEP pharmacy bill amended with 1-month prescription limit passes first legislative vote
Monday Apr 8, 2019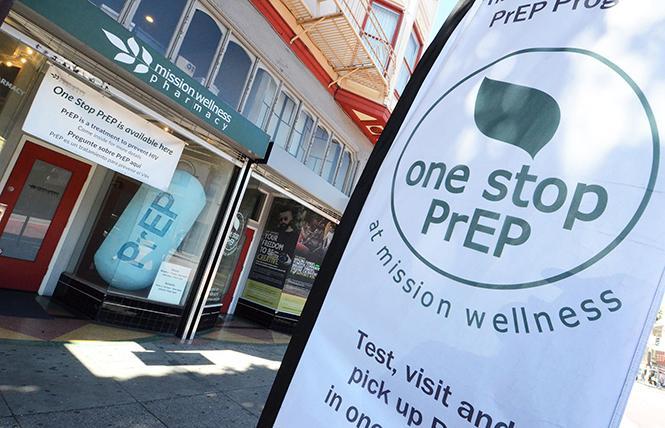 A bill to make it easier for people to access PrEP via their local pharmacy survived its first committee vote April 8 after California lawmakers amended it to restrict the supply of the HIV prevention medication to one month.
After 30 days the person would need to have a prescription from a doctor in order to obtain additional pills of Truvada (tenofovir/emtricitabine) for PrEP. The Senate Business, Professions and Economic Development Committee voted to approve the revised legislation, Senate Bill 159, Monday afternoon.
"In regard to PrEP we are dealing with people in crisis, a moment of crisis, and it makes no sense to try to create barriers. We should do the opposite, which this bill provides," said committee chair Senator Steven M. Glazer (D-Orinda). "We do put parameters on that crisis with a full 30-day supply and with strong encouragement that they see a physician. We put limits on it."
Glazer worked with advocates and gay state Senator Scott Wiener (D-San Francisco), the bill's lead author, on amending the legislation. In addition to PrEP, or pre-exposure prophylaxis, pharmacists would also be allowed to furnish PEP, or post-exposure prophylaxis, to patients without a physician's prescription.
"We are making it easier for people at risk of HIV to access these medications and removing barriers to that access will make California a healthier place," said Wiener, who has used PrEP himself for years.
Gay Assemblyman Todd Gloria (D-San Diego) is a co-author of the bill, and Equality California, the statewide LGBT advocacy organization, has made the bill one of its top legislative priorities this session. Just as people do not need a prescription to obtain birth control pills from a pharmacist, neither should they need one to obtain the HIV prevention medications, contend the lawmakers and advocates.
"Pharmacists are already well equipped with the core skills needed to safely furnish PrEP and PEP," said Dr. Carolyn Chu, an HIV primary care physician with UCSF who is the clinical director for the National Clinician Consultation Center.
Despite the changes made to the bill, powerful interest groups continue to oppose it mainly due to objections about allowing people to access PrEP through a pharmacist and not a doctor. As the Bay Area Reporter first reported in March, the California Medical Association will only support the bill if it solely applies to allowing PEP to be furnished by pharmacists.
It does not agree that pharmacists should be allowed to furnish PrEP. And a CMA representative informed lawmakers Monday that the lobbying group's concerns remained even with the 30-day limit on a PrEP prescription. Kaiser Permanente and the AIDS Healthcare Foundation also oppose the amended legislation.
The bill would require pharmacists to undergo training devised by the California State Board of Pharmacy to learn about both HIV prevention medications and how patients are supposed to take them. They would have to screen patients for HIV and ensure they have received a negative HIV test within the last seven days.
They would also be required to counsel patients about the side effects of the medications and "the importance of adhering to the drug regimen, testing and treatment, as applicable, for HIV and sexually transmitted diseases, behavioral risk reduction support, and pregnancy testing."
Pharmacists would also have to document the use of PrEP or PEP in the patient's health record and notify the person's primary care provider or, should they not have one, inform them where they can go to receive health care services.
A similar bill is currently before lawmakers in New York state that would allow pharmacists to furnish a 28-day supply of PrEP to people. The state currently allows for pharmacists to furnish a seven-day supply, but advocates argue the restriction has hurt efforts to increase use of the drug.
California lawmakers contend that enacting the legislation in the Golden State will remove barriers to usage of both PrEP and PEP because prior approval from one's insurance company will no longer be needed. They see it as a necessary strategy in ensuring that the state can end the transmission of new HIV cases.
"This is something that affects people in all communities. It affects men, it affects women," said Senator Connie M. Leyva (D-Chino). "It is about access as I see it. If this can help prevent the spread of AIDS, I am all for it."
Comments on Facebook