Castro worries of potential gun violence
Wednesday Aug 14, 2019
In San Francisco's Castro district, almost any highly-visible gathering place is at once a symbol of queer liberation and a possible target for violence. Just this week, a neo-Nazi was arrested for planning to blow up a Las Vegas LGBTQ club and a synagogue.

In light of the mass shooting incidents over the last two weeks in El Paso, Texas, Dayton, Ohio, and nearby Gilroy, California, the Bay Area Reporter spoke to dozens of people in the city's gayborhood about their public safety concerns. Many said the possibility of gun violence against the LGBTQ community weighed on their minds.

It is an issue that has been at the forefront for many since 2016 when a 29-year-old gunman shot and killed 49 people and wounded 53 others at the Pulse gay nightclub in Orlando, Florida. The incident prompted Castro Community on Patrol, a volunteer safety group, to plan for how to respond to such an incident in San Francisco.

"We've been working on getting a unified plan going back to the Pulse shooting, so three years," said Greg Carey, who is chief of patrol for CCOP.

District 8 Supervisor Rafael Mandelman, who represents the Castro, was forthright about the unique vulnerability in visibility his district faces.

"It is unquestionably the case that in the era of Trump that queer people, people of color, immigrants, are at heightened risk," Mandelman, a gay man, said in a phone interview. "Religious minorities, as well. Going back to 1978 and the assassination [of Supervisor Harvey Milk, the first openly gay elected official in California], our community has been a target of gun violence. The Pulse nightclub shooting kind of reminded us of the priority of gun control as an LGBTQ issue, and I think it absolutely is."

On any given day, Twin Peaks is one of the most noticeable and prominent bars in the Castro. Terry Colbert spoke with the B.A.R. during one of his typical weekly daytime sojourns there, sharing his concern about the historic location with its fearless windows on the world.

"The ironic flipside of this place's historic stature is that anything this visible is also vulnerable. A symbol easily becomes a target," Colbert, a gay man, said quietly, looking out through the bar's enormous plate glass windows. "This is a prime target to wipe out some queers, if somebody wanted to make a statement."

Asked what he would do in the event of a shooting, Colbert, 73, said he's thought about "diving to the floor." He added that the odds are good that he'll never have to face that kind of moment. "But still," he said. "You think about it."

It is not just the area's numerous gay bars and eating establishments, a number of which have outside seating, that could be possible targets. The Castro is also home to a number of houses of worship.

Churches contemplate risk
Local religious leaders told the B.A.R. they have been considering their particular risk after last October saw 11 people murdered at a Pittsburgh, Pennsylvania synagogue and another killing in a Poway, California synagogue left one dead and three more injured.

"We've spoken about it among the staff," said Mike Poma, parish business manager for the inclusive Most Holy Redeemer Catholic Church in the Castro.

"Father Matt spoke about it at mass last week," he said in a phone interview, referring to Matt Link. "To remind people but not panic them about where the exits are, and how to safely get out of the building. Then, we have hospitality people at the top of the stairs as people enter. They keep an eye out for anything suspicious."

When asked whether these folks are prepared to take action, Poma focused on safety rather than aggression.

"The church has big wooden doors that they can close and lock if they have to," said Poma, 56.

"We tend to feel a little bit vulnerable on all sides," he continued, noting Most Holy Redeemer's unusual position as an LGBTQ-affirming Catholic congregation. "The religious right hates us for being Catholic and welcoming the gay community. Last year we got a Christmas card that said: 'Merry Christmas — go to hell.'"

According to Poma, the entire congregation has been on edge of late. But he doesn't blame the shootings first and foremost; he said it's the overall political climate that's making life hard for all marginalized groups.

"The shootings don't help," he added.

Irene Ogus spoke with the B.A.R. as chair of the security task force at Congregation Sha'ar Zahav, a queer-identified synagogue right between the Castro and the Mission. Ogus said she'd been working non-stop since the Pittsburgh shooting to enhance security, answering to many people about what the organization is planning to do to keep people safe.

"Security has been my life for the last nine months," Ogus said.

"People are aware that they can no longer be complacent in America," she said in a phone interview. "Many of our members have traveled to Europe and have run into situations where they can't get into a synagogue because they don't have adequate identification. Here, we're used to having our doors open. The open-door policy is a thing of the past."

When asked whether Sha'ar Zahav is moving to that European model, Ogus said it's being considered. "We cannot go on the way we have. We've made physical changes to the building, but people know that our policies and procedures have to change as well," she said.

"The problem of strangers coming to our door is a difficult one," Ogus continued. She said the congregation is considering safety measures such as requiring unknown people to make an appointment to attend, or submit a passport or driver's license electronically.

"Once someone's inside the door, it's over. All religious institutions; the churches, the mosques, the synagogues. We've all followed the Old Testament teachings of Abraham, that your tent be open to the stranger. But it's no longer viable. Every terrible incident has been the result of someone walking in the door with great ease," Ogus said.

A representative for the Catholic Archdiocese of San Francisco shared with the B.A.R. via email that it has trained its school principals and parish priests in emergency preparedness, using the City of San Francisco's Standard Response Protocol.
Castro bars, cafes
Rick Hamer, owner of Finn Town, spoke with the B.A.R. by phone about how the Castro and the city have changed, and what he worries about while running a high-profile eatery. Mostly, Hamer was dissatisfied with policing.

"The Castro foot patrols only go to Castro, they don't come to upper Market," he said. "If we call the cops, it takes them 15 minutes to get here. One individual came in and threatened to kill everyone with a gun on a Saturday night. If no one is hurt, the cops tell me there's nothing they can do for me."

San Francisco Police Officer Sal Fazli, who's based at Mission Station, which oversees the Castro, said the foot patrols cover specific areas.

He confirmed that foot patrols in the Castro cover the 400 and 500 blocks of Castro Street between Market and 19th streets.

"Of course, if someone needs assistance a few blocks away, we'll be there," Fazli added.

Hamer added that most of the disturbances his business has experienced are directly linked to the increase in the homeless population. "We try to be as kind as possible," Hamer said. "Let people use the bathroom, give them water. But I can't help but worry."

Jeremy Romero, a bartender at Hi Tops on upper Market, emphatically said yes, he thinks about a shooter walking into the bar.

"I've thought about it. We all talked about it after the Pulse shooting," Romero said of his co-workers.

Romero, 33, said he thinks about the power of a crowd to overwhelm a single shooter. "Just attack him," he said, when asked what he would advise people to do. "I'd want to try to get everybody out of here, but if that didn't work, I think about doing that. If you just lay down, you're helpless."

At Harvey's on Castro, patrons said they've overheard people asking bar owner Steve Porter about what they should do in the event of a shooter.

"I don't do street fairs," said Bret Wright, a 61-year-old gay man who sat at the bar at Harvey's and spoke with the B.A.R. "I just don't like crowds, but I also think about things like the Castro Street Fair. What a target! I hope they've stepped up security."

Just above Wright's head, a television screen showed a news conference in Dayton, Ohio, listing the newest information about the August 4 mass shooting there.

Porter did not respond to a request for comment.

Organizers of the fair did not respond to a request for comment.

Sitting out in front of Castro Coffee, Huw Richardson said he loved to stop there after shopping and watch people go by. Asked about violence, Richardson, 55, said, "I never think about it. I remember the time someone brought a live hand grenade to Pink Saturday, back in 1997. If I thought about things like that, I'd never go anywhere."

The B.A.R. was unable to substantiate the hand grenade detail. However, Pink Saturday, which took place the night before the Pride parade, has indeed been marred by violence. It was canceled in 2016 over safety and security concerns.

Multiple Castro residents told some variant of a story where they heard what they thought might be gunshots at night, but couldn't be sure. Gunshots, fireworks, and car backfires all sound similar to many in the historic gay neighborhood. Most said they wouldn't believe there was a shooter until they saw a gun — or saw their own surroundings on the news.

None of the workers in the Castro who spoke with the B.A.R. has had any formal training or directions from their employer on what to do in case of an active shooter.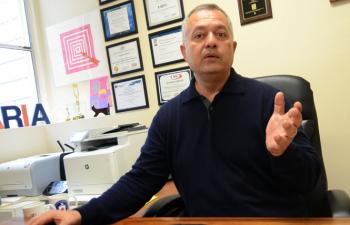 Sharing procedures
On the subject of preparedness, Mandelman was strategic and did not want to give too much away, knowing that behind-the-scenes preparation must often remain unspoken in order to function.

"The sad reality is that we cannot gun-proof every gathering space. There are too many guns on the streets and we have to be prepared for the worst," he said. "But there's only so much we can do. That being said, there are areas that are particular targets that I know have connected to Mission Station to help them think through how they would handle a terrible incident."

Asked about his own experience with that feeling of exposure that many of his constituents speak of, Mandelman was thoughtful.

"I think about it myself, often at crowded events," he acknowledged. "There's a ton of preparation for safety around all Pride events, of course. But all of us have it go through our brains of what we'd do. Outside Lands, Folsom, Dore Alley; there are a ton of amazing community events where there is some risk."

CCOP's Carey said Castro merchants, bars, and organizations need to agree on procedures and make plans for worst-case scenarios. However, Carey said it's been difficult to corral everyone so that the conversation can take place. (Requests for comment from several bar owners were not returned by press time.)

"It's not resistance to the idea, it's apathy. There's no real list of Castro bar owners that we can use to call this meeting with any success," he said. "There's no formal way to get their attention."

About six months ago CCOP held an active shooter workshop for the Castro, but only a few members of the Castro Merchants business association and some of the Castro/Upper Market Community Benefit District Clean Team employees attended, said Carey.

CBD Executive Director Andrea Aiello said she attended CCOP's active shooter workshop with the CBD's contracted clean team.

"They said it was very similar to their company's internal active shooter training. I think there's a standard video for these things," Aiello surmised in a phone interview.

Addressing the difficulty of the training itself, Aiello said it had been a somewhat frightening experience.

"The training was mostly about indoor scenarios, instead of outside. It made us think about our little office, to tell you the truth," said Aiello, who moved the CBD this year into its first sidewalk-fronting location, near the Market and Church streets intersection. "We've got one way in and one way out. The police officer who ran it really focused on someone coming into an indoor place and what you can do, and that's basically hide, run, or fight."

Masood Samereie, president of the Castro Merchants, said that this has been a top-of-mind concern for him since the recent shooting incidents in the news.

"It was the subject matter of our president's letter that came out recently," he said.

Samereie also attended the CCOP active shooter workshop, which he allowed "was poorly attended." But in light of recent events, he expects the next one will be more popular.

"Carey comes to [merchants' group] meetings, and has brought it up on some occasions," Samereie said, crediting CCOP for keeping this conversation going. "He brings pamphlets and materials. He's offered personal, one-on-one, and seminars to prepare businesses for active shooters."

Looking toward the future, Samereie said that his organization was looking to do more.

"I'm working with the Mission Station captain to set up additional seminars for merchants. I thought it would be beneficial to have the option of attending these seminars," he said.

Samereie said by phone that he came away from the CCOP seminar having learned a lot about how to react in an emergency situation.

"But with the everyday concerns it kind of slips away. I left with a better understanding that there are things you can do to protect yourself and others. I highly encourage everyone to attend," he said.

Aiello also mentioned that Mandelman's office was working on a training pilot to teach de-escalation for some merchants.

"But that's more to do with how to handle things when a homeless person comes into the store," she said.

Jessica Closson, the newly-named District 8 safety coordinator, confirmed this de-escalation training series, which is planned for release to the Castro Merchants in late September. Closson defined this program to the B.A.R. by phone as being for "everyday safety" rather than incidents of violence.

CCOP is still trying to get the word out about active shooter training and policy development, despite the difficulty.

"After the shootings in Gilroy and El Paso, we published our active shooter handout on our Facebook page, and that got some attention," Carey said, referring to the two recent mass shootings in Texas and California. "It's a broad-strokes document focused on getting people to be more self-aware."

Carey concluded by saying that he would "very much like" to meet with more bar owners and security personnel to get in accord and make plans.


Safety at Folsom fair
Patrick Finger, executive director of the nonprofit Folsom Street Events, which produces the late September street fair, told the B.A.R. via email that the organization has had conversations about an active shooter situation, but did not go into detail.

"The safety of everyone attending Folsom Street Fair is always our top priority, and these situations require more than conversation. We review and update our policies, plans, and training before every event. In addition, we also have an ongoing dialogue with SFPD and city officials," he wrote.

Asked about training and focus, Finger was careful not to reveal too much.

"We have very comprehensive emergency and safety procedures to account for multiple events. We review them on a regular basis, but they remain confidential," he wrote.

Finger did not think that the nature of the fetish event and the marginalized identities of attendees made the street fair any more of a target than any other large event.

"Let's be very clear, EVERY public gathering in the United States is at risk," he wrote. "However, we remain committed to the safety of our fairgoers. In consultation with the city, we are considering additional measures that we can put into place to ensure that Folsom Street Fair attendees and volunteers have a safe and enjoyable day."

If you would like to connect with CCOP about safety in an active shooter situation, email info@castropatrol.org

The San Francisco Archdiocese, in collaboration with the San Francisco Interfaith Council, FBI, SFPD, SF Department of Emergency Management, SF Sheriff Department. the Jewish Community Federation and Endowment Fund, and other partnering agencies, will host the first Security in Houses of Worship and faith-based organizations training workshop Monday, September 9, from 8 a.m. to 3 p.m. at St. Mary of the Assumption Cathedral, 1111 Gough Street. To register, visit https://conta.cc/2MhNzjD .
Comments on Facebook