Study confirms no transmissions with undetectable HIV
Monday May 20, 2019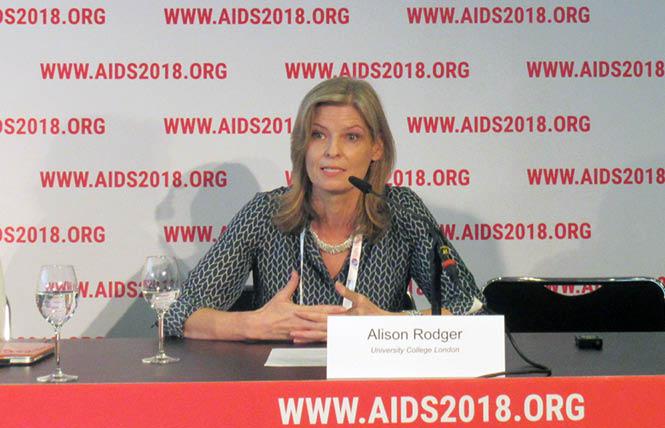 The largest treatment-as-prevention study for gay and bisexual men confirms that people on antiretroviral therapy with undetectable viral load do not transmit HIV.
Results from the PARTNER2 study, which enrolled nearly 1,000 mixed-status gay male couples in 14 European countries, saw no genetically linked HIV transmissions when the positive partner was on effective treatment.
"PARTNER2 data provides robust evidence for gay men that the risk of HIV transmission with suppressive antiretroviral therapy is zero," said lead investigator Dr. Alison Rodger of University College London.
Rodger presented the study results at the International AIDS Conference last summer in Amsterdam, as the Bay Area Reporter reported at the time, but their publication last week in the Lancet prompted a flurry of news coverage and some exaggerated claims, including the Guardian's headline "End to AIDS in sight as huge study finds drugs stop HIV transmission."
The study's results are neither new nor surprising. Treatment as prevention, along with PrEP, is an essential part of the effort to halt new infections, but the end is not in sight. Many people living with HIV are not aware of their status, have not started treatment, or have not maintained viral suppression.
In 2011, results from the HPTN 052 trial showed that effective treatment reduced the risk of transmission between heterosexual partners by 96%. The first phase of the PARTNER study, presented in 2014, saw no transmissions between serodiscordant heterosexual and gay male couples. PARTNER2 focused specifically on gay men, the group that bears the highest burden of the HIV epidemic in the Unites States and Europe.
Over the course of the study, participants collectively had condomless anal sex about 77,000 times, with zero reported cases of HIV transmission between steady partners, as determined by genetic matching of their virus. A small number of people acquired HIV after having sex with an outside partner, but the researchers could not ascertain whether those partners had undetectable viral load.
Alison and her co-authors gave an estimated range, known as a confidence interval, for the likelihood of transmission occurring during a single act of sex. The lower end of the range was zero and the upper end was 0.23, or less than one case per 100 couples followed for a year. Even for receptive anal sex with ejaculation, the upper end of the range was just 0.57 cases per 100 couples per year.
These findings offer further support for the "undetectable equals untransmittable" message, which is now widely promoted by advocates and adopted by pubic health officials — though some providers have been slow to accept it. This winter, for instance, the Santa Clara County Department of Public Health launched a campaign promoting U=U, as the prevention method is known, that included ads in the B.A.R. and a website at http://hivhaschanged.org/.
"We're tremendously grateful to the groundbreaking PARTNER2 researchers and participants for the unequivocal final chapter confirming U=U," said Bruce Richman, founding director of the Prevention Access Campaign. "PARTNER2 has forever changed what it means to live and love for people with HIV around the world."
Knowing that having an undetectable viral load means zero risk of transmission is an incentive for people with HIV to start and stay on antiretroviral therapy, and the U=U message can help fight the stigma surrounding HIV.
"People living with HIV now have confirmation that provided they take treatment regularly and are virally suppressed, they are not infectious," said former UNAIDS Executive Director Michel Sidibé, who immediately resigned earlier this month amid a cloud of scandal to become health minister in his native Mali. "This gives a strong, positive message that will help to reduce the stigma around HIV and improve the self-esteem and self-confidence of people living with HIV."
Comments on Facebook