Monarch resigns from East Bay drag court
Wednesday May 15, 2019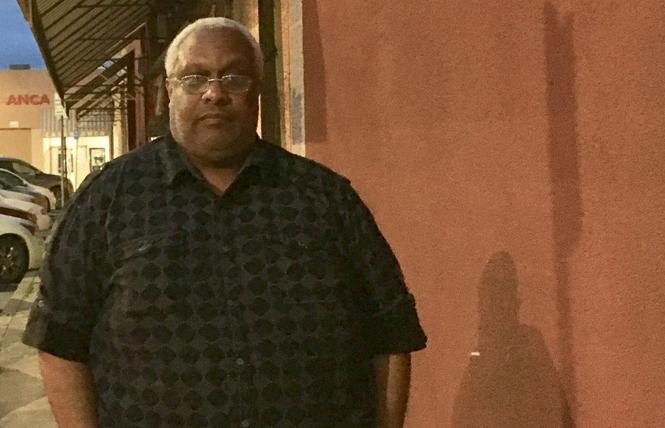 The reigning monarch of an East Bay drag court has resigned her title following backlash surrounding her alleged use of a racist term toward two former board members earlier this year.
Jessica Avalon, the 40th monarch of the Imperial Star Empire, a chapter of the International Imperial Court System that represents Alameda and Contra Costa counties, stepped down as Regent Empress XL five months after she allegedly used a racist term toward the former board members.
Avalon's resignation was announced by Carlos Vargas, the organization's board president, at a general assembly meeting held Monday, May 13, at a pizza restaurant in Hayward. Avalon was not present.
"With her resignation I believe it closes the subject," Vargas said, "and the people who filed their grievances will be happy."
Viva Commotion, also known as Monolito Wilson, and his husband, Princess Monet Sparkles, also known as Moses Green, expressed those objections in February. According to Commotion, Avalon referred to him and Sparkles as "stepin' fetchits" in January. The racist term is a reference to a 1930s African American vaudeville persona whose name was a play on "step and fetch it." Commotion and Sparkles are both African American. Avalon is white.
When attention was brought to Avalon's alleged comment, the Imperial Star Empire, or ISE, board of directors suspended Commotions and Sparkles' titles of Her Most Imperial Highness Imperial Crown Princess XL and Her Most Imperial Highness Imperial Crown Princess Royale XL, respectively. They were removed from the board two months later.
"After their titles were removed they decided to bring up the 'racism' word," Vargas said in a phone interview, "and it started getting really ugly after that."
According to Vargas, the International Imperial Court Council, or ICC, conducted an investigation into the matter and found that the ISE was justified in its removal of Commotion and Sparkles' titles. However, it asked that an apology be issued on behalf of Avalon for her alleged use of the racist term. Vargas neither confirmed nor denied that Avalon used the term in the first place.
"I don't know if it was used," he said. "This was all hearsay; there is no actual proof that the term was used. Jessica has never denied it or said she did."
In an email sent to Commotion, ICC Grievance Committee member Logan E.B. Childs Rale Storm wrote that the racist slur is "a highly inappropriate term to be used in any manner or situation and goes against the ICC discrimination policies and will not be tolerated."
"Stepin fetchits was used during slavery and is highly offensive," the email read. "As a result, Nicole Murray Ramirez, Queen Mother I of the Americas Nicole the Great, and the Court Relations Committee have requested a formal written apology letter to yourself and Moses Green and forgiveness for the racist slang that was used."
Per the ICC's request, Vargas apologized to Commotion at Monday's meeting, and said he plans to issue a formal apology in writing.
"The apology should come from Jessica," Commotion said in an interview afterward, "since she was the one who did it. I just think it's too little, too late."
Avalon did not respond to a request for comment.
Reached by phone Wednesday, Ramirez said he put a strong non-discrimination policy in place 11 years ago. He said that the process the Imperial Court System has in place worked in this instance.
The Imperial Star Empire was established in 1978, 13 years after the Imperial Court System was first founded in San Francisco. The court system's chapters, or empires, operate as individual nonprofit organizations that raise funds for various charitable causes through drag shows, balls, galas, and other events. Together, the court system's 70 empires make up one of the world's oldest and most extensive LGBT organizations.
Commotion, as well as five other former ISE monarchs, attended the highly tense meeting to, as Commotion put it, "hear what they have to say." At one point, a heated argument broke out between former monarch Deneka St. James and Avalon's husband, John Marques, who is also the ISE's treasurer.
"Anyone who wants to call Jessica Avalon a racist has the right to do so," St. James said. "I didn't wrongfully allegate anything." St. James had been involved with the organization for 18 years before her title was suspended following the alleged incident between Avalon, Commotion, and Sparkles.
Michael K. Lee, the ISE's vice president, said at the meeting that people have been known to join the organization "with their own agendas."
"If we feel someone is not a good fit," he said, "we have every right to protect this organization and remove them. Sometimes people are a good fit and sometimes they are not."
Commotion said after the meeting that, while he is glad that Avalon stepped down, he feels the ISE's board should be replaced.
"I don't think this current board can effectively conduct the work that needs to be done for this organization," he said. "I think they need to step down."
Vargas, however, seemed optimistic that the issue will resolve.
"I'm hoping that, with the apology from us," he said, "we can move on and focus on what the purpose of this organization is. I hope that we can move forward and work together as an LGBT community."
Comments on Facebook