Online Extra: LGBTQ Update: Louisville Ballet gets homophobic message before new show debuts
Tuesday Mar 5, 2019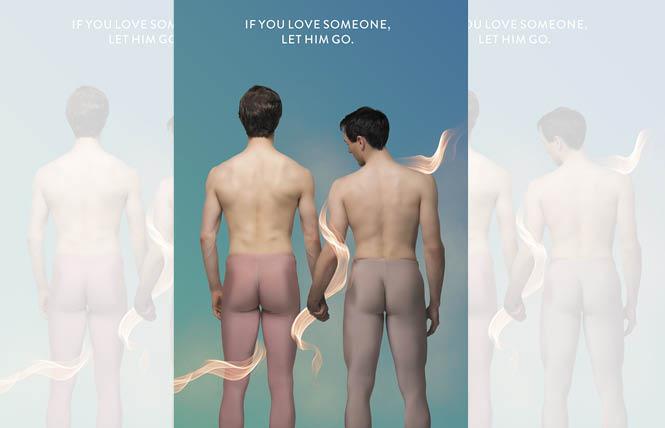 Before the premiere of its new performance, "Human Abstract" on February 28, which had a correlating advertisement on its website of two men dressed in ballet outfits holding hands, the Louisville Ballet received homophobic emails and social media comments.
The performance explores the complexities of human relationships and the effects of isolation and heartbreak and includes the love story of two men. On a Facebook event page created for the show in early February and a Facebook ad running since February 25, people left hateful remarks.
Nancy Flesher, in a since deleted Facebook post, said, "Faggots, stay away! We don't want or need you in our city," on the events page with a cover photo of two men hugging.
Janette DeRouin wrote of the Facebook ad, "More queer shit."
On Twitter, Pat Rice said, "Sickening. Nobody wants to see this queer crap," and in another tweet February 21 wrote, "Just heard about the ballet show portraying two men in a love story. This world is becoming sicker everyday. I do not believe that queers should have the right to push this crap on everyone. This is horrible and sickening. I boycott this."
Robert Curran, a gay man who is artistic and executive director of Louisville Ballet, told the Bay Area Reporter, "We will never fight hate with hate, so our approach has been to work harder on creating a safe environment for our artists and our community. We will make sure that these beautiful and heartfelt stories can be shared and we will bravely stand against hatred and prejudice.
"Sharing stories is at the heart of everything we do at Louisville Ballet and we will not let that be compromised," he added. "And on a personal level, I will not stand by and watch the next generation endure the same intolerance and bigotry as the generations that have gone before."
The ballet, by gay Australian choreographer Lucas Jervies, follows the relationship between two gay protagonists.
Last year, one hate-filled email was sent to the ballet in response to its email advertisement announcing its upcoming season. The email caught the attention of a local blog, Arts Writing is Dead, which broke the story and wrote a recent series of editorials on the issue.
The email was sent by local physician Roberto Bolli, who works at the University of Louisville Hospital as a cardiovascular physician. In the email, sent to the general inbox of the ballet on March 3, 2018, Bolli wrote, "I am shocked and profoundly offended by the brochure that the Louisville Ballet sent me on March 3, 2018 (I return it to you). You have reached a new low. Your company is now promoting sodomy and homosexuality."
It continues, "Stop sending this filth to my house! I don't want my house to be sullied by this lurid sewage. You should be ashamed of promoting perversion, immorality, and filth." He goes on to call the organization "evil" and "minions of Satan, polluting our culture with your repugnant ideology and peddling perversion and immorality."
Although Bolli did not respond to a request for comment from the B.A.R., his response to Arts Writing is Dead was published in its latest article, March 1.
"Not surprisingly, my comments have been distorted and misrepresented. My personal religious views on homosexuality have NOTHING to do with my treatment of queer patients," Bolli told the blog. "As doctors, we have a duty to care for all patients to the best of our abilities irrespective of their lifestyle or actions or other considerations. I treat ALL PATIENTS, including queer patients, with the utmost compassion and respect."
He added that, "There are many different types of lifestyles or actions that physicians may find objectionable, yet we do not let these considerations affect our care of patients."
He also seemed to clarify some of his language used in his original email.
"I certainly do not hate queer people; as a Christian, I love them. And I certainly do not think queer people are minions of Satan," Bolli wrote.
The ballet chose not to provide the B.A.R. with the physician's name as it said it did not want to "give this individual a platform."
Curran also said the ballet has gotten more support for the show than it has hate mail.
"I am thrilled that the support has outweighed the hatred and prejudice. It gives us courage and strength to continue to give the stage to our community and create opportunities for everyone to tell, or witness, the stories that make us who we are. I want to thank everyone that has supported us, and helped us spread our message of love and acceptance," he said.
For more information on the show, visit https://www.kentuckycenter.org/all-shows/human-abstract.
Gender Spectrum releases guide for educators
Gender Spectrum released a comprehensive guide for educators Tuesday (March 5) to use in puberty and health classes to incorporate gender inclusion into their lessons.
The guide, "Principles for Gender-inclusive Puberty and Health Education," acknowledges that all youth are affected by the way puberty is taught and affirms the experience of every student.
"This new resource gives educators the overarching principles that they can use now to bring gender inclusion into their current puberty education curricula," Joel Baum, senior director, professional development of Gender Spectrum, a nonprofit whose mission is to create a gender-inclusive world for youth, said in a news release. "Every child will travel a unique road as their bodies develop, so it is vital that students understand that there are many paths to a healthy adulthood."
The news release states that incorporating gender diversity into puberty and health education lessons is important for all students, but can be critical for transgender and gender-nonconforming youth, who do not normally see their experience reflected in health curriculum. Gender Spectrum worked with many organizations to create the guide including Advocates for Youth, Answer, GLSEN, the Human Rights Campaign Foundation, Planned Parenthood, and the Sexuality Information and Education Council of the United States.
The guide has been praised by the organizations, which in 2015 also published the report "A Call to Action: LGBTQ Youth Need Inclusive Sex Education" that asked teachers to provide LGBT inclusive education for all students.
"Done well, sex education can create a foundation for sexual health throughout someone's lifetime," said Nora Gelperin, director of sexuality education and training at Advocates for Youth, in the release. "Transgender young people have the right to lead healthy lives and they need and have the right to puberty education that addresses their needs and answers their questions."
Becca Mui, education manager at GLSEN, a nonprofit dedicated to creating safe and affirming schools for students of all gender identities, said in the release, "This resource is an invaluable, and first of its kind, tool that provides concrete examples of how to talk about bodies in a relatable, gender-inclusive, and developmentally appropriate way."
For more information, visit https://www.genderspectrum.org/.
LGBTQ Update is a weekly online column addressing issues affecting the community. It runs weekly. Please submit comments or column ideas to Alex Madison at (415) 875-9986 or a.madison@ebar.com.
Comments on Facebook