Online Extra: Political Notes: SF Milk club backs Ellis for CA Dem Party chair
Monday Mar 4, 2019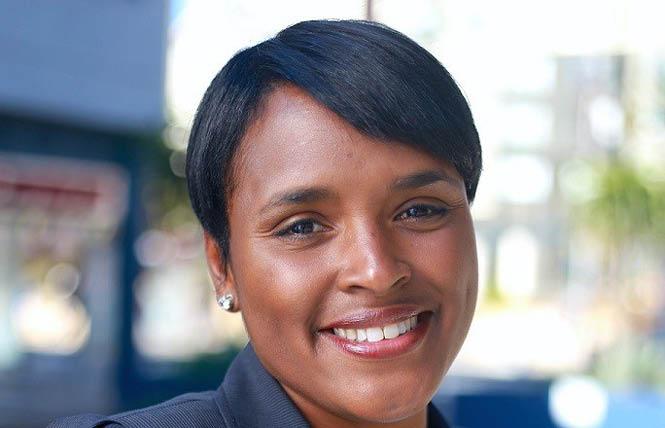 The Harvey Milk LGBTQ Democratic Club in San Francisco is supporting Kimberly Ellis for state Democratic Party chair as the race to lead the statewide party heats up.
The progressive political group had backed Ellis two years ago when she first sought to lead the 173-year-old state party. She lost by only a handful of votes to Eric Bauman at the party's state convention in 2017 and contested the outcome of the race.
Bauman, a gay man who was the first out LGBT person to lead the statewide party, resigned in November due to charges he sexually harassed multiple staff members and younger male leaders within the party. Alexandra "Alex" Gallardo-Rooker, who had been serving as vice chair of the party, is now the acting chair.
She will step down this spring when party leaders meet in San Francisco in late May and early June at the Moscone Center to elect a new chair to serve out the remainder of Bauman's term through 2021. In addition to Ellis, statewide party Vice Chair Daraka Larimore-Hall and Los Angeles labor leader Rusty Hicks are also vying to become party chair.
All three of the candidates are vocal supporters of LGBTQ rights and mention their support of the community and its issues on their campaign sites.
The Milk clubs' members voted overwhelmingly to endorse Ellis at their meeting February 19 ahead of her official campaign kickoff February 25 at the gay-owned Manny's cafe in San Francisco's Mission district.
"A lot of our members support Kimberly," said Milk club President Kevin Bard. "She has an authentic progressiveness to her and she is an African-American woman to boot. That is a combo made in heaven."
The formerly married mother of two teenagers had been executive director of Emerge California, which trains Democratic women to run for political office. Last summer she launched Unbought-Unbossed (UnB2) to train, as she put it, "the next generation of political disruptors."
She has yet to list her endorsers on her campaign site for the party chair race — https://www.voteforkimberly.org/. But she is expected to have significant backing among LGBTQ progressives. Moss Beach resident Sabrina Brennan, a lesbian who serves on the San Mateo County Democratic Central Committee, is co-hosting a fundraiser for Ellis Thursday, March 7, at the lesbian-owned Traveler surf shop in Pacifica.
"Let's help elect the best candidate for this pivotal position and break new ground for the next evolution of the California Democratic Party," wrote Brennan, currently president of the San Mateo County Harbor Commission, in an emailed invite to the event.
Gay San Francisco Democratic Party Chair David Campos has yet to endorse in the race and planned to meet this month with Hicks, who has embarked on a tour of all 58 counties in the state ahead of the convention. Campos told the Bay Area Reporter Friday that he doesn't expect anyone else to run for party chair.
The local San Francisco Democratic Party will not be endorsing in the chair race, said Campos, who will be one of the people voting for chair at the convention.
"I think you never really know, but I do think Kimberly is the frontrunner," he said. "I think she has lot a of support. She came very close last time; I think she has a good chance this time around."
Gay state Senator Scott Wiener (D-San Francisco), a former chair of the local party, told the B.A.R. he has yet to decide who to endorse in the chair race. The more moderate Alice B. Toklas LGBT Democratic Club isn't "planning to make an endorsement at this time," Co-chair Gina Simi said.
Like Ellis, Larimore-Hall has yet to list his endorsers on his campaign website — https://www.darakaforcdpchair.com/ — but did announce via Facebook last Thursday that Assemblywoman Monique Limón (D-Santa Barbara) was supporting him. He chaired the Democratic Party of Santa Barbara County for a decade and has consulted on progressive campaigns and for progressive candidates around the world.
Hicks, who is swinging through the Bay Area this week to promote his candidacy for chair, is president of the Los Angeles County Federation of Labor, AFL-CIO. He has listed a number of party leaders endorsing him on his website https://rustyhicks.org/.
Among the LGBT leaders backing him are gay Long Beach Mayor Robert Garcia; Debra Broner, a lesbian San Luis Obispo resident who is a regional director for the state party, and Jess Durfee, a gay San Diego resident who is a Democratic National Committee member. Gay El Cerrito City Councilman Gabriel Quinto also backs Hicks becoming chair.
"I like Rusty. We need someone that is dedicated in building the party here in California," Quinto told the B.A.R. "Someone that is not a divider but someone that will unite the party."
Keep abreast of the latest LGBT political news by following the Political Notebook on Twitter @ http://twitter.com/politicalnotes .
Got a tip on LGBT politics? Call Matthew S. Bajko at (415) 829-8836 or e-mail m.bajko@ebar.com.
Comments on Facebook