Editorial: Adachi's death leaves huge void
Wednesday Feb 27, 2019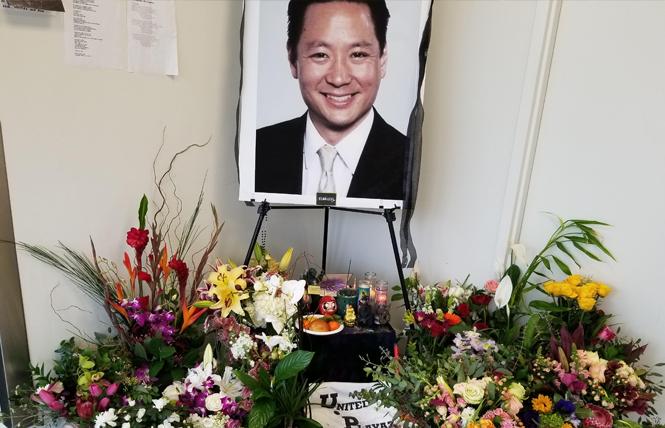 San Francisco Public Defender Jeff Adachi's unexpected death last week leaves a huge void in city politics and the criminal justice system. He was a true trailblazer who, over the course of nearly 20 years, reimagined the public defender's office into one that took a stand on major issues such as cash bail (opposed) and kids in need (helped, through his Mo' Magic program that worked with nonprofits in the Bayview and Western Addition). His main achievement was hiring and training deputy public defenders who are able to win acquittals for their clients. It's hard to get a San Francisco jury to convict in a criminal case, and attorneys in his office are smart, committed people who use the law to the advantage of their clients. He also led them to constantly question methods of the police and the district attorney's office.

We met with Adachi before the election last fall, as he was running unopposed and en route to easily winning his fifth term. That alone says something about his job performance: no one was willing to run against him. At the time he was focused on cash bail and opposed a compromise bill that was passed by the Legislature because he felt it gave judges too much power to determine whether someone who was arrested should remain in preventive detention pending trial.

Over the years, he tangled with supervisors and mayors as he sought funding to hire attorneys and beef up services, including mental health and immigration units. He was largely successful, and in recent years, his office seemed streamlined and effective.

On homelessness, one of the city's most vexing problems, Adachi told us that he had "changed my view a little" and supported Laura's Law, a state law that allows for court-ordered assisted outpatient treatment. "Many clients refuse treatment but accept it if they get housing," Adachi told us. He said the public defender's office is now part of the city's homeless system, along with Navigation Centers and housing options such as single-room-occupancy hotels. At the time of our meeting, the state's new conservatorship law had been signed by then-Governor Jerry Brown. "We'll be representing people subjected to conservatorships," he told us.

Most of all, we admired Adachi for his ability to admit mistakes, and his diligence to correct them.

Four years ago, we published an editorial calling out Adachi's office after a deputy public defender misgendered a trans crime victim during the defendant's arraignment, calling her a man and saying that she remained a man "unless he had an operation." As we wrote at the time, the remarks, made by Deputy Public Defender Kwixuan Maloof, were out of character with everything we'd known about the public defender's office. And we called on Adachi to provide sensitivity training for his staff. He contacted us shortly after the editorial and pledged to do better. Last fall, he said he had. He said that his office had provided two or three trainings and brought in staff from the Transgender Law Center. "We do a lot of implicit bias training, and it's something we continue to do," he said.

Adachi is gone far too soon. During his tenure he raised the bar for what a public defender's office should be. He reached beyond simply providing adequate counsel, and we hope his successor builds on his legacy.
Comments on Facebook