News Briefs: Newsom, Lara plan inaugural events
Wednesday Jan 2, 2019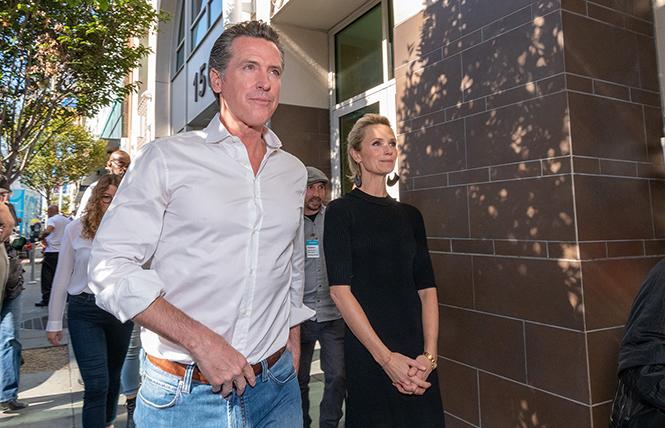 Governor-elect Gavin Newsom has announced a star-studded lineup for a pre-inaugural concert that will benefit California wildfire victims.
"California Rises: A Concert to Help the Victims of California Wildfires" will take place Sunday, January 6, at the Golden 1 Center, 500 David J Stern Walk in Sacramento.
According to a news release, Grammy-award winner Pitbull will headline the event, along with rock band X Ambassadors and rapper and activist Common.
A local band from the fire-ravaged town of Paradise, Cold Weather Sons, will also perform.
The event will feature California speakers and presenters who were affected by, or responded to, the devastating wildfires.
All proceeds will go to the California Fire Foundation, a nonprofit that provides emotional and financial assistance to families of fallen firefighters, firefighters, and the communities they protect.
Concert tickets will be available in exchange for a donation to the fund. Tickets will also be provided to both first responders and families and communities impacted by the fires.
Earlier in the day on January 6, Newsom and his wife, incoming first partner Jennifer Siebel Newsom, will host a unique children's event open to the public at the California State Railroad Museum in Sacramento.
Newsom will be sworn in as California's 40th governor Monday, January 7, at 11 a.m. on the west steps of the Capitol in Sacramento.
"It will be the honor of a lifetime to take the oath of office as California governor," Newsom stated in a news release. "But it seems appropriate to use this moment to unite as a state — stronger and more resilient than ever — to do whatever we can to ensure that all of our fellow Californians, especially those impacted by tragic wildfire, have the opportunity to build a brighter future and pursue their dreams."
For more information, email inauguration@gavinnewsom.com.
Gay state Senator Ricardo Lara (D-Bell Gardens), will resign that seat January 7 when he is sworn in as state insurance commissioner. A ceremony will be held at 3 p.m. at the Bank, 629 J Street in Sacramento.
Lara made history in November when he became the first openly LGBT person to win statewide office.
Once Lara resigns his Senate seat, Newsom is expected to call a special election to fill it. It is unlikely that an LGBT person will seek the southern California seat, which will result in a decrease in the membership of the Legislative LGBT Caucus to seven.
SF to collect, recycle Christmas trees
San Francisco city officials and Recology have announced that the company will collect and recycle Christmas trees from now until Friday, January 11.
City residents are encouraged to place clean, unflocked trees next to their blue recycling bin before 6 a.m. on their regular collection day. Service for Tuesday (January 1) customers will occur Saturday, January 5.
People should remove all tinsel, decorations, plastic bags, stands, and lights. If a tree is more than 6 feet tall, people should cut it in half. Trees should not be placed in a plastic bag. Recology crews will first collect blue bin recyclables and then make a second pass to collect the Christmas trees.
Collected trees will be chipped in San Francisco and turned into mulch at Blossom Valley Organics North, a Recology composting facility. The mulch will then be used for landscaping projects.
For more information, visit www.recology.com or call (415) 330-1300.
Longtime lesbian activist fighting cancer
Longtime lesbian activist Gloria Nieto is battling colon cancer and she has set up a GoFundMe campaign to help with medical bills for what she called "an uncertain fight."
Nieto, 64, lives in Santa Cruz County. She has served as a volunteer for many LGBT rights battles. When she lived in New Mexico she worked on an Employment Non-Discrimination Act and hate crimes bill that were both trans-inclusive.
"That was the first time in the country that two inclusive bills were passed in the same session," she wrote on the GoFundMe page.
She and her spouse, Jo Kenny, have been named women of the year and were grand marshals of three different Pride parades over the years in places they lived.
Nieto was the first Latina lesbian to address a presidential convention when she spoke at the 2000 Democratic National Convention.
Nieto said she was diagnosed with Stage 4 colon cancer in September.
Since then, she has taken on gardening jobs, but was let go from her last one during her first week of chemo.
While she and Kenny have health insurance, there are many things it won't cover in addition to copayments, she wrote.
"I ask for your gift to help buy the food supplements I need when I can't eat," Nieto wrote. "I am asking for help to be able to pay for the extra utilities that I need to stay warm during this time of year. And, I'm asking for support for medical expenses that insurance won't cover."
As of December 27, the fund had raised $5,820 of its $8,000 goal. To donate, visit https://bit.ly/2LCuSEd.
East Bay Stonewall holiday party
The East Bay Stonewall Democratic Club will hold its annual holiday party Wednesday, January 16, from 6 to 9 p.m. at the Port bar, 2023 Broadway in downtown Oakland.
Members and other interested people are welcome to attend. The club will celebrate newly elected LGBTQ individuals.
Organizers said there will be a taco truck.
Tickets are free for club members and $15 for non-members.
For more information, visit https://eastbaystonewalldemocrats.org/.
SFPD community police academy seeking applicants
The San Francisco Police Department has announced it is now accepting applications for its community police academy. Classes begin January 24.
The community police academy is a 10-week program that is designed to inform interested participants about various aspects of municipal policing, including community policing, crisis intervention, officer-involved shootings, and more. Classes meet once a week on Thursdays from 6:30 to 9 p.m. at the San Francisco Police Academy, 350 Amber Drive. Students also get to participate in a ride-along with police officers at the end of the program. SFPD officials noted that this is not a course to become a police officer.
The goals of the academy are to develop community awareness through education and to develop a closer understanding and relationship between the department and its communities.
Applicants must be at least 18 years of age and live or work in San Francisco. They must have no felony convictions and no misdemeanor convictions within a year of application. Candidates are expected to attend all classes, which run through March 28.
For more information and to apply, visit http://sanfranciscopolice.org/community-police-academy.
Contact the reporter at c.laird@ebar.com
Comments on Facebook