SFFILM FUN!
Tuesday Apr 16, 2019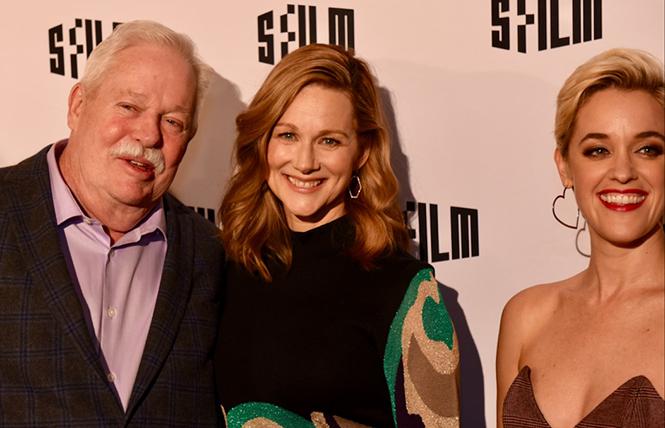 Anyone who knows Out There knows we think ALL CAPS are the absolute worst, especially in a headline. But they're somehow fitting for our column about the 2019 San Francisco International Film Festival's opening night and first week. So to pay homage to the less wordy and all-caps "brand refresh" SFFILM, OMG, here's OT!

SFFILM's world-premiere opening-night attraction was the first installment of the new Netflix original series "Armistead Maupin's Tales of the City," in which Mary Ann (Laura Linney) returns to San Francisco and is reunited with her daughter (Ellen Page) and ex-husband Brian (Paul Gross), 20 years after the end of the last series. When Mary Ann first returns to 28 Barbary Lane, it's rather like Dorothy arriving in the Emerald City of Oz. Anna Madrigal's (Olympia Dukakis) boarding house, festooned with fairy lights, looms like Cinderella's castle. This is all very nostalgic and heart-warming even if a touch, erm, delusional.

There at the Castro Theatre for an onstage Q&A after the episode were Maupin, Linney, series showrunner Lauren Morelli ("Orange Is the New Black"), director Alan Poul ("Six Feet Under") and other cast members. Maupin was avuncular and full of homespun wisdom: "Nowadays these kids with their Grindr! In my day we used to walk 10 miles through the snow just to suck a cock!"

It was fun to see Mary Ann, disillusioned with her adult life back in Connecticut, fall back under the spell of Mrs. Madrigal and her chosen family in Barbary Lane. But we're left with so many questions. Why did Army Maupin leave for his new life in London so soon after opening night, missing the rest of the fest? Why did SFFILM executive director Noah Cowan announce his departure from the organization between its first press conference and opening night? Why is the square from Connecticut in these stories (here, Mary Ann's stiff husband) always named Robert? Was Australian actor Murray Bartlett cast as Michael "Mouse" Tolliver just to confuse us with his role as Dominic "Dom" Basaluzzo in the similar SF-set HBO series "Looking" and its 2016 finale "Looking: The Movie?"

For such a gay opening film, it was hard to keep it all straight. Opening night continued with a lovely party at the Regency Center, kicking off the SFFILM Fest with entertainment, dancing, and yummy treats, both gustatory and alcoholic. How very film festive! The 10-part Netflix limited series will debut in early summer 2019.
Icelandic idyll

Then, last Saturday night, OT was in the state-of-the-art Dolby Cinema for the SFFILM world premiere of SF-based filmmaker Sara Dosa's "The Seer and the Unseen," a "magic realist documentary about Iceland's invisible elves, financial collapse, and the power of belief." The film follows Ragnhildur "Ragga" Jónsdóttir, a grandmother and seer who has the ability to communicate directly with elves or "huldufólk" (hidden people), invisible spirits of nature that over half of Iceland believes in.

Press materials put it this way: "Government officials and businesses hire Ragga to consult the elves to learn where they can and cannot develop land. But when Ragga is called upon to be the elves' 'Lorax' and speak on behalf of nature under threat, she enters a political battle to save an ecologically important lava field set to be razed by road construction, just one of the many needless, reactionary projects spurred by Iceland's sensational financial meltdown in 2008. Through Ragga's heroic fight, 'The Seer and the Unseen' explores the invisible forces that shape our world and transform our natural landscapes, revealing not only what is worth seeing but what is worth saving."

OT thought it was a very poetic, visually stunning approach to the virtues of environmentalism. We got to meet Ragga during the afterparty at BCC Bar around the corner from the Dolby. The locale had us nostalgic for our old digs on 9th Street. We need an invisible elf to get us through!
Comments on Facebook