Looking out for the lesbians
Tuesday Dec 3, 2019
We spent Black Friday watching several hours of "The Great Christmas Light Fight" while crocheting scarves for holiday gifts. We came away with a permanent ear worm of Paul McCartney's "Wonderful Christmas Time" and a burning question: Where are the crafty lesbians? There are so many gay men doing these spectacular Christmas light contests, replete with their lap dogs in elf hats, yet not a single lesbian. What is up with that? We can't all be celebrating Solstice, can we? Surely there are some land lesbians left in Oregon or the Southwest who are into big light displays?

Ditto with the Christmas baking shows. Gay men, even gay kids, are flaming through these TV kitchens, and not one lesbian baker. We need this. Bring it for next year, Santa.

Meanwhile, Ally Johnson is trying to answer our desperate need for a lesbian reality series with her creation "Butch Pal for the Straight Gal." This series, in post-production as funds are still being raised, is a variation on the "Queer Eye" formula. In Johnson's series, the Fierce5 are lesbians giving a makeover to straight ladies like "a Christian mother in Arizona who needs our help," as the new official trailer explains at one point. The Fierce5 include Tegan for grooming, Leslie for cooking (there always has to be a lesbian named Leslie, as we have noted repeatedly over the years here), Moana for culture (she is almost too adorable), Sam for design, and Rei for fashion.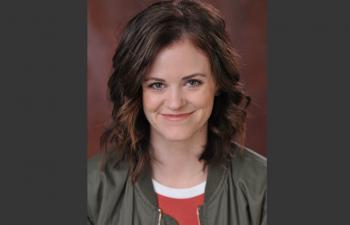 In her mission statement, Johnson, who is quite funny in her promo for the series, explains, "The Fierce5 is out to help women embrace their individuality and discern what they're doing out of fun vs. obligation. Women are subject to the pressures of societal gender norms every single day. 'Butch Pal for the Straight Gal' encourages women to do away with the status quo and step into their power."

In the promo Johnson also says, "'Butch Pal for the Straight Gal' is a unique reality-based comedy about five women, aka the Fierce5, empowering straight women to throw away societal gender norms and fearlessly harness their unique inner voice."

There are cuts to the "BPFTSG" episodes as Johnson continues, "So many women suffer from poor body image, low confidence levels, or find themselves stuck in codependent relationships that can limit their true potential. The Fierce5 hones in on a woman's true voice, then helps her step into her power and bring that voice to the forefront. That can mean restructuring a woman's closet, minimalizing her makeup routine, showing her how to change her own tire, or literally teaching a woman to fish!"

There is, of course, discourse on flannel. "So practical!" "Glee" star and lesbian athlete Dot-Marie Jones is helping fundraise for the project. Check it out at www.butchpalseries.com. We need more lesbians on the tube.

Another holiday gift we want is Dr. Fiona Hill, the amazing breakout hero of the impeachment hearings, to star in some lesbian drama co-written by Emmy winners Phoebe Waller-Bridge and Lena Waithe. You know you can visualize it: "Killing Eve" meets "The Chi."

Of course the obvious choice is just make Hill the next "Dr. Who," but there's already a woman in that role, Jodie Whittaker, and we wouldn't want to strip her of her Tardis. Maybe Ryan Murphy could put Hill in the next season of "American Horror Story." As long as we get to see her again and hear her deliver the kind of acid lines we heard in the hearings.

Guilt trip

So after we wrote out our letter to Santa, we watched the new Netflix docuseries "Broken," because we like to scare ourselves and feel massively guilty about the environment. If living under Trump for three years hasn't crushed the empathy out of you (a new medical study says he is making us meaner), you will have the same reaction. But that is a reason to watch, not avoid.

"Broken" is an investigative docuseries that shows how negligence and deceit in the production and marketing of popular consumer items can result in dire outcomes. Like tons of plastic in the oceans, and we mean tons, every day. Corporations market single-use plastic products as recyclable. In fact, much plastic recycling ends up as landfill, or on beaches in Southeast Asia. Or in the stomachs of sea creatures.

"Broken" also explains how we can literally die from makeup that is counterfeit or just plain dangerous, tainted with everything from bacteria to arsenic. In another episode it's revealed that someone in your home could be injured or killed by falling furniture — this happens ever 17 minutes. Oh, and vaping? Just as bad as cigarettes, maybe worse.

This series is fascinating and riveting. It's like a crime series, except you or someone you love might be the victim. Those inexpensive products that you think are saving you money? They come at a price, and it could be your health or even your life, or the environment. So: Watch.

Robyn hood

One of the most tragic reveals in recent weeks was the confirmation of what many of us have presumed for years: Whitney Houston and Robyn Crawford were far more than friends. Crawford told the story in her new memoir "A Song for You: My Life with Whitney Houston." Crawford was on "The Wendy Williams Show" in November in all her gorgeous butch glory. So after the show, rumors started to fly about the two women. Williams shut those rumors down right before Thanksgiving on the "Hot Topics" portion of her show. She detailed how the rumor was out there and spreading, then said, "I like women for friendship. I like men, and I like the D." The D. Not dildo, but d***?

Williams continued to set us straight: "First of all, I'm not down with that, with all due respect to the lesbians. Second of all, Robyn is really married, she's got kids, and I'm not a homewrecker." With all due respect to the lesbians. Of course.

Fans of "RuPaul's Drag Race" are very familiar with grand diva queen Trixie Mattel. Well, Trixie and her erstwhile collaborator Katya Zamolodchikova of the Viceland series "The Trixie & Katya Show" have a new series on the Netflix YouTube channel, "I Like to Watch." In addition, Trixie has a new documentary "Trixie Mattel: Moving Parts," released on Dec. 3. It will be available on iTunes, Amazon, Google Play and Microsoft Movies.

All we can say about "I Like to Watch" is we watched the episode about "The Crown" and howled our way through it. It's probably even better if you are a little high. We don't do that sort of thing ourselves, but if you do, a glass of wine, a micro brew or a toke or two and you will no doubt be on the floor. Definitely something to lift your spirits if the holidays are already hitting you hard.

Baby Yoda

If you are feeling the holiday blues, cheer yourself with Baby Yoda. The breakout star of Disney+ new series from the "Star Wars" universe "The Mandolorian," Baby Yoda inspires a deep desire to bond with something small and adorable. (PSA: remember that shelter pets are just as wonderful if not more so than designer pets.) More than that, "The Mandolorian" takes us on a new "Star Wars" journey, after the fall of the Empire and before the rise of the First Order. Starring Pablo Pascal as the Mandolorian, with Werner Herzog, Carl Weathers, Giancarlo Esposito and Gina Carano, among others.

Of the Baby Yoda craze that has overtaken the interwebs, Carano told Vanity Fair, "That was such a powerful thing that was added to the story. That was our precious. Our precious is this being that we all end up taking care of in some way."

"The Mandolorian" tells us something with Baby Yoda, that we can still find that protective, caring love that the current political climate has tried to crush out of us. "The Mandolorian" is good. Baby Yoda is better.

So you don't get much more meta than "High School Musical: The Musical — The Series." Yes, a colon and a dash, and Twitter hashtag #HSMTMTS. Whew! And it is good. Like "Glee" reborn good. So you can un-hate Disney for now because they made something this incredibly fun and sweet and, of course, gay.

The mockumentary's creator is Tim Federle. Federle is one of those engines that could, and does. He's written a dozen or so books, some for kids, some for adults, and a couple have won Lambda Literary Awards. He's really good at portraying kids, and you will feel these kids through and through. Relatable little song birds, they are.

There are some great bits. Early on, The Feminist, Kourtney (Dara Reneé), tells her hive: "So I say to my mom, 'Looking this fabulous while fighting for intersectional feminism is my summer job.'" Oh yes. Preach, sister. It's delightful, the music stays with you, there is a lot of gay here and it's a good launch for Disney+. Now if only they could add Baby Yoda.

Against bullying

Since we are talking about sweet and charming, this is a good place to plug something born out of TV that isn't TV: "A Beautiful Day in the Neighborhood," the film about Mr. Rogers, starring Tom Hanks. Mr. Rogers always seemed the most gay-friendly of TV characters. He was anti-bullying before it was popular, he always had something kind to say, and he just fed kids a kind of authentic niceness and be-your-best-ness that, frankly, we need more of.

The film has a number of stars of TV series of which we are quite fond. Matthew Rhys ("The Americans") co-stars with Hanks as investigative reporter Lloyd Vogel. The film is all about his profile of Mr. Rogers. His wife Andrea is played by "This Is Us" star Susan Kelechi Watson, and his editor by Christine Lahti, who co-stars in our favorite new fall 2019 series, "Evil."

Director Marielle Heller, a Marin County native, has been a director and writer on the groundbreaking Netflix series "Transparent." She told the Los Angeles Times that she is drawn to stories about people "trying to talk about something that people are uncomfortable talking about" and "human beings trying to navigate through the world." That comes through vividly in "A Beautiful Day in the Neighborhood," and while it is a film about a children's TV show host/actor, it is a film about how we transcend pain and suffering and learn to fail with grace.

On his TV show, Mr. Rogers said, "When I was a boy and I would see scary things in the news, my mother would say to me, 'Look for the helpers. You will always find people who are helping.'" He also said, "Knowing that we can be loved exactly as we are gives us all the best opportunity for growing into the healthiest of people." Give yourself the gift of seeing this film about a TV icon. You will not regret it.

So Mr. Rogers remains the model we would all like to embody with regard to personal decency. There is not a lot of that happening at NBC's "America's Got Talent" these days. This is so disappointing to us, as "AGT" has long been one of the contest shows that has consistently featured LGBTQ people.

Co-host Gabrielle Union was fired last week after she spoke out about problems at the network. Union complained of "toxic" workplace culture and spoke out about "problematic," racially insensitive remarks made by Jay Leno, which were later edited out, as well as by a contestant. "Variety" reported that Union was also allegedly told that her hairstyles were "too black" for "AGT"'s audience.

On Thanksgiving, "Grey's Anatomy" star Ellen Pompeo went off over the firing, taking to Twitter to lambast the network. Pompeo has been a staunch supporter of the Time's Up and Me Too movements in the entertainment industry, and is the lead actor on ABC's longest-running prime-time drama.

"It's unfortunate that @nbc, the same network that protected disgusting men like Matt Lauer and punished women for speaking out or not putting up with it, has not changed their practices or culture. I support @itsgabrielleu commitment to speaking up to injustice. It takes courage," Pompeo wrote, referencing former "Today" show host Matt Lauer, who was fired after multiple allegations of sexual misconduct. Pompeo directed her next comment specifically to white women, demanding they stand up for black women like Union. "This is a teaching moment. It's important — white girls, I'm talking to you, whether you truly understand what racial injustice is or not — that you stand with your sisters on the front lines. Don't cut side deals & don't not get involved because it isn't your issue, because it is," she wrote.

"Workplace cultures will continue to be toxic until there is unity and solidarity among all women. If you go for self in these moments you undermine the work we are out here trying to do. Obviously this network feels like they can operate like this and it's okay," she continued.

NBC released a statement saying, "'America's Got Talent' has a long history of inclusivity and diversity in both our talent and the acts championed by the show. The judging and host line-up has been regularly refreshed over the years, and that is one of the reasons for 'AGT's enduring popularity. NBC and the producers take any issues on set seriously."

Misogyny and racism remain serious factors on TV. There is a dearth of women, people of color and LGBTQ people in the writers' rooms and among editors and producers. As we have said consistently here, until we are behind the camera, our stories and lives will not be reflected in front of the camera. So for all the gayness of the season, you know you must stay tuned.
Comments on Facebook