Gay, Latin & wrongfully convicted
Tuesday Nov 5, 2019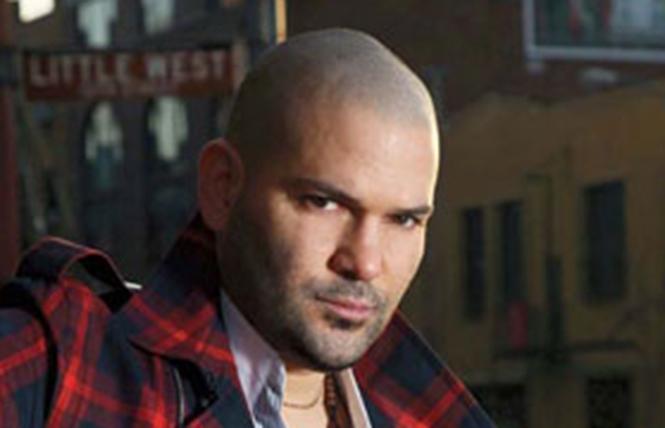 The closet is a horrible place, and no one should have to live there. We were reminded of this yet again after watching the Halloween episode of "Law & Order: Special Victims Unit" ("SVU"), where the scares were all too real.
This is the historic 21st season of what is now the longest-running non-animated prime time series — only "The Simpsons" has been on longer, at 31 seasons. "SVU," set and filmed in New York, just got only its second out gay character in all that time. Recurring, but we'll take it. ADA Isaiah Holmes (played by out gay actor Wentworth Miller, whom you have also seen lately on "Madam Secretary" as an evil Republican heading a committee investigating Pres. McCord) declares he's gay in a throwaway line during the episode, actually well done: no big coming out scene, just "so you thought since I'm gay, I would be interested in this case" nonchalance.
But the meat of the story is an all-too-real parallel to the Central Park Five. Two young Latinx guys were railroaded into confessing to a crime they didn't commit, the horrific rapes and murders of one of the convicted men's mother and sister. Guillermo Diaz ("Scandal") plays the man whose family was murdered.
The twist in the case is he's gay, and he and the other convicted man, Ricardo (who died of AIDS, which he got in prison) were both at a popular gay cruising beach together when the crime occurred. But neither could reveal where they really were for fear of reprisal from their respective families and the criminal justice system. As a result, the two men spent 16 years in prison for a crime they did not commit while the actual (white) murderer-rapist went free, and continued to assault women and girls.
The episode also details with grim specifics what happens to out gay men in prison. It's horrifying. The episode is tragic and highlights the abject racism with which police often proceed in cases with brown and black people, as well as the terror of the closet and the sexual violence that goes unaddressed in America's prisons.
Diaz, who is also openly gay, said of his background, which paralleled that of his "SVU" character, "I went to school in the Bronx. I learned to constantly try to cover up the fact that I was gay. That façade, of being somebody I'm really not just to protect myself, definitely helped with acting."
Super lesbian hero
When Ruby Rose ("Orange Is the New Black") clinched the coveted role of lesbian superhero Kate Kane, aka "Batwoman," there were complaints that Rose, who came out as a lesbian at 12 and identifies as gender neutral, was not queer enough for the role, whatever that means. At the time Rose said, "I really wanted to do the role. It's a dream role. I've said it before, but I'm not going to be on my deathbed wishing that people on the internet liked me more."
Well, they might like Rose more after last week's episode of "Batwoman" where Kate was all-in for a lesbian sex scene. Kate and Reagan (Brianne Howey) wake up in bed together after Kate asked Reagan (please don't name your lesbian characters Reagan, ok?) out in the previous episode. In the scene, Kate and Reagan kiss passionately before being interrupted by Kate's phone. Here's the thing: They. Were. Naked.
If you are naive enough to innocently say, "Of course they were naked, they are in bed having sex," you haven't seen what happens when lesbians are in bed having sex on TV. Cue the bras, tank-tops, T-shirts. Even on cable and Netflix. We caught a few responses on Twitter to the scene, to which we nodded agreement. One woman said she was so shocked to see two women in bed kissing "without like full-body ski suits" that she had to pause the scene for the effect to take hold. It was pretty amazing to see lesbians having sex without their clothes on that we hope to see more (literally and metaphorically) of this overt lesbianism in "Batwoman"'s future.
While there have been some slamming episodes of our fave shows recently, the sad fact is TV is fast approaching that uncomfortable period between Halloween and Christmas where series are propelling toward their season finales, then the Endless Holiday Specials start in earnest. While Christmas is still seven weeks away, the decorating and cooking shows are skipping right past Thanksgiving, because this is the most moneymaking time of the year.
If you want to be the best holiday baker in America, the baking shows are going all-in on cakes, cupcakes, cookies and Christmas confections. Plus these shows are so gay it is always both a treat and a relief.
Spoiler alert: the "Great British Baking Show" had a queer winner as the season ended this week. Let us rejoice and be glad in the land, and look forward to some more gay and queer-adjacent winners of upcoming cooking contest shows. Baking and cooking shows are the gayest spots on the tube, and it is frankly a relief to know there is somewhere to turn while the "Will & Grace" principals are feuding and "Modern Family" is ending (although it's time). Even the baking shows with kids are gay as can be. There is something delightful about seeing kids you just know are going to be flaming queens in another couple years talking about their royal icing and crumb coats while swishing through the kitchen. Bless the parents who aren't sticking these boys in conversion therapy and are unafraid to see them queer up the cuisine. Whenever we need to truly chill, we head to Food Network, and are never disappointed. This is Xanax for the soul.
This past week we needed a passel of Xanax. Watching Rep. Katie Hill give her final speech on the House floor filled us with a sense of loss tempered with outrage. The sexual-assaulter-in-chief is in the White House, Brett Kavanaugh and Clarence Thomas are on the Supreme Court for life, Duncan Hunter is running for re-election, but Hill, the only out bisexual in the House and a legit rising star among Democrats, has to resign because her soon-to-be-ex-husband was so jealous of her relationship with another woman that he leaked a bazillion purloined revenge-porn photos of her to right-wing media.
Hill said, "I came here to give a voice to the unheard in the halls of power. I wanted to show young people, queer people, working people, imperfect people that they belong here because this is the people's house. I fell short of that, and I'm sorry."
Hill's speech was one of the most dramatic TV events of the week. It was powerful, meaningful and self-deprecating, while also calling out Trump, his cohort and the slut-shaming and queer-bashing that forced her resignation. She mentioned queer people more than once.
Hill said, "I am leaving now because of a double standard. I am leaving because I didn't want to be used by shameless operatives for the dirtiest gutter politics that I've ever seen, and the right-wing media to drive clicks and expand their audience by distributing intimate photos of me taken without my knowledge, let alone my consent, for the sexual entertainment of millions."
The fact is, lesbian sexuality (not erasing Hill's bisexuality here, but we all know this is only a story because the person Hill was having a relationship with is another woman), has always been a staple of straight male pornography. So when Hill said, "I am leaving because of a misogynistic culture that gleefully consumed my naked pictures, capitalized on my sexuality and enabled my abusive ex to continue that abuse, this time with the entire country watching," she was spot-on. The entire House should have risen up and refused to accept her resignation. But while that might have happened on "Madam Secretary," it did not happen as we watched Hill on TV. Real life is messy, ugly and incalculably homophobic, biphobic, transphobic, and we who are LGBTQ all have to live with that fact every day. Hill is just another casualty.
We used to tout the "news you're not seeing" in this column regularly. One story that failed to be reported as a headline or even a minute on the national news this past week was the new study from the Williams Institute at the UCLA School of Law about LGBT poverty. We mention it here because according to the study, LGBT people are way more likely to be poor than straight cisgender people. But even within the LGBT, bisexual women like Hill have the highest rates of poverty, at nearly 30%. Hill's story made us wonder how many times bi women are forced out of jobs like she was. You can read the entire 45-page study online at the Williams Institute. It's shocking.
Speaker Nancy Pelosi was the sole guest on the Halloween episode of "The Late Show with Stephen Colbert," and it was one of the best political hours on the tube we have seen. Unlike some politicians, Pelosi doesn't do a lot of TV. Colbert has made taking down Trump his main shtick. Which made for a perfect fit. It was an exclusive interview. Pelosi came directly from the historic vote in the impeachment resolution (232-196) to probe Trump's alleged quid pro quo in pushing Ukraine to investigate his political rivals.
"I want to thank you for your patriotism," Pelosi told Colbert. "This is a sad thing for our country. We do this prayerfully, and with great seriousness. Nobody goes to Congress to impeach a president. You've had your fun with the policy and the personality and the rest, and that's about the election. The patriotism, the Constitution, is really what impeachment is about. The most important thing for the American people to realize is: Nobody is above the law."
As she detailed her initial reluctance to instigate the inquiry, she explained that it's not good for the country, but that Trump forced everyone's hand. "He jeopardized the integrity of our elections, the heart of our democracy," she said, "and in doing so, he possibly violated his oath of office to preserve the Constitution."
Pelosi talked with facility about Thomas Paine, Ben Franklin, the first Continental Congress, signing the Constitution, and how it was determined that America would be a republic, not a monarchy, and that she and Congress were tasked with protecting the republic. The hour was full of civics lessons and true sobriety. Pelosi has said all along that this is a sobering moment for the country, that she regrets that Trump has pushed us to this point. But there was some acerbic wit from both Pelosi and Colbert as well.
Pelosi also gave an impassioned speech about what the Democrats are trying to do in Congress while the Republicans complain. Chief among the things she enumerated were that the Democratic House has passed gun control and the Equality Act, but Mitch McConnell is holding these and other legislation up in the Senate. Watching Pelosi talk with such intensity about the importance of LGBTQ equality on national TV was powerful and resonant. You can watch the entire interview at CBS.com.
Halloween night was big for getting all the women men in power call witches onto the tube. Hillary Clinton and daughter Chelsea were on "The Daily Show with Trevor Noah" to promote the publication of their new "The Book of Gutsy Women" that the two have co-written. Noah cut right to the chase, asking Hillary what everyone wants to know: "I have to ask you a question that has been plaguing me for a while: how did you kill Jeffrey Epstein?"
The audience and both Clintons laughed wildly. Hillary has long been accused in right-wing conspiracies of murdering her rivals. No one has ever explained how Monica Lewinsky and Trump have escaped this serial killing. Noah nailed the crazy aspect with his follow-up statement, saying what so many of us have thought. "Because you're not in power but you have all the power," Noah said, adding, "I really need to understand how you do what you do, because you seem to be behind everything nefarious, yet you do not use it to become president."
For her part Hillary said it was a "constant surprise to me" that she continued to be the subject of these theories. "The things they say, and now, of course, it's on steroids with being online," she said, "are so ridiculous, beyond any imagination that I could have. Yet they are so persistent in putting forth these crazy ideas and theories. Honestly, I don't know what I ever did to get them so upset." Well, you said that thing 25 years ago about not being willing to "stay home and bake cookies and stand by your man like Tammy Wynette," and it just took off from there.
Meanwhile, Chelsea said she had read while campaigning for her mother in 2016 that one voter thought Hillary was a better candidate but could not discount that he had heard she had murdered more than 50 people. "He said, somewhat nonchalantly, 'I don't think that she murdered 50, but, like, what if she murdered two?'" Chelsea said. "So you just think it's like this constant erosion of truth and sanity." There is a whole lot of that these days, on the tube and off. You can watch the entire interview, which is pretty fantastic, at Comedy Central or on YouTube.
So for the calm before the impeachment storm, the occasional live breast sighting in Batwoman's bed, and those brazen baby gays on the baking shows glittering the place with their nascent gayness, you know you really must stay tuned.
Comments on Facebook