Bisexual candidate seeks San Jose council seat
Wednesday Apr 21, 2021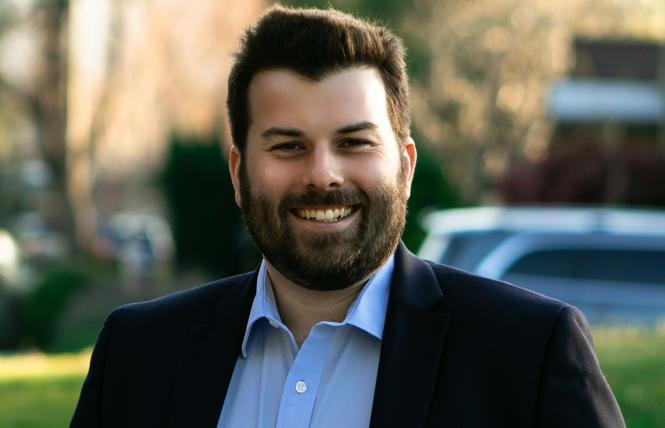 It has been 15 years since the LGBTQ community in San Jose has had out representation on the city's governing body. During that time three gay men and one lesbian have mounted unsuccessful bids to win council seats.
Now planning commissioner Justin Lardinois, a bisexual man who is a San Jose native, is aiming to break that losing streak. He is the first person to declare their candidacy for the San Jose City Council's District 1 seat that includes the famed Winchester Mystery House and the city's west side neighborhoods to the south of the tourist attraction.
The current officeholder, Vice Mayor Chappie Jones, will be termed out in 2022. If no candidate to succeed him secures a 50% plus one vote in the June primary next year then the top two vote-getters will compete for the seat in the November general election.
Should Lardinois win the race, he would be only the second LGBTQ council person in San Jose. The first was Ken Yeager, a gay man elected in 2000 who departed in 2006 when he became the first, and so far only, LGBTQ person elected to the Santa Clara County Board of Supervisors.
Lardinois, 27, would also be one of the highest-ranking bisexual elected leaders in the Bay Area. And at age 29 when sworn in, he would be the youngest person to serve on the San Jose City Council in more than four decades. (Jim Beall was elected in 1980 at the age of 28.)
"San Jose has offered me a lot of opportunities. I owe this community everything I have and for my success," Lardinois told the Bay Area Reporter when asked during a recent phone interview why he wanted to seek the council seat.
His parents both relocated to the Bay Area's largest city from other states, fell in love, married, and raised two children in West San Jose in District 1. Lardinois works at Facebook and previously was employed by Google Cloud, while his sister works on Fox's long-running animated show "The Simpsons."
A 2015 UC Santa Cruz graduate, with a double major in computer science and politics, Lardinois lives in the council district's Blackford neighborhood. Three years ago Jones appointed him to San Jose's housing and community development commission; last July Lardinois was seated to the city's planning commission.
(Due to his working for Google, he has recused himself from voting on the company's sprawling mixed-use development plans for downtown San Jose.)
He pointed to the planning commission's recent vote to approve the Villa Del Sol mixed-use project in the city's Alum Rock neighborhood as the type of development he would champion for District 1. Being built by a nonprofit developer, 100% of its rental apartments will be designated as affordable for residents making 30 to 80% of the Area Median Income. Its 3,000 square feet of commercial space is to be leased rent-free to a nonprofit or displaced small business.
"Building more housing at all income levels is crucial to addressing San José's housing crisis, and I want to see builders talking to existing residents from day 1 to ensure their projects integrate into the community," Lardinois told the B.A.R.
A progressive Democrat, Lardinois said ensuring other families and San Jose residents have the same opportunities that his family had, from finding affordable housing to being able to attend college, is what motivates him to seek the council seat.
"How do we offer that level of opportunity to families in San Jose?" he asked.
Policing
Asked about the controversy surrounding San Jose's new police chief, Anthony Mata, who has faced questions about his support of the transgender community, Lardinois told the B.A.R. that as a member of the public he doesn't have enough information to know if the City Council was right to promote Mata, a 25-year veteran of the department.
"It would have helped inspire public confidence if the council and city manager was more transparent with how that was handled," said Lardinois. "It is why it is crucial to have representation on the council. If our community was represented on the council, I think that council member would have advocated for both the public at large and the LGBTQ community that we need to be really clear how we are handling this."
As for police staffing issues and calls to defund the department, Lardinois believes the duties assigned to the police need to be reexamined at the same time that the number of officers is increased. Due to a recent change in pension policy, as well as high housing costs, the San Jose Police Department has seen its ranks diminish.
"Newer officers have joined since then and there are a lot of officers approaching retirement. Going forward those retirements are going to hit us like a wave and the numbers will go down further," he noted. "We need to be cognizant of that going forward."
A board member of the District 1 Leadership Group, an organization founded by former councilman Pete Constant, Lardinois has already been promoting civic engagement and neighborhood leadership in the district. In officially announcing his candidacy April 12, he highlighted a range of neighborhood issues he would focus on, from potholes and illegal dumping to building more public open spaces in the park-deprived district, in addition to the citywide crises of homelessness, housing and assisting small business owners hampered by the COVID pandemic.
"District 1 residents expect their councilmember to be heavily engaged with the issues impacting individual neighborhoods. I'll continue to do that work while bringing a fresh perspective to City Hall," pledged Lardinois.
He is partners with Ali Sapirman, who is nonbinary and ran unsuccessfully last fall for a seat on the San Jose Evergreen Community College District. Sapirman and Jared Rodgers in February took over as co-chairs of the Silicon Valley Stonewall Democrats.
The LGBTQ political club has yet to endorse in the race but is likely to back Lardinois. Former co-chair Michael Vargas noted to the B.A.R. that the club has a formal endorsement process it asks all candidates to follow.
But he acknowledged, "A major part of our mission is to support LGBTQ+ candidates though, so I expect we will support him once we see who all the candidates are (we learned last cycle that sometimes multiple LGBTQ+ candidates jump in and then we need to do a little more leg work)."
Personally, Vargas said he is "ecstatic" to see Lardinois seek the council seat and potentially give the local LGBTQ community a voice on the council again.
"Justin and I have been good friends for a couple years now, since he started really jumping into Democratic politics, and I think he's perfect for the job," Vargas told the B.A.R. "He's very progressive, and he hasn't shied away from taking on the mayor and the NIMBYs when it comes to housing. But he's also incredibly thoughtful when it comes to policy, which I appreciate. I think he'd do a great job in that role."
Lardinois did reach out to Yeager to talk to him about running for the council seat. Yeager is waiting to see who else enters the race before making an endorsement, but he noted to the B.A.R. that Lardinois fits the profile for what most voters are looking for in a councilperson.
"One thing about running for city council, what voters care about is who is going to take care of their neighborhoods. It is well and good at the state and national level to be dealing with significant social policies, but at the local level they want to make sure the council member knows the area and is going to improve their quality of life," said Yeager. "What I like about Justin is he was born in the district so he knows it and he has been an active neighborhood person so he knows the issues."
To learn more about Lardinois' campaign, visit https://justinforsj.com/en/
Help keep the Bay Area Reporter going in these tough times. To support local, independent, LGBTQ journalism, consider becoming a BAR member.