LGBTQ, local officials react to Chauvin guilty verdicts in murder of George Floyd
Tuesday Apr 20, 2021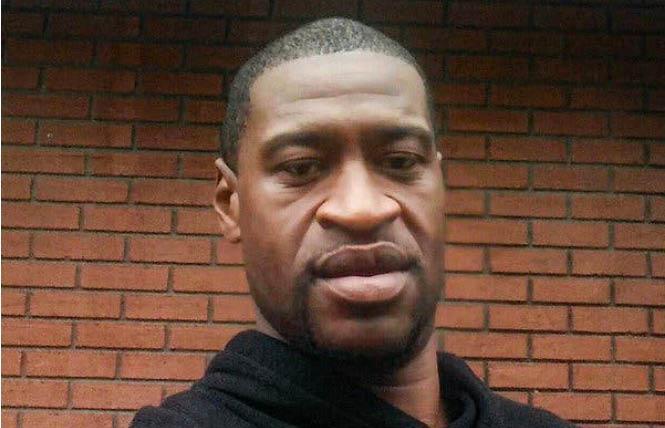 LGBTQ organizations and San Francisco officials reacted Tuesday to the trio of guilty verdicts in the trial of former Minneapolis police officer Derek Chauvin in the murder of George Floyd.
A Minneapolis jury on April 20 convicted Chauvin of second-degree murder, third-degree murder, and second-degree manslaughter in the death of Floyd last May 25.
Equality California, the state's LGBTQ rights organization, released a statement from Executive Director Rick Chavez Zbur and Executive Director-designate Tony Hoang.
"George Floyd's life matters. Breonna Taylor's life matters. Jaida Peterson's life matters. Emmett Till's life matters. Black lives matter," the men stated.
"Derek Chauvin's knee was on George Floyd's neck for nine minutes and 29 seconds," they added. "He stole George Floyd's life and his future — from him, from his family, from his community and from the world."
Gay San Francisco community college board vice president Tom Temprano noted in a Facebook post, "Today justice was delivered for George Floyd, his family and for the millions and millions of people around the world who took to the streets and demanded it."
Gay District 8 Supervisor Rafael Mandelman praised the jury's decisions in a Facebook post, but noted that "racism and injustice have been baked into our public institutions over centuries, and no single jury verdict can change that.
"Today, a jury in Minneapolis did what so many juries have not," he wrote. "Whether the George Floyd murder and Derek Chauvin verdict represent the turning point that we all hope for will depend on the work still to be done in police departments, court rooms, and legislative chambers across this country. ... But the mass protests that followed George Floyd's murder and today's verdict have shown that things can get better and that Black lives do matter."
San Francisco Mayor London Breed also released a statement.
"This verdict does not bring back the life of George Floyd," Breed stated. "It can't replace the years of his life that were robbed from him, nor the life experiences and memories that would have been made with his friends and family. What this verdict does reflect is that the tide is turning in this country, although still too slowly, toward accountability and justice."
Breed added that policing has to change in the country.
"This is about more than prosecuting the officer who killed George Floyd, though that is an important step," she stated. "It's about fundamentally restructuring how policing is done to move away from the use of excessive force. It's about shifting responses to non-violent calls away from an automatic police response to something better equipped to handle the situation. It's about reinvesting in communities in which years of systematic disinvestment has made it nearly impossible for people to thrive. It's about changing who we are as a country."
Last June, shortly after Floyd was killed, Breed announced a series of police reforms for San Francisco. They include four priorities: ending the use of police in response to non-criminal activity; addressing police bias and strengthening accountability; demilitarizing the police; and promoting economic justice. Funding has also been redirected from the police department to support programs aimed at Black and Latinx city residents, particularly those who are transgender or gender-nonconforming.
"Our Street Crisis Response Teams, consisting of paramedics and behavioral health specialists, are now often the first responders to non-violent 911 calls relating to mental health and substance use," Breed stated April 20. "Our Dream Keeper Initiative is redirecting $120 million to improve the lives of Black youth and their families through investments in everything from housing, to health care, to workforce training and guaranteed income. And our sustained, multi-year efforts to reform our police department has resulted in a 57% reduction in instances of use of force and a 45% decrease in officer involved shootings since 2016."
San Francisco Police Chief William Scott stated that law enforcement's task "is to embrace the principle of safety with respect — respect for human dignity, respect for the sanctity of life, and respect for what our communities are demanding of us."
"Today's verdict concludes a criminal trial, but the work of doing justice for George Floyd doesn't end today," Scott added. "My hope for all of us in criminal justice roles is that we rise to this moment, and learn the lessons that history has frankly been trying to teach us for decades."
San Francisco City Attorney Dennis Herrera praised the jury's verdict in the Chauvin trial in his own statement.
"George Floyd's killing was a horrific injustice," he stated. "Today is a day for healing to start. Our justice system worked. No one is above the law, particularly those sworn to uphold it. This conviction reaffirms that. An impartial jury looked at all of the evidence and rendered their verdict.
"As we all know, this verdict won't end racism in our country, but it is another step forward," Herrera added. "As Dr. Martin Luther King Jr. said, 'Change does not roll in on the wheels of inevitability, but comes through continuous struggle.'"

Lesbian state Senate Pro Tem Toni Atkins (D-San Diego) stated that the country "has been continually rocked and in mourning over the killing of Black community members."
"These tragedies — and now the guilty verdict in the Derek Chauvin trial regarding the killing of George Floyd — leave many of us continuing to look for both immediate and long-term solutions," Atkins stated. "Justice was served today, but it cannot be a one-time thing. Training, accountability, and decertification certainly are all good strategies, but the real change has to start with recognizing that systemic racism and our implicit biases account for the biggest piece of the problem.
"We, as a society — not just Black, Brown, Asian, or ethnically-diverse individuals — are beginning to confront the reality that systemic racism is the real root of the problem," Atkins added. "We have to continue that change from within, accept the reality of what has been happening, and chart a course for change. If we don't start with that — even as we work to implement laws, policies, guidelines, and measures to ensure progress — it either won't have a lasting impact or won't happen at all."

EQCA noted that the Chauvin verdicts brought some amount of justice and relief.
"But nothing can bring George Floyd back to his daughter Gianna, his brothers Philonise and Terrence, his girlfriend Courteney and to everyone who knew and loved him," Zbur and Hoang stated. "We all have a role to play in ending police violence and combating racism. We all have a responsibility to stand up for racial equity and justice. This is everyone's fight, and none of us can afford to sit on the sidelines."
"Today, our thoughts are with George Floyd's family," they stated. "They are with every family who has had a loved one stolen from them because of racist violence, police brutality and anti-Blackness. They are with every parent who has endured the pain of explaining centuries of racial injustice and violence to their Black children. We see you, we stand with you and we will continue to fight alongside you — until the work is done."
Updated, 4/20/21: This article was updated with additional comments.
Help keep the Bay Area Reporter going in these tough times. To support local, independent, LGBTQ journalism, consider becoming a BAR member.